RAMMED BY SAM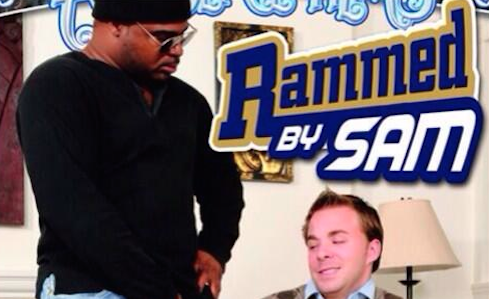 Looks like Vito Cammisano dating Austin Wilde isn't the only Michael Sam/gay porn connection this week. I figured this might be coming, but a) I didn't think it would come this fast, and b) I didn't think it would come from a straight porn studio.
Via XBiz:
Assence Films has announced that it will be releasing its first gay parody title, "Rammed By Sam." Assence said the movie was immediately put into production when Jack Burkman, an extreme Christian lobbyist called for a relentless national boycott of whichever team drafted Missouri defensive end Michael Sam. Burkman released a statement saying,"…Somebody needs to step up because the moral fiber of the nation is eroding."

Assence Films CEO Mike Kulich said he has stepped up to defend that moral fiber, but from Sam's and the NFL's corner. His response is the 115-minute parody that follows Sam, a gay NFL prospect as he is drafted to a pro NFL team. The movie follows the closeted bigot named Jack as he gathers his troops to try to derail Sam's success. Eventually, Sam confronts Jack and "sparks fly when Jack eventually gets bent over by the defensive end and Sam converts Jack from a tight end to a wide receiver."

"We have agreed to donate 50 percent of all profits from this title to GLAAD and the great people at SkweezMe.com have agreed to match that donation dollar for dollar," Kulich added. "Football is America's game and America's pastime. No one should be restricted from enjoying such an amazing sport because of who they love."
I'm sure GLAAD is grateful for the support.