Exclusive: Here's The Complete List Of Mike Dozer's Felony Charges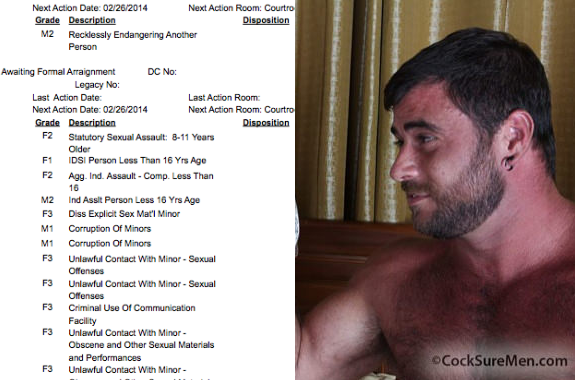 As previously reported, Christopher Steele (a.k.a. gay porn star Mike Dozer) was recently arrested on charges of statutory rape and sexual assault of a 14-year-old boy, and Str8UpGayPorn has now learned that the Montgomery County district attorney has filed even more charges against the 33-year-old HIV-positive bareback gay porn star, most of which are 2nd degree felonies.
Here is the full summary of charges filed against Steele/Dozer. In total, he faces nine felony and four misdemeanor counts. The first degree felony charge of sex with someone under the age of 16 carries a maximum sentence of 20 years in prison. The second degree felony charges (sexual assault and aggravated assault) carry 10-year sentences. The third degree felonies carry 7-year sentences. If Steele is convicted on all counts, he could be sentenced to 75 years in prison.