[UPDATED] NakedSword Doubles Down On White Supremacy With Another Cameron Diggs Scene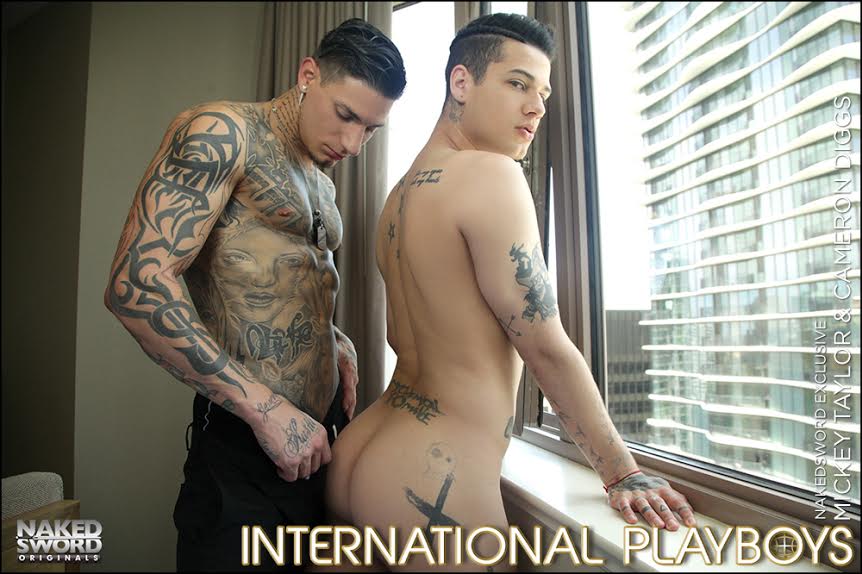 Since this post and the hundreds of comments that followed, NakedSword has had over two weeks to publicly respond to the fact that one of their models—Cameron Diggs, seen above and below—has multiple white supremacist symbols strategically tattooed on his body. They haven't.
The shock over Diggs' offensive tattoos actually started months ago, as commenters have been discussing the Nazi symbols on Diggs' chest and hips—two Iron Crosses and two sets of SS Bolts, respectively—since his debut earlier this year. And now, instead of addressing the controversy, NakedSword is doubling down on their white supremacist model by releasing another one of his scenes. Then again, maybe this is their way of addressing it, by basically saying, "We don't give a shit if you think he's a racist—here he is again."
The feature is International Playboys, and the scenes start rolling out this week. Diggs is paired with Mickey Taylor, as seen below:
Is NakedSword's silence a tacit endorsement of white supremacy? Who knows. Considering the outrage (this has been the most discussed story on any gay porn blog in 2016) over his apparent neo-Nazi beliefs, could NakedSword have cut the Diggs scene from International Playboys? Easily. Instead, NakedSword is throwing white power tattoos in your face all over again—with no explanation or apology. Offensive, tone-deaf, and just plain dumb.
Update:
While NakedSword and director mr. Pam refuse to comment on Diggs' white power tattoos, Mickey Taylor—who is mixed race—has written a lengthy defense of his co-star on Twitter:
In addition to the Iron Crosses and the SS Bolts, Cameron Diggs also has the number "100" tattooed next to his right nipple. For white supremacists, the number 100 is often shorthand for "100% white."