[Updated] NextDoorStudios Director Rocco Fallon Accused Of Threatening Another Model With Physical Violence: "I'll Fuck You Up In So Many Ways, They Won't Be Able To Find Your Body"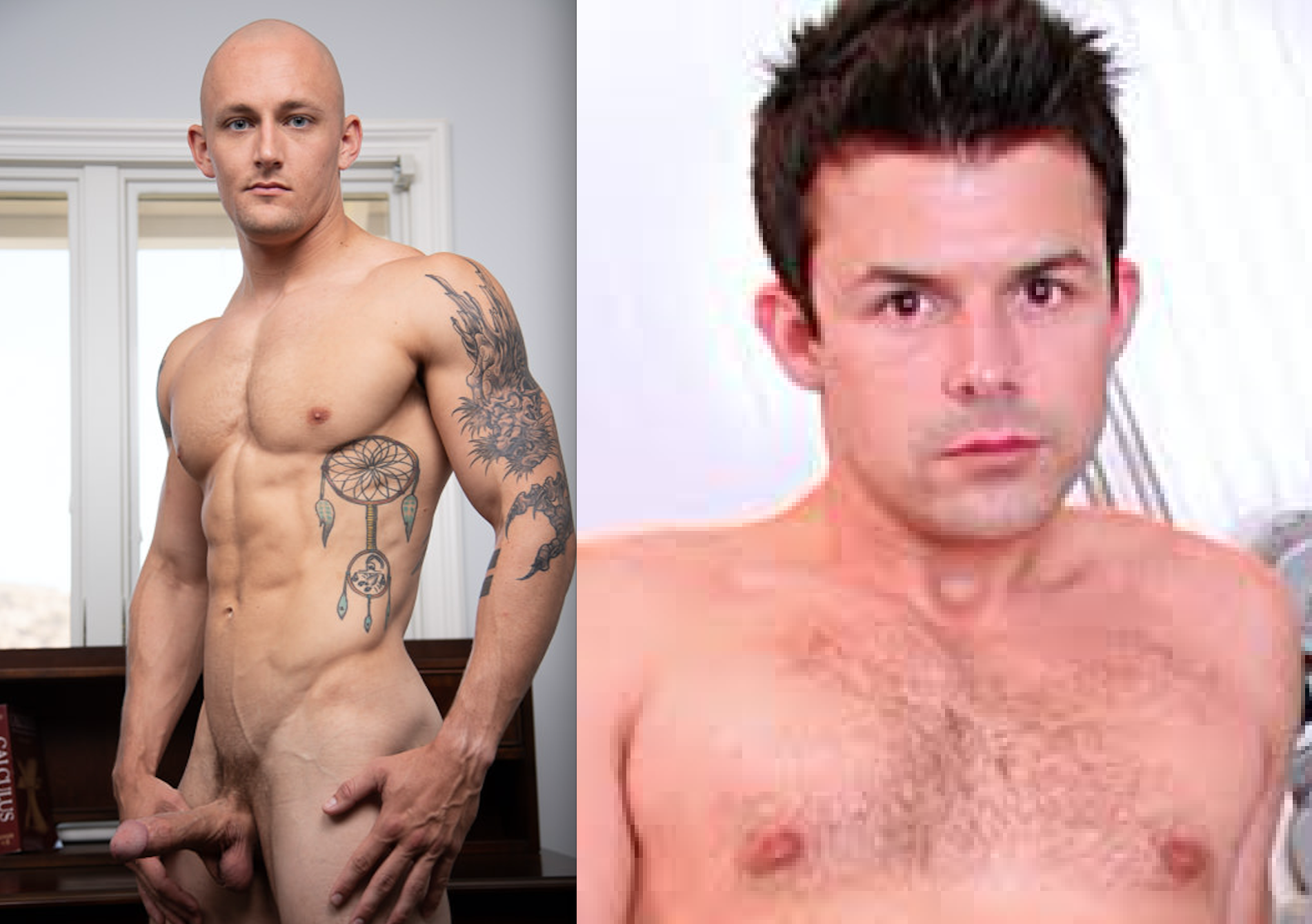 This post has been updated below with a response from NextDoorStudios owner Stephan Sirard.
Gay porn star Trevor Laster announced today that he's no longer working as an exclusive model for NextDoorStudios, and his reasons for leaving are eerily similar to another NextDoor star who quit the studio last December: Threats of violence from NextDoor director Rocco Fallon (a.k.a. Tucker Scott, as seen above, right). Like Markie More late last year, Laster claims that Fallon made multiple threats of physical violence against him while filming scenes in San Diego, California last year, and he explained those threats in detail to Str8UpGayPorn after tweeting to his followers today that he'd stopped working for NextDoor: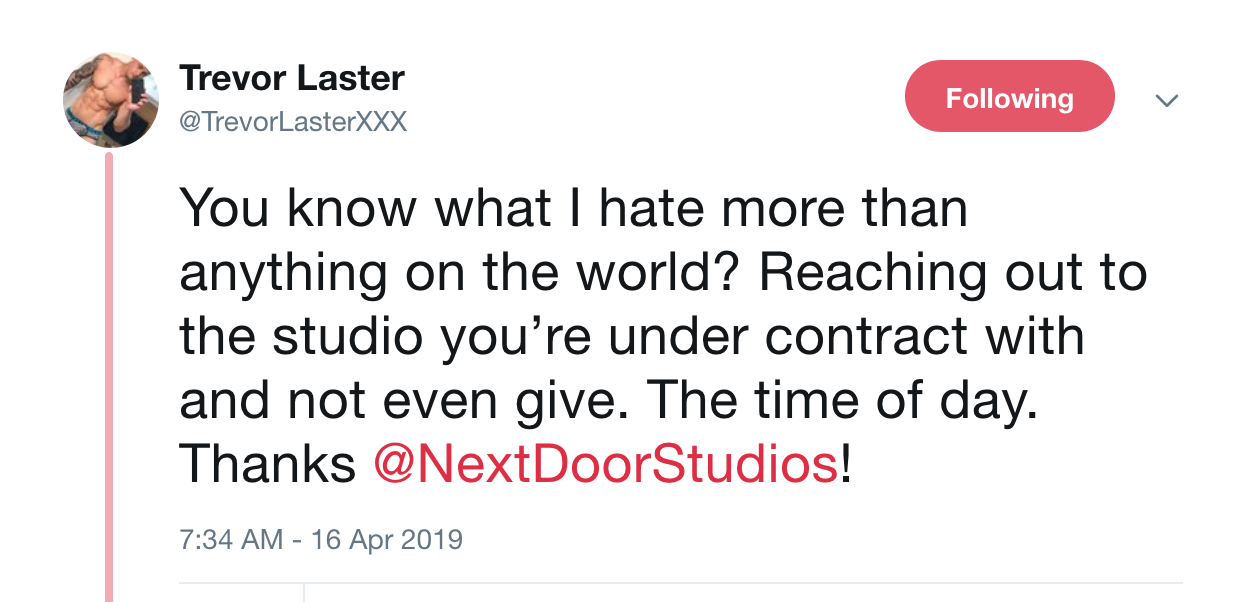 When asked by a fan why he signed as an exclusive in the first place, Laster replied that he "didn't want to…especially for [NextDoor]," and that he'll never sign as an exclusive again. He encouraged others to do the same:

At first, Trevor Laster declined to specify what, specifically, might've happened to make him quit, only telling Str8UpGayPorn that he's doing amazing now that he's a free agent:
A few moments later, however, Laster revealed to Str8UpGayPorn the specific reasons why he was no longer with the studio. Below is a transcript of our conversation this afternoon, which has been lightly edited for length and clarity. A few notes: Director Rocco Fallon is identified as "Tucker" in this exchange, "Cameron Dalile" is another NextDoor director, and "Stefan" is the owner of NextDoor.
Str8UpGayPorn: What happened?
Trevor Laster: Between the owner offering me money to have sex with a model off-camera so he can watch, to the constant belittlement from Tucker, to Cameron Dalile laying on me several times after inviting me over to his place to fuck all weekend—but having to hide from Tucker and Stefan the whole time since it would cost him his job—to Cameron talking about drugs on set, and to Tucker telling me and other models how he will fuck them up if they "don't get this shit right"…
Tucker was accused of threatening another model, Markie More, last year. He allegedly threatened to hire a hit man to kill him. Did Tucker make similar threats to you?
Well, I wasn't there for Markie. But Tucker has looked me in the face before and said, "If you screw this up and can't just do your fucking job, I'll fuck you up in so many ways, they won't be able to find your body." He's made several statements like that to me and other models. He'd chuckle after and have this look in his eye like he was dead serious.
So he didn't try to come off like he was "joking"?
No, in that situation he didn't laugh. There were also two times when it was the end of the week and he was tired of filming, so he just started slamming paperwork in front of me saying, "I'll fucking beat your ass up if you can't just sign your name." Mind you, they make you sign model release paperwork—which includes acknowledgment that you weren't forced to do anything you didn't want to do—before the scenes are filmed, but then they don't pay you till after. So even if I was forced to do something I didn't want to do, they made me sign the paperwork before even filming.
So I'm clear, those papers saying you didn't do anything you didn't want to do are supposed to be signed after you've completed the filming? They basically acknowledge that everything in your scene went well and you consented to everything.
Right, those papers are supposed to be signed after! They literally state that "I was not forced to do anything I didn't want to do during filming."
When was the last time Rocco/Tucker threatened you?
I think the last time was back in September. It was during my scene [with Ryan Jordan], where I play a tailor.
You mentioned today that NextDoor wouldn't give you "the time of the day," so I'm taking it you reached out to them today for something else, not related to the issues with Tucker?
I haven't shot with them since January, but they owe me three scenes, per my contract. But today, Stefan is refusing and says that they can terminate at any time, and they don't owe me shit.
So I guess it's definitely for the best that you're no longer working there, given everything that happened with Tucker?
Mentally and emotionally, absolutely. But they owe me for three scenes.
***
Str8UpGayPorn has reached out to Rocco Fallon ("Tucker") for comment and response to Laster's allegations, and this post will be updated if and when he responds. Fallon declined to comment or respond to the allegations made against him by Markie More last year.
ADDED:
Trevor Laster has just clarified that it was NextDoor that terminated his contract (for which he's grateful), and that he didn't quit. He added, "They don't like models who don't bow their head, tuck their tails, and say 'yes sir, no sir.'"
NextDoorStudios owner Stephan Sirard is responding to some of Trevor Laster's accusations today, telling Str8UpGayPorn that Tucker Scott (a.k.a. Rocco Fallon) did not threaten Laster, and that Scott would "not hurt a fly." Sirard explained that because Scott is exploring legal action against Laster and Markie More for what he considers to be false accusations made against him, he's declined to speak publicly about them at this time.
While he was not present during the times Scott made the alleged threats against More and Laster and could not conclusively confirm or deny the accusations, Sirard told Str8Up, "Tucker has worked with 900 models and staff members over nine years, so I would think there would be more than two people speaking out against him if any of this was true, and there would've been others on set who would've witnessed these so-called threats. Tucker has a dry and sarcastic sense of humor sometimes, but he would never hurt anyone. And why would Trevor be calling me to return to work for his three scenes if he was so afraid of Tucker? It's not true."
Regarding Trevor Laster's exit from NextDoor, Sirard confirmed that he did in fact fire him.
"I let Trevor go because of inappropriate things he was saying on set to other models, and several of those models had complained about Trevor to me," Sirard said.
According to Sirard, Laster would regularly ridicule other models on set by commenting on their sexuality ("Oh great, I have to work with a straight guy again") and various aspects of their hygiene ("Dude, your breath stinks"; " You smell, go take a shower"). After receiving several complaints about Laster from other models, Sirard says he decided to fire him, short of the three scenes promised to him in his contract.
It's not clear how or if NextDoor will compensate Laster for the three un-filmed scenes included in his contract.