[UPDATED] Performer Jacen Zhu Calls For Boycott Of Gay Porn Studio Noir Male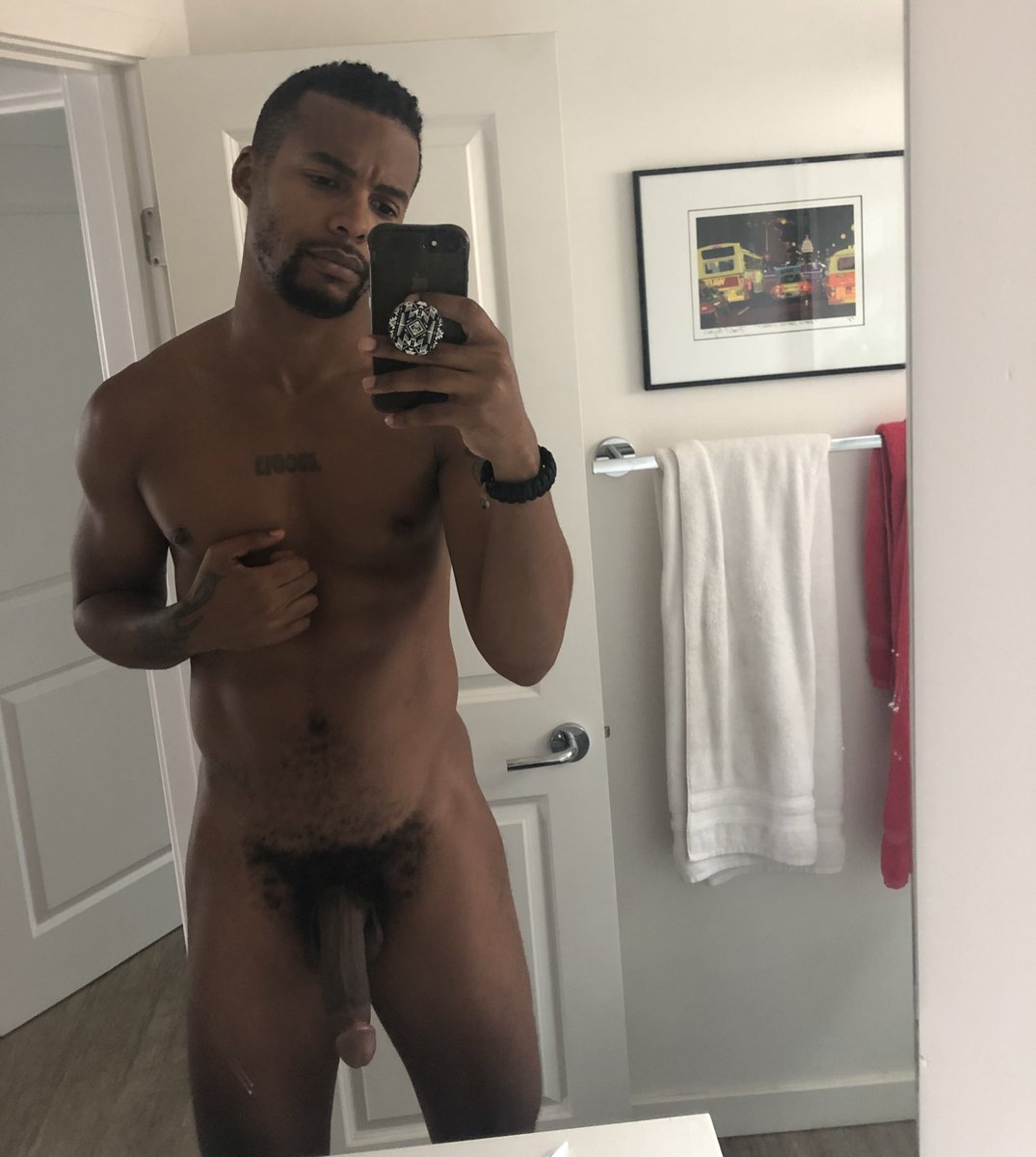 Update: Following yesterday's tweets calling for a boycott of gay porn studio Noir Male (see original story down below), performer Jacen Zhu has just sent in a full statement explaining what led to his decision to call for that boycott, and it's posted below in its entirety. In the statement, Zhu goes into detail on his past work with Noir and director Chi Chi LaRue, the casting issues at NextDoorStudios, NextDoorEbony, and NakedSword's Scared Stiff 2, plus conversations he's had with fellow performer Küper, director LaRue, and Noir Male's owner Jon Blitt (a straight, white male). Here's Zhu's statement, with screenshots of relevant tweets included for context:
The reason I decided to finally boycott Noir Male was the continued lack of authentic representation. Recently, I saw a tweet from Küper about Next Door and 12 white models. I believe he tweeted, "So we have a problem with Chi Chi LaRue, but this is cool? Fuck that's a lot of white boys." When I saw his tweet and knowing a little about Küper, I knew he didn't intend it to dismiss the continued misrepresentation of black queer men and problematic storylines from Chi Chi LaRue and his leadership at Noir Male. I previously discussed with Str8UpGayPorn and Out Magazine my reasons for no longer wanting to work with Noir Male: the lack of authentic representation, cliched and problematic narratives, and the constant promotion of black men, with no black-on-black content. I decided to chime in, with respect to Küper and his following on Twitter.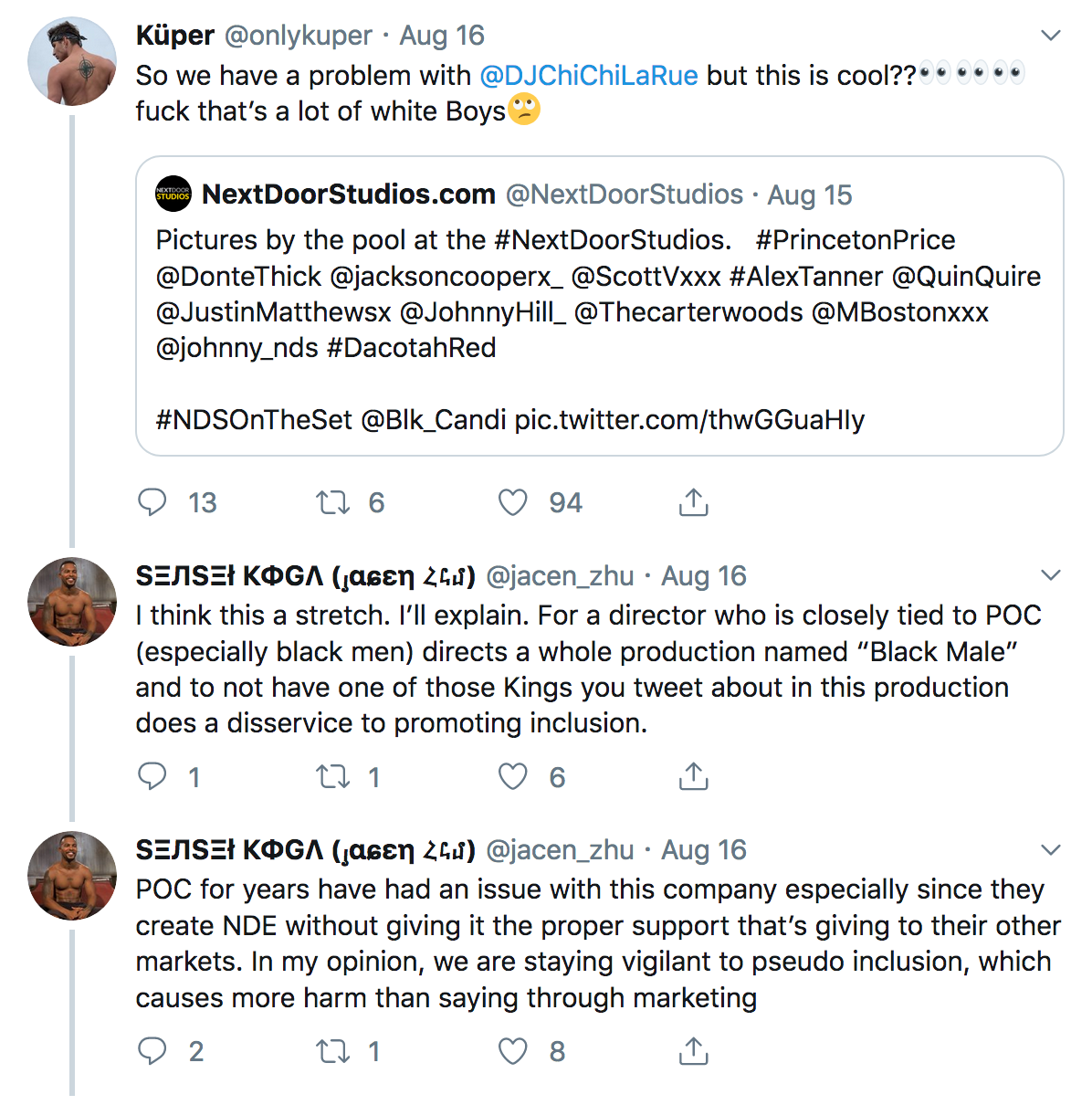 A week prior there was discussion from models of color and allies about the casting for "Scared Stiff 2," and it was acknowledged that they cast two people of color. Unfortunately, two isn't enough, especially from a director (Chi Chi) who has collaborated with and therefore has access to black models through Noir Male. In addition, I took issue with Chi Chi's directing for Icon Male regarding continued cherry-picking select black models to shoot. This type of cherry-picking casting, and separation of NM black models and IM white models (who are allowed to crossover from IM and NM) could be compared to separate-but-equal during Jim Crow. In my statement on Küper's tweet, I made that apparent by stating those points including the consistent issues of inclusion with Next Door Studios and the subpar investment in Next Door Ebony. Küper DM'd me and we discussed this to get clarification and he understood. To me, this subject was settled until I saw Chi Chi LaRue's tweet, in replying to my tweet, saying, "Sometimes people have an agenda to bring other people down and garner some attention, when they have no idea what they're talking about. Everybody should have their own opinion."
I didn't understand why Chi Chi would imply this when I've worked with him, and [considering] his history with misrepresenting models of color (black especially). I had no intention of garnering attention, these are facts that are known to performers, porn media and porn companies not affiliated with Chi Chi. I just took the time to give perspective on a tweet that, yes, 12 white models can be problematic for this industry, but also to remind us to stay vigilant against those pretending to be allies.

I also discussed in my tweet about Noir Male not showing up for POC, instead playing into the same narrative they claim to not be a part of. I also made a comparison of Chi Chi's C1R "Blackballed" to the NM box covers; the NM covers still highlight the white model. It's disingenuous to have the name of the studio emphasized—Noir (Black)—and have a "Noir Man of the Month" supporting the pretense of exclusively featuring black models if that is not the case in the productions themselves. I'm not trying to drag anyone, but Chi Chi has had this conversation with myself and other models.
In addition, I had a phone conversation with Jon Blitt, the owner of Mile High Media and Noir Male, and he assured me that the black-on-black (BOB) was coming. Jon told me that BOB content accounts for 15% of their current website and that members have been requesting more BOB content. In the same breath, Jon said if it doesn't sell, we'll go back to predominantly interracial content. If NM has only 15% of their content being BOB, it's not really Noir, and if that content perpetuates stereotypes with athletes, blue-collar workers, and hospitality (room service), then it's not creating the change it promised.

In addition to these stereotypes, models are afraid to speak up in fear of not being cast by other companies. The influence of Chi Chi is big in this industry, and I understand and respect their concerns, but we need radical change in this industry to create a safer, more inclusive environment. We should eradicate retaliation to enable models to speak their truth without losing work. This is why we have to stand together to #BoycottNoirMale and send a strong message that this will no longer be tolerated in gay porn.
***
Original story posted 8/20/19:
Earlier this year, gay porn star Jacen Zhu spoke out against Noir Male—the gay porn studio (which is owned by a straight, white male named Jon Blitt) that promised to "showcase black men as they deserve to be seen" when it launched last year—by saying that he and other black models were being "used" by Noir Male "to sell a product that doesn't cater to our community." Zhu announced that he'd no longer be performing at the studio, and he raised concerns about director Chi Chi LaRue being responsible for casting at both Noir Male (a studio with men of color and interracial scenes) and its sister studio Icon Male (a studio with predominantly white or "white passing" men). Today, Zhu is taking things a step further and calling for an all-out boycott of Noir Male.
On Twitter today, Zhu posted the below statement:
Models of color, I'm urging you to stop working with Noir Male. I understand we have less opportunities. However, we must force change and no longer be used as cash cows for misrepresentation. We deserve authentic inclusion and stand against being bullied into silence. We have to unite to bring about change in this industry. We must speak truth of our experiences within this industry. We must create a safe industry for future generations where inclusion is the norm and authentic representation is required. Stand with me and #BoycottNoirMale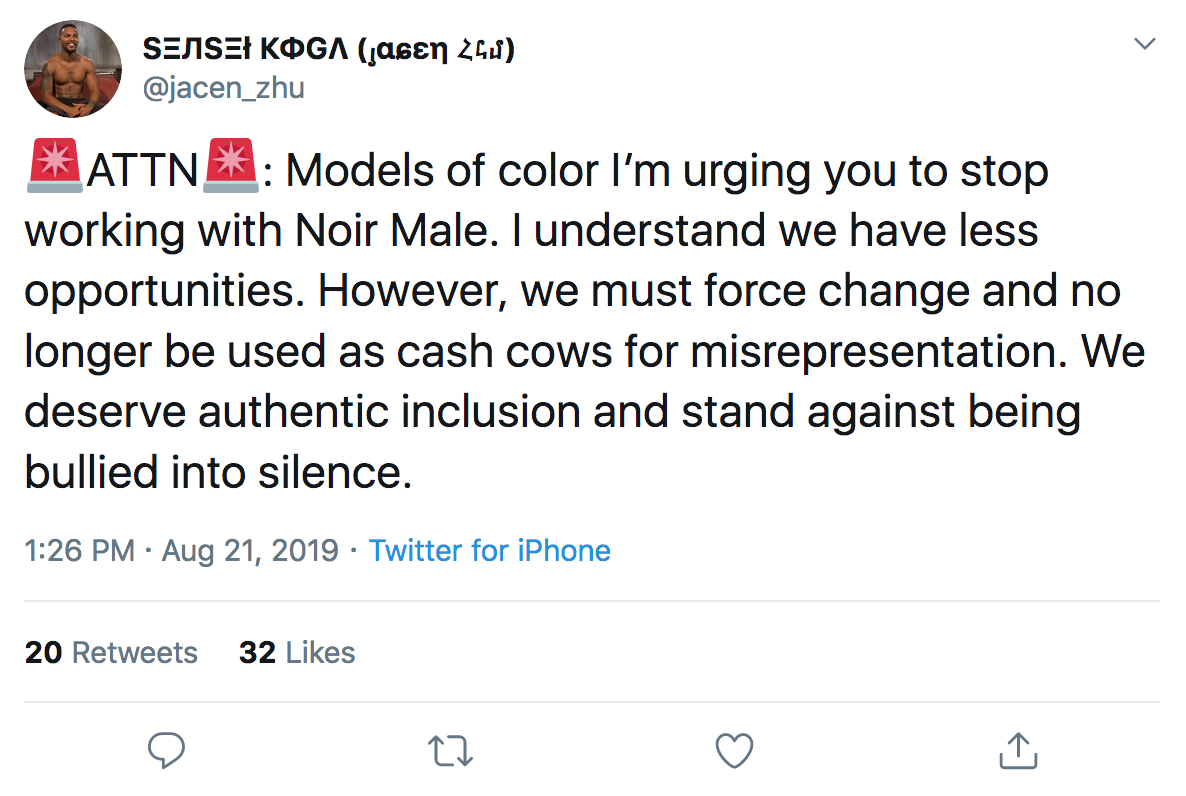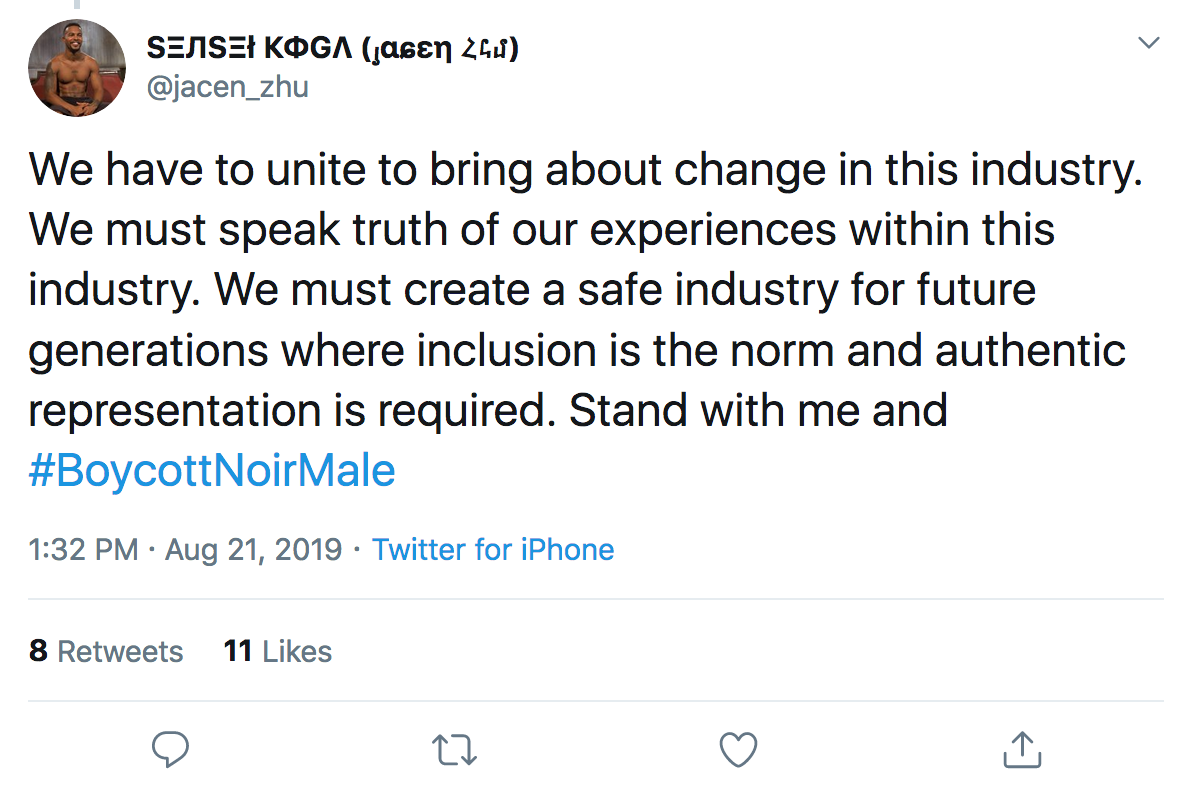 As Str8UpGayPorn reported in August of 2018 when the studio launched, there were 29 men on Noir Male's model roster, with 16 of them being white, and just 13 of them being black or mixed race. Today, one year later, there are now 78 men on the Noir Male model roster, 34 of whom are white and 44 of whom are black or mixed race.
Noir Male's LaRue did not immediately respond to request for comment.