Porn Studio GayPatrol Features White Police Raping Black Men Labeled "Spear Chuckers" And "Darkies"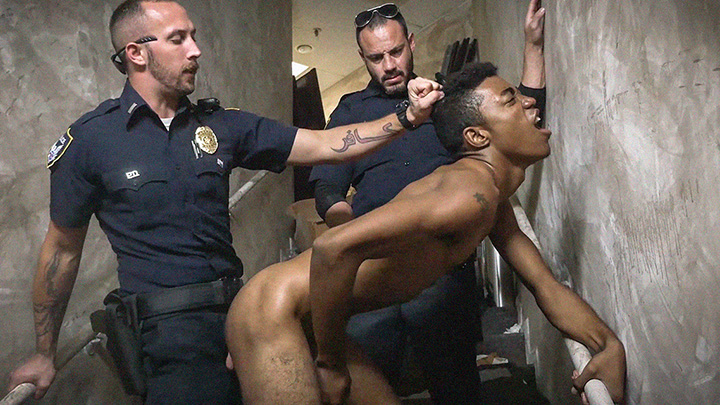 With the proliferation of so-called "fetish" porn and all the sub-genres of adult content online, it's unfortunately not a surprise that there is yet another gay porn studio using racial slurs and stereotypes to depict a minority group. But the amount of racism disguised as "fetish" porn featured on new site GayPatrol is still insane, almost making all the "thug" porn studios look complimentary of black men.
GayPatrol.com—a studio based entirely on the premise of racist white police officers arresting and then raping black men—appears to have launched late last year, and a reader recently emailed to point out one of the studio's latest scene write-ups. In it, the black character is referred to as a "spearchucker," a "bald black motherfucker," a "blackie," and a "stupid darkie":
If you're black and reading this, do us in law enforcement a favor – DON'T FUCKING RUN! Just because Jesse Owens could out run the white man doesn't mean you can. Is your life really worth risking over a $16.99 t-shirt for some bitch your fucking? No, but this spearchucker today thought so. How stupid can you be? Someone called the cops about a bald black motherfucker shoplifting. When we approached you, you ran. When we searched you, you had girls clothing tucked inside your hoodie. Come on bro, not even the Trump administration is that stupid. So we busted this bald blackie and took him back to one of our secret spots.  We used our cracka cocks to convince him that stealing dumb shit is a dumb idea. Thank god the darkies ain't all stupid and know that the easy way, is always the better option for all involved.
Trailer:
In another update, the black performer is labeled a "black son of a bitch," a "coco puff," and a "delicious piece of chocolate" who speaks using "oogie boogie talk." At least they called him "delicious."
Dumb, criminal activity, in the middle of the day – oh you better believe some black son of a bitch was doing it. Sure enough, we pull up and a delicious piece of chocolate is behind the wheel driving recklessly. Enjoy your face time with the concrete coco puff. This criminal, in particular, had quite the mouth on him. "Fuck the cops", "cracka ass", oh it was salty chocolate at first. Now, these types of criminals always talk a big game. They hard, they gangsta. Well those gangsta dicks get nice and hard when given the opportunity to take the easy way out by letting some white chocolate have a little fun with them. All that aggressive oogie boogie talk goes silent when that big black dick is deep in cracka cop ass. I hope our little darkie friend learned his lesson, but something tells me we're going to have another meeting with this black snowflake who does whatever he wants.
"Black snowflake"? Who knew Tomi Lahren was writing these scene descriptions. Trailer, which also features the slur "chocolate bitch":
Someone will probably argue that all of this could be considered satire, but satirizing something this horrific can unintentionally normalize it (just look at how our current president was elected after being made fun of on late night comedy television shows for years), and this studio normalizing racism in the form of "fetish" porn shouldn't be tolerated, especially by an industry that's supposedly about inclusion and equality (even though it's actually not, of course). And, for what it's worth, I don't think this is satire, which usually requires some amount of irony. It's just eroticizing racism, which is as lazy as it is wrong.
The inclusion of police violence and rape is obviously another issue. With white police brutality and the literal murder of unarmed, innocent black men making real-life headlines every day, who is supposed to feel good about jerking off to this?
There's a niche and a market for everything, and studios know that the more offensive you are, the more attention you get (as evidenced by this post). But there's a much shorter lifespan for trash like this than there used to be, and today's gay porn viewers (especially younger, more socially aware gay porn viewers) will not accept it, let alone pay for any of it.
GayPatrol is run by a production company based in New Jersey called SkywireCash, which operates several other gay and straight studios glamorizing racism, including "Arabs Exposed" and "Fuck You Cracker."