[UPDATED] Ryan Rose Cancels GQ Subscription And Blocks Colin Kaepernick On Twitter Over Magazine's "Citizen Of The Year" Cover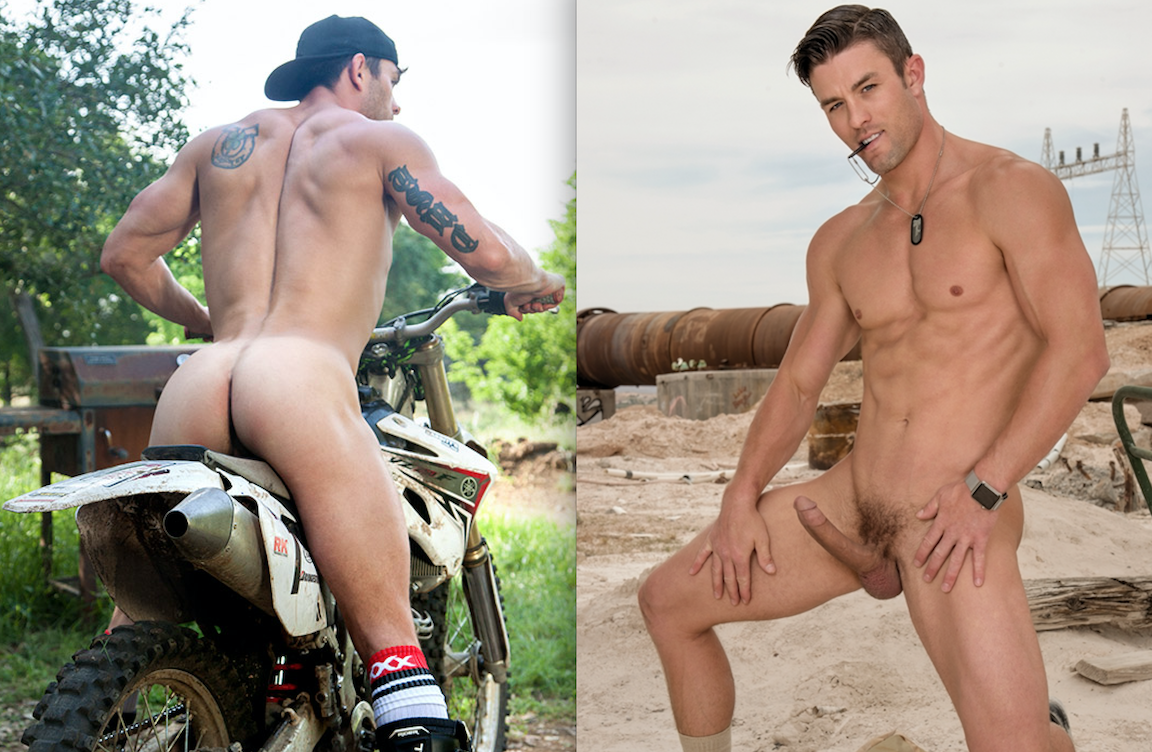 This story has been updated below.
Ryan Rose made some great points last year when he spoke out against Donald Trump and announced that he'd be supporting Hillary Clinton, but some might not agree with his opinion of former NFL player Colin Kaepernik, which he made known today via a series of tweets.
First, he announced that he'd be canceling his subscription to GQ, which put Kaepernik on the cover this month and named him their "Citizen Of The Year":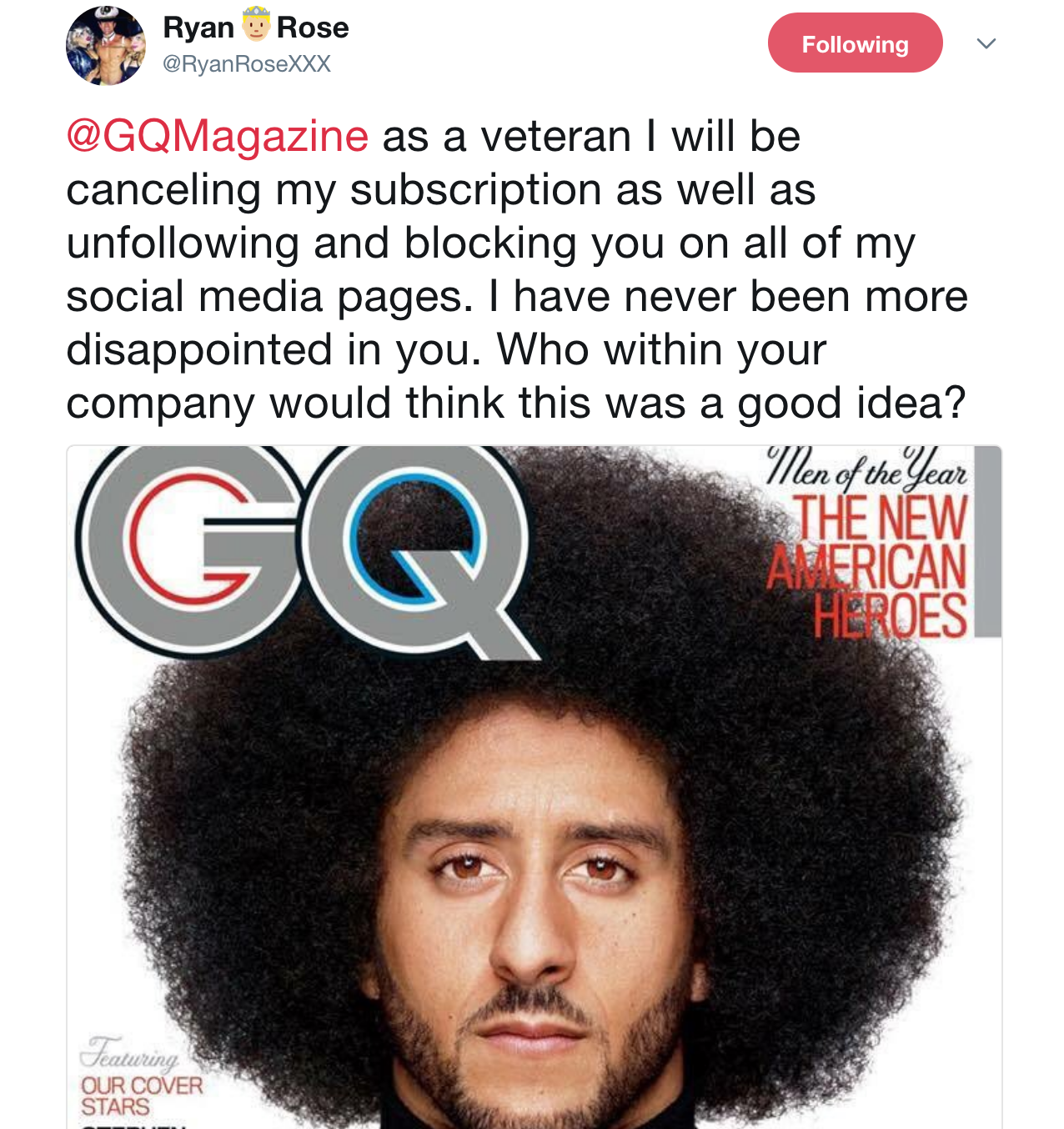 On the one hand, GQ's "Citizen Of The Year" isn't an actual award, but on the other hand, anything that brings more attention to what Kaepernik is actually protesting—racial inequality and police brutality of blacks and other minorities—is always great.
Ryan Rose, however, takes issue with Kaepernik's method of protesting the National Anthem, as the song is a symbol of his military service, and he proceeded to block him and GQ on Twitter: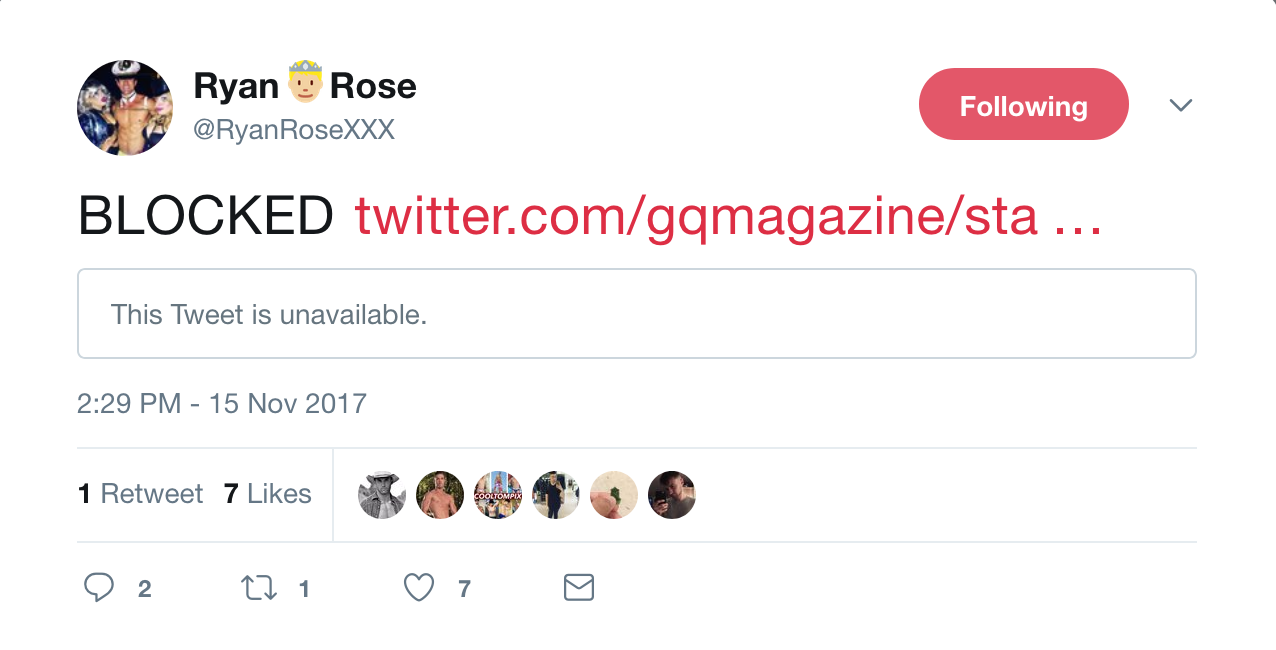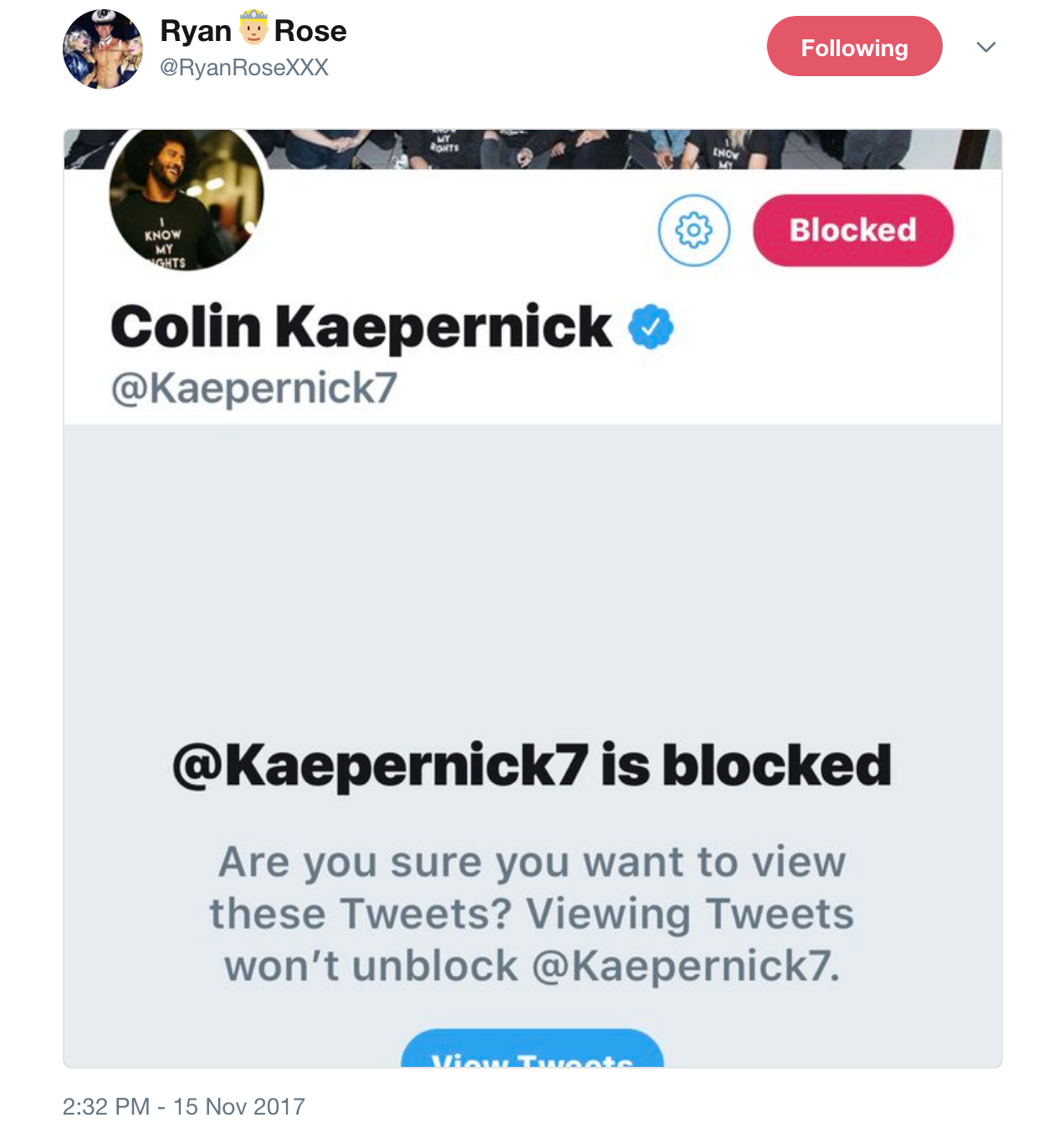 Ryan Rose's military service should be honored, so I respect his opinion here. And, I think his opinion is based solely on his pride in his military service. Kaepernik's protest of the anthem, however, isn't a protest of veterans or of anyone's military service—it's a protest of the corrupt American criminal justice system that has seen thousands of minorities wrongfully incarcerated, if not murdered by police. But, Ryan Rose sees the protest differently, as he feels it applies directly to his service in the military. There are many veterans who share in Ryan's beliefs, but there are many veterans who actually support Kaepernik.
For his part, Ryan Rose did acknowledge that one of his fans, who disagreed with him, had the right to his opinion. So, presumably, he'd say that Kaepernik obviously has the right to his opinion and his protest as well.
Ryan Rose has responded to clarify that he does not disagree with Kaepernik's beliefs, but that he does disagree with the way in which Kaepernik is protesting. He writes:
It is my personal opinion and right to disagree with the method he used to protest the wrongful and unjust incarceration, police brutality, and racial profiling directed towards minorities. I disagree with his method NOT the cause. I fully support the equality of every race, religion, and sex. Not that I feel I have to justify my actions but from my knowledge I am the only person in my profession to take a stand and put my career on the line publicly to keep racist/bigots off the sets of our studios. It was ingrained in me throughout my military service you can either sit there and complain or or you can get off your ass and my a difference and I feel that's exactly what I have done. Again I disagree with his method of protest NOT what he was protesting.
As noted up above, Ryan Rose is proud of his service in the military, so his disagreement with the form of the protest is understandable and respectable, even if you also happen to support Kaepernik's protest (which I do).