WATCH: Ryan Rose Gets Fucked While Hanging Out A Window, Re-Signs Exclusive Contract With Falcon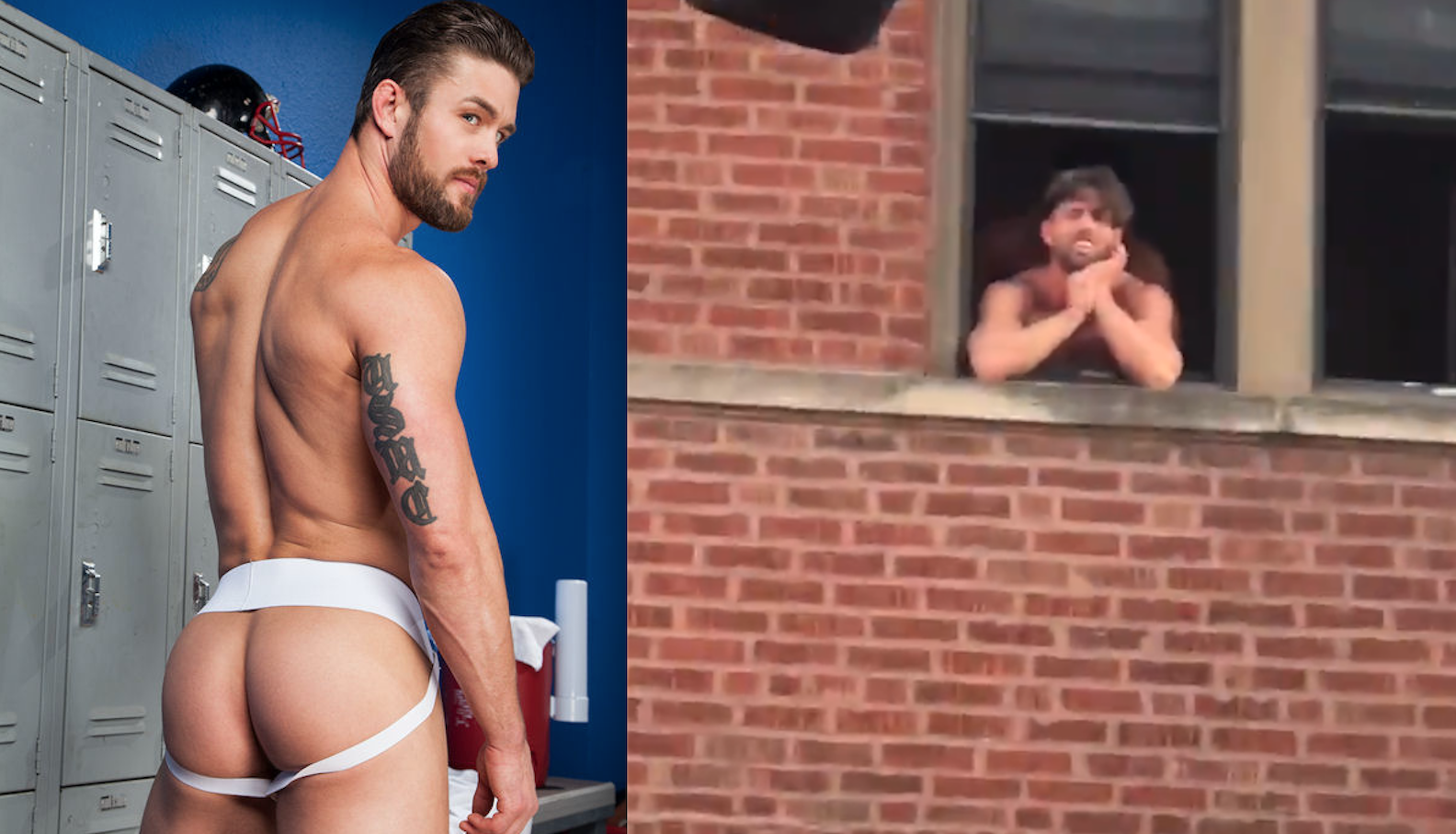 If you're a fan of gay porn star Ryan Rose, today is a good day for you. If you're a fan of public sex and Ryan Rose? Today is a great day for you. Ryan Rose put on quite the show earlier this month, as he got fucked in front of a crowd of hundreds of people while leaning out a second story window above the Chicago Market Days festival. Luckily, people down on the street pulled out their phones and recorded RyRo's live fuckfest:
Wow really? How many people recorded me? It's even on fb's circuit royals group chat🥇 mom I made it 🤷🏼‍♂️🙋🏼‍♂️🤦🏼‍♂️
•#ryro #daddyaf #wreckemryan #americassweetheart #beautifullybroken #supportiveasshole #pornsuperstar #model #dancer #bartender #influencer #mensphysiquecompetitor pic.twitter.com/4N5diCYy68

— Ryan Rose Official (@RyanRoseXXX) August 23, 2019
I wonder who the top was? Also, it's interesting to see other people up in the apartment, nonchalantly leaning out another window beside Ryan, while he's being fucked. LOL:
Yeah exactly what you think is happening is in fact happening during DJ Dan Slater's set during marketdays 2019 #himom pic.twitter.com/ohdwhsc8m2

— Ryan Rose Official (@RyanRoseXXX) August 22, 2019
I think this brings new meaning to Rear Window:
— ROLYSANTOS (@RolySantosXXX) August 21, 2019
The absolute best video of Ryan's tryst with the anon top is below, with iconic commentary and a live play-by-play ("He's clearly getting fucked!") from an onlooker in another building across the street:
Yeah that's me during DJ Dan Slater's set during Marketdays 2019 Hi Mom. 🤦🏼‍♂️ pic.twitter.com/9bD7xfEUnY

— Ryan Rose Official (@RyanRoseXXX) August 20, 2019
In other Ryan Rose news…surprise: Ryan Rose has unretired (he previously announced his retirement last year, but everyone is entitled to change their mind!), and while we thought his final scene had been released last November, it turns out he'll be starring in more scenes at NakedRagingHotFalcon, where he's been exclusive since 2013. NRHF press release announcing the re-signing of Rose:
"I'm happy to welcome Ryan back to the gay porn industry as an exclusive. We're excited to continue to showcase his amazing talents in our brands," NakedSword President Tim Valenti said. "Ryan is one of the all-time greats, and we're grateful to be working with him upon his return after a year of retirement. We plan to continue right where we left off, featuring him prominently in the most exciting, top-quality productions."

"I feel like a fine wine, getting better with age. It was nice to take a year off and have time to reflect on all that I accomplished," said Rose, adding, "During my break, I discovered that I have a lot more performing left in me, and I want to share it with everyone. I'm so happy that I will be working with Falcon and NakedSword again. I am thankful to them for believing in me and for all my fans who have been supportive through the years. Watch out! I'm back everyone, and the best is yet to come."
Now that NRHF has stopped using condoms in most their productions, we'll finally get to see Ryan Rose fucking bareback once again, as he did when he launched his career at Sean Cody in 2011. Also, while he's always been hot, recent photos of Rose (see below) show that he's even hotter than ever now, so it'll be great to see him being fucked again in gay porn scenes, and not just while hanging out of Chicago windows.
Welcome back, RyRo!