Ryan Rose Has "No Idea" Who Blue Bailey Is, No "Chance In Hell" He'd Work With Ty Roderick
On a slow news day, you can always count on Ryan Rose! Who is on his mind this week? From Blue Bailey and Ty Roderick to Jacob Ford and Armond Rizzo, RyRo has a lot to say, and gay porn's biggest star is saying it all publicly on ask.fm (of course).
Take it away, Ryan!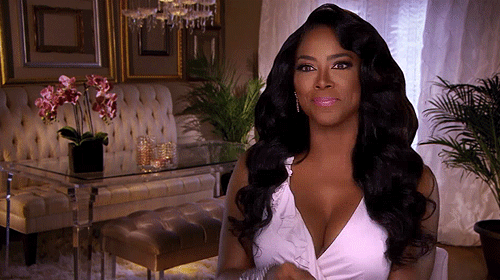 On Blue Bailey, the infamous (but apparently not that infamous) performer who was injected with over 200 loads of HIV-positive semen in Treasure Island Media's 2013 pseudo snuff film, Viral Loads: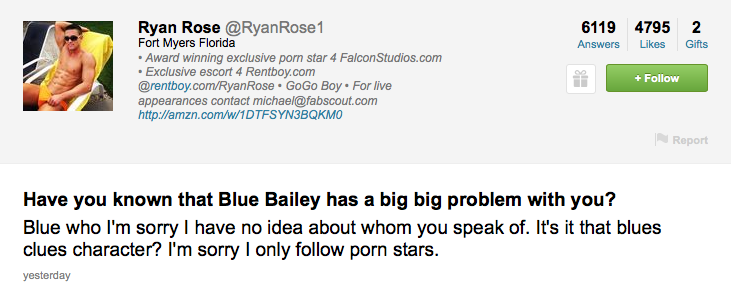 Blue Bailey hasn't stated publicly what (if anything) his beef is with Ryan Rose, but he did answer his own ask.fm question yesterday with a seemingly harmless play on words. Does this indicate a "big big problem," or is it just a lighthearted pun?
Next up, a peek into Ryan Rose's private sex life, as he reveals the names of two people he's fucked off camera.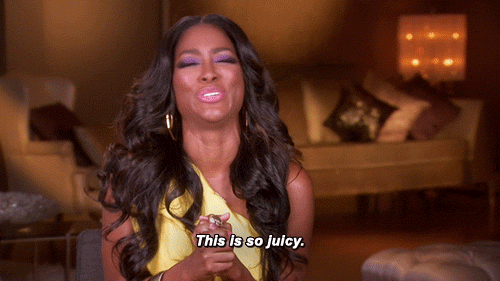 First up, Jacob Ford (a.k.a. Sean Cody's Porter):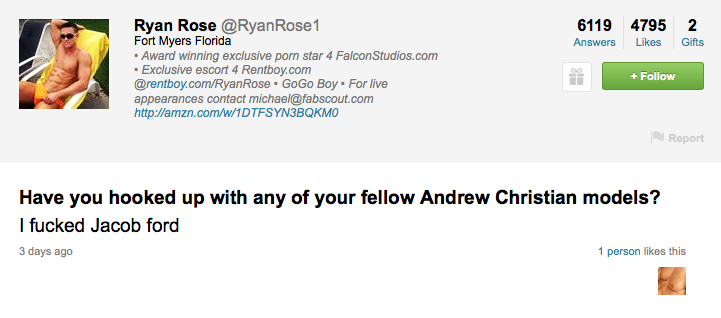 Was he a good fuck?
Also?
Powerbottom Armond Rizzo: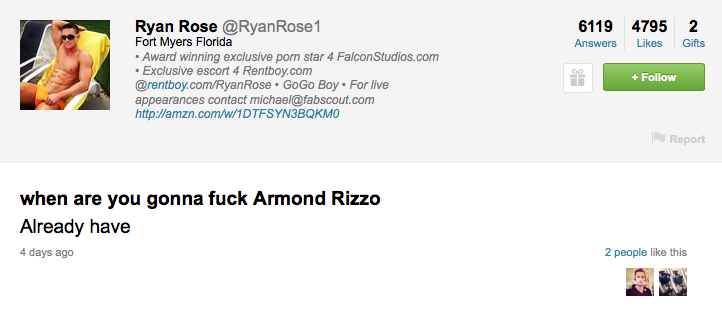 Unless Ryan and Armond filmed a scene for Raging Hot Falcon that hasn't been released yet, this was another off screen fuckfest we'll never get to see, unfortunately.
Finally, the one person Ryan Rose won't be fucking on or off camera? Ty Roderick. This revelation came after a fan inquired about Ryan's use of "ty" (the abbreviation for "thank you"):

He wasn't talking about Ty Roderick.
But since you asked…
If you'd rather watch Ryan Rose fuck instead of reading about who he's fucked, here's the trailer for Ryan Rose fucking new Falcon exclusive Dorian Ferro (watch full scene here):
[

Falcon: Ryan Rose Fucks Dorian Ferro

]