Scientists Say Men Should Ejaculate At Least 21 Times Per Month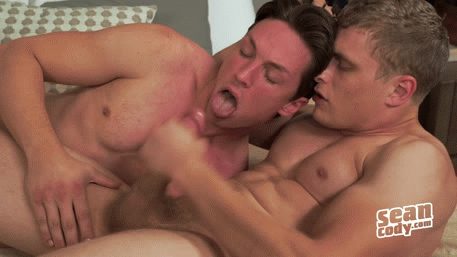 [gif of gay porn star Kieran ejaculating on himself and Cole via Sean Cody]
21 times per month is obviously less than once per day, so it shouldn't be too hard to hit that goal, whether you're single, in a relationship, or a huge whore. Men who don't cum enough are at a greater risk of prostate cancer, stress, and depression, according to scientists. In the below report, researchers looked at a group of men who were abstaining from ejaculating, and found that not cumming was detrimental to their health. Via DailyMail:
Born out of groups on Reddit, the 'NoFap' movement urges men to avoid masturbation to boost confidence, focus and even cure erectile dysfunction. Those who abide by the practice even call themselves 'Fapstronauts'.

Researchers at the University of California, Los Angeles (UCLA) surveyed 587 men who had taken part in the abstinence practice.

They found that men said they felt worthless, shame, sad and in some cases suicidal when they 'relapsed'. They were also more likely to report erectile dysfunction.

Experts support occasional masturbation and sex for its many health benefits. One Harvard University study even found that men who ejaculate at least 21 times a month slash their risk of prostate cancer by a third.

[M]edical professionals do urge people to undertake the habit occasionally, saying it can help to reduce stress, improve self-esteem and even, for men, reduce the risk of prostate cancer.
ICYMI, the gif above is from a 2018 Sean Cody video starring Sean Cody's Kieran and Cole (watch full scene here):
[
Sean Cody: Kieran Fucks Cole Bareback
]
How much do you cum?