Exclusive: Sean Cody's Brandon On Sexuality, "Cope With Fitness," And More In First-Ever Interview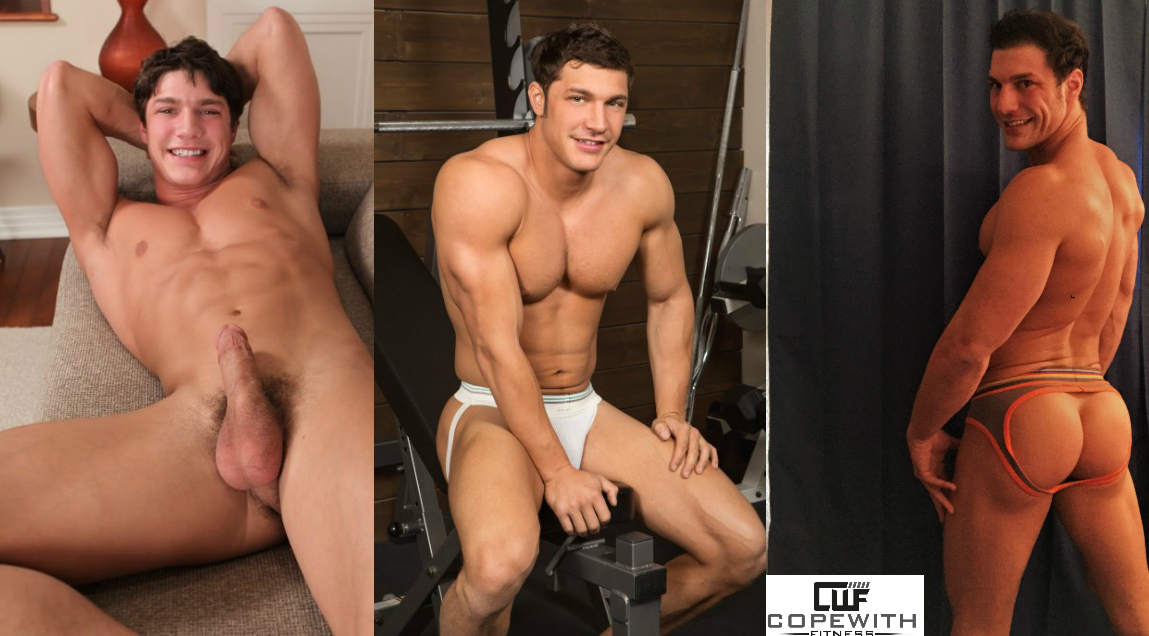 For only the second time in gay porn history (the first time being with Tanner), Str8UpGayPorn is proud to present an exclusive interview with an active Sean Cody model—and not just any Sean Cody model. As Sean Cody's Brandon, he's arguably the studio's most popular and iconic performer of all time. But as Jeff—Brandon's real name, as some know from his social media accounts—he's a humble, career-oriented, truly authentic young entrepreneur, and he cares just as much for clients at his new fitness business as he does his many fans at Sean Cody. In Jeff's first-ever interview below, he opens up about his sexuality, his future with Sean Cody, his multifaceted personal training program, the struggles he faced in his childhood, and much more.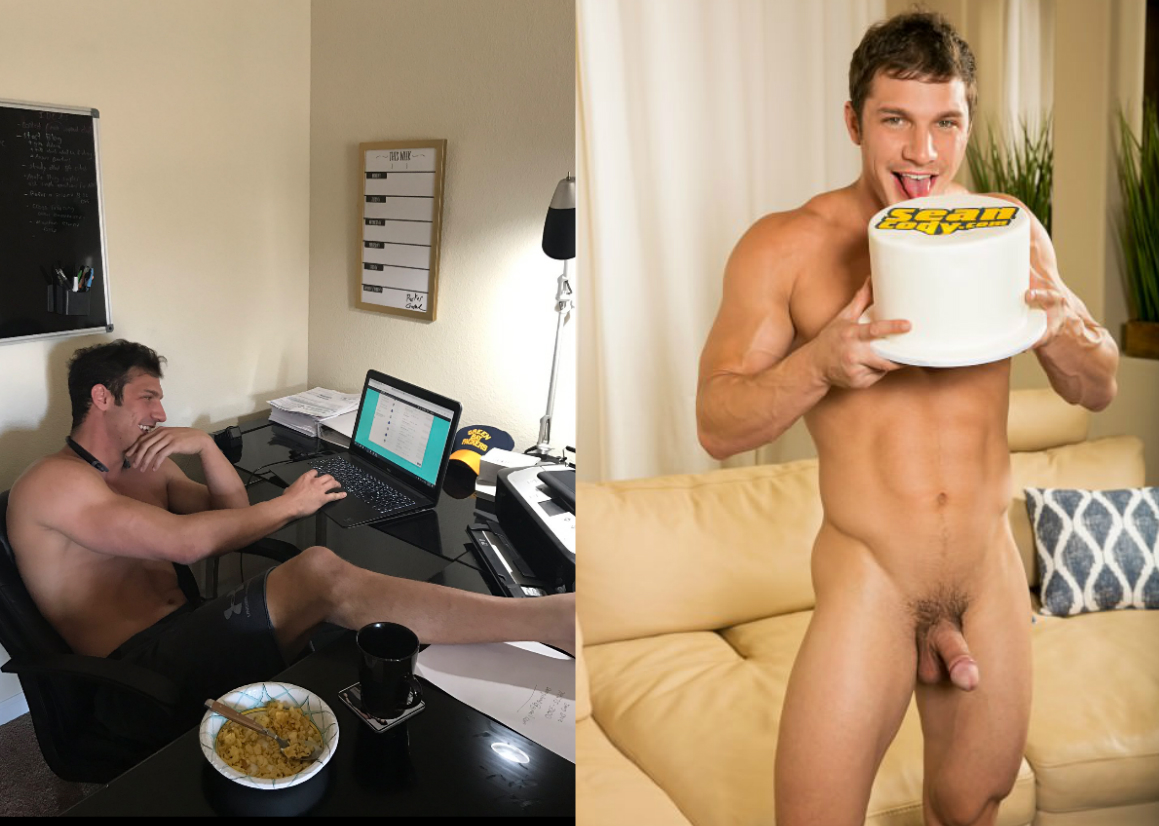 Str8UpGayPorn: Hi Jeff! It's great to finally talk, after knowing you as "Brandon." After all the years as a performer, what's the biggest misconception people have about you, because of your work as "Brandon"?
Jeff: The biggest one is that I'm an escort. I have never and will never be an escort. I've been offered over $10,000 for one night and I rejected it, so it would be great if people could stop trying to get me to escort.
I think people might assume that because there are a lot of porn stars who escort.
Just because I did porn doesn't mean I'm someone who is comfortable with giving up my body to just anyone. When I decide to be intimate, I give that person a piece of my heart. I am a very passionate person with a very big heart, and that gets me in trouble sometimes. It gives me a lot of chances to have my heart broken, and to be taken advantage of. In the end, I think it's worth it because what's life without love, passion, and heartbreak?
But, there's obviously a difference between who you're intimate with in your personal life and who you're performing with at Sean Cody.
Porn, especially with Sean Cody, is very professional. They treat us with respect, give us very nice hotels to stay in, feed us, and make us 100% comfortable. I love their company, and that's why I've stayed there this long. They have always treated me fairly, and made me feel like a king.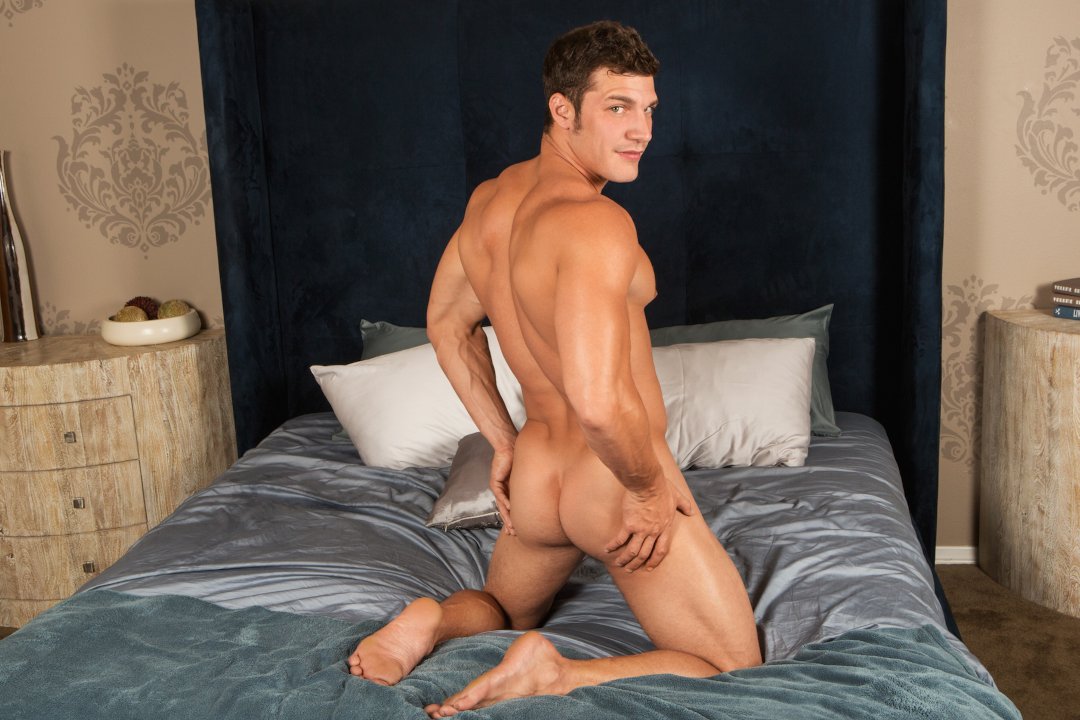 I want to get to Sean Cody, but first wanted to touch on your new, non-Brandon business, "Cope With Fitness." For those who don't know, what is it?
Cope With Fitness is a customized, 12-week workout program, consisting of a two or three part workout plan, changing your workout every four to six weeks so that your muscles don't get used to what you're doing. The goal is for you to look forward to going to the gym and seeing your body change, and doing this will prevent a plateau.
So you're training people, but it's all virtual, and done online?
The program is mainly running off the app and website called "Trimerize," and you can find it in the app store under "Cope With Fitness." The program shows videos of every workout that I have, and I'm slowly adding my own voiceover videos to the site. The site helps track nutrition and fitness, and it syncs to a Fitbit. You can print every workout from the app or website, too.
What about diet? I know nothing about fitness or health, but diet is important, right?
Yes! The app also makes custom meal plans, gives you substitution options, and prints out a grocery list at the bottom of each page. Supplement advice will also be given—and I've been researching, studying, and trying out supplements for 10 years now, so I have a pretty good grasp on what works well, and which ones are just gimmicks. I also send you instructional videos to show you the proper form and the way to do certain workouts. I'll be doing weekly updates to track your progress and answer any questions you have.
The program is online, but do you ever train in gyms or in person?
I do, but I'm focused on the online personal training now. When I do start doing more in person, it'll most likely be in Tennessee. Think of me as your personal fitness coach. I started the program to help the busy people who don't have time to get a personal trainer in a gym, or they want someone who actually cares about them meeting their goal. I only take in 10 -12 clients per quarter so I don't spread myself too thin, that way I can always be there when your fitness emergency takes place.
What's the most fulfilling part about running Cope With Fitness?
The most fulfilling part is the daily texts and calls I get thanking me, telling me how much me helping them means to them. Making my clients laugh is also always a great feeling, all in all this "job"—which is not really a job, it's more like a fun hobby—keeps me smiling and makes me go to sleep feeling very happy.
This makes me wonder if you still have the time—or the interest—in performing as "Brandon"? Have you moved on from Sean Cody?
I wouldn't say I've moved on, but…doing porn wasn't exactly my number one career choice.
Why did you end up doing it then?
I was young, lost, and my family needed financial stability. So, it was a necessity. I do not regret it by any means. It's been a crazy, fun, and very interesting journey. But I hated my job—I was a waiter at Applebee's—and I really needed money, and honestly I didn't see the harm of jacking off for some money in front of a camera. I mean, I did it in in my room all the time. Of course, I didn't think I'd end up being the face of Sean Cody. I used to be a shy, young man who wouldn't even shower after gym class. But that changed real quick!
You haven't always had your good body and physique?
Oh, no, I used to be 90 pounds of skin and bones as a freshman in high school. I started lifting as a sophomore because I realized it felt so good to throw things around and build something that I could be proud of and protect myself with. It helps me in so many ways.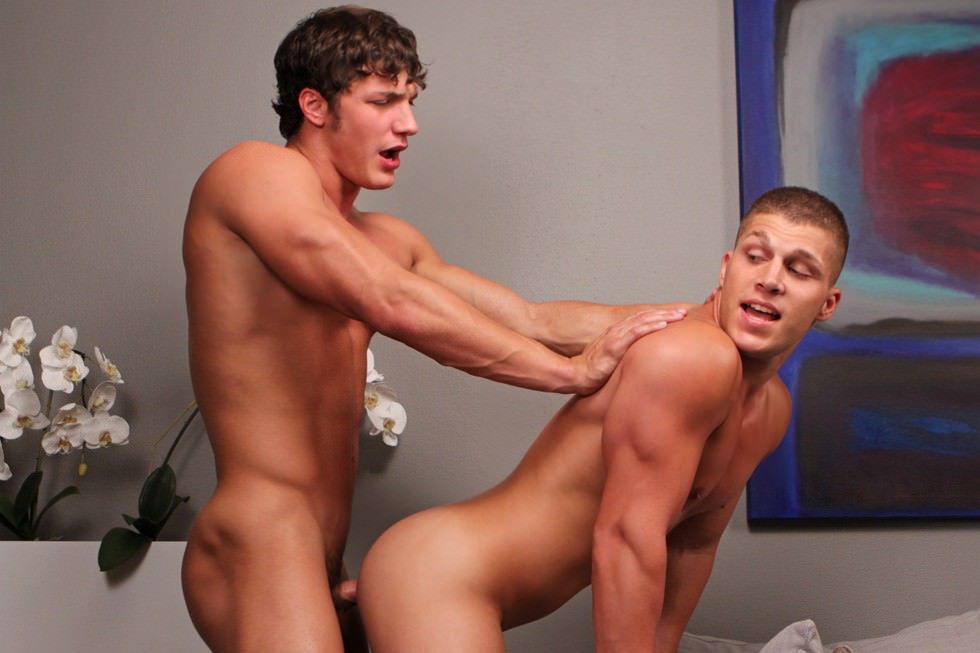 So, just to be sure one way or the other, will you still film porn?
Who knows, there may still be some videos that haven't even been published. The main thing is I'm finally pursuing my dream fitness coaching, as helping others is very fulfilling. But at the same time, I believe me doing porn was also helping others. I've received so many thank you notes and letters telling me how much I've helped and motivated people just by being in the industry, and they tell me how I've gotten them through the darkest parts of their life.
OK, last time I'll ask about it, but it sounds like continuing with Sean Cody is still on the table for you?
Honestly, I wouldn't say I'm done with porn. I would just say that I'm just expanding my career. I'm pursuing other things and knowing that, eventually, porn isn't going to be there for me anymore.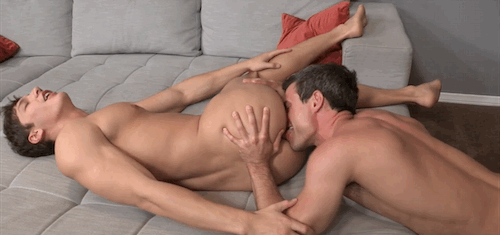 Do you ever have free time now? When you're not performing, training, or working on Cope With Fitness, what do you do?
I go downtown for laser tag or Dave & Busters, and I'm a big movie buff. I go to music festivals and concerts, too. But no matter what, I make time for the gym, cause that's my sanity and I don't want to lose that.
Just like porn stars, personal trainers have competition, too. What makes Cope With Fitness more effective than other training programs?
We teach fitness as a way of life, a way to cope with everyday problems. I know I use fitness to help me with anxiety, stress, and any major issue I'm dealing with—especially break-ups. I get really into the gym after a break-up, and it helps heal so much. We aim to build a relationship where we can trust one another, talk about our problems, and help each other over come everyday troubles.
Where do you see yourself and Cope With Fitness five years from now?
I'm hoping to open my own gym, still be training, and hopefully have my business big enough that I can hire my friends as trainers. I also hope I can sit back and think about how many people I've helped to make a difference in their lives, and that I've built amazing relationships just by having them as clients. People can book a free consultation here, or just come sign up for information here. We're making a video library for clients and paid members on Cope With Fitness that will be up very soon.
And if you could pitch the idea to a potential client right now, what would you say? What's the first thing they'll notice after a few sessions?
I mean, stop making excuses and putting it off. Fitness is not only a physical necessity, it's a mental necessity, and once you figure that out, you will know true happiness. It's those first three weeks of forming a habit that's the hardest, but after that it becomes just a thing that you do and a thing that you enjoy!
It does sound like there are mental and emotional components to the program?
I've read many books on psychology, and I'm a very intuitive person when it comes to people struggling with depression, anxiety, or addictive personalities. I can see eye to eye with these people because I've either had it happen to me, seen it with others and how it effects them, or I'm still dealing with it to this day. I just want to help people realize they are not alone out there, and I think running this company is a very good way to do it. We are very loyal to our clients.
You've referenced "we" a few times, and that's because you're running the business with your brother. He obviously knows about your work with Sean Cody, but how did he find out?
I just told him. It was like telling anyone else. I mean, either they accept you for what you are and what you've done, or they don't belong in your life. And he did—he accepted me and accepts me no matter what I decide to do.
What about telling other family or friends about your work as a performer?
Everyone has their own opinion. Usually I don't even have to tell someone, because all I have to do is add them to Twitter or Instagram and, boom, they know. It doesn't seem to be an issue with me socially. People see me and aren't really surprised about anything I tell them, I guess I just look like a guy who is capable of anything!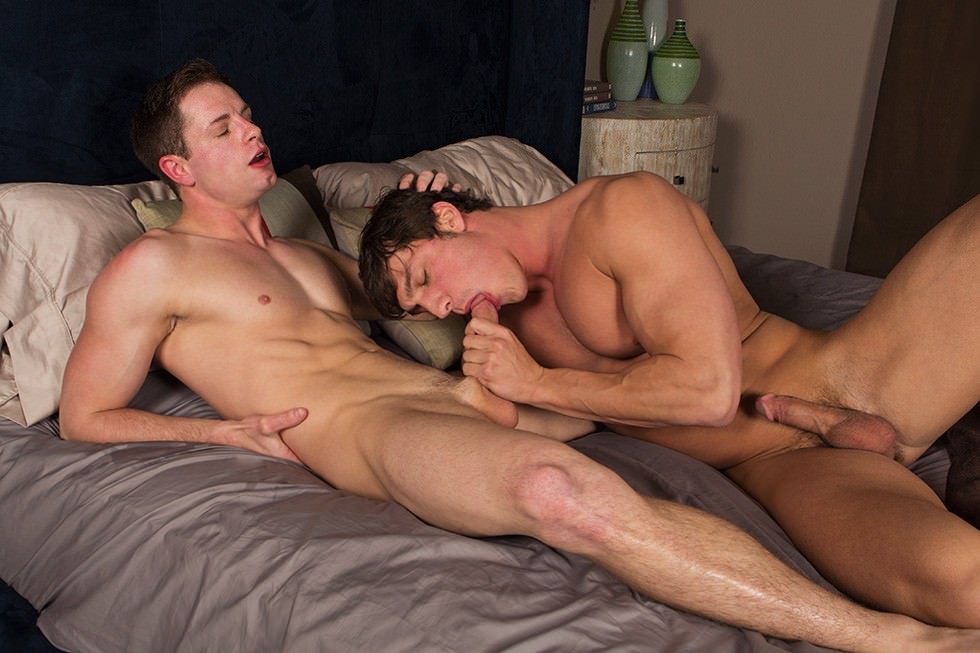 Do you get recognized in public as "Brandon" a lot?
Yes. When I'm out of town it happens all the time, especially Miami and San Diego. In Nashville, it tends to happen, too. People will usually have their friend walk up to me, or they'll say, "Why do you look familiar?" I answer with some kind of sarcastic, smirking comment, just to break the ice.
And you don't really speak about your work as "Brandon" to promote Cope With Fitness, but you could. Has that been a deliberate choice?
I'm not hungry for attention, but I also don't fear it by any means. I enjoy the confrontation that can come from that, if you handle it the right way. It's a very efficient way to figure things out.
Has it been hard to separate the "Brandon" persona and who you really are as you run the business?
I don't really have separate personas, my personality is what it is. I act the same on camera as I do in everyday life. I'm the same guy when I market Cope With Fitness—an outspoken, blunt, sarcastic, dry humor type of guy who just enjoys life, and making people laugh!
Unfortunately, given your popularity, you've had to deal with a lot of aggressive fans and stalkers online, right?
Yes, I do. I have one actually right now who's making up very false accusations, and saying very demeaning things just because I wouldn't send him pics and videos. I honestly don't know how someone could be that coldhearted and hate me that much, just for not giving them what they want.
How do you handle these people?
Usually, I handle it in-house, and try to work with them and calm them down. If it comes to it, I do get my lawyer involved.
Wow.
Right now, I have my lawyer involved in a case where a guy is blowing up my Twitter and email with tons of different fake profiles making false accusations, going as far as making fake documents to "prove" it. Obviously, this comes with the territory, so I've gotten used to it. But I wish the world would cheer up and just show love instead of all this hate—it saddens me!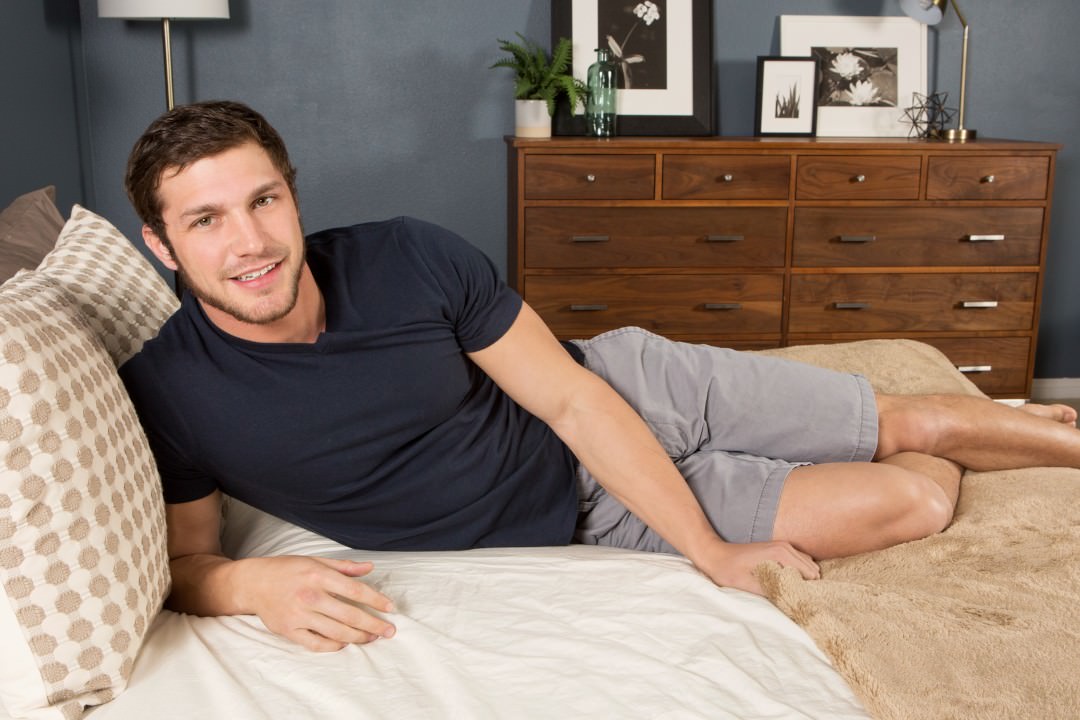 Last week, you tweeted that you have an "intense and crazy back story," and I wonder if you could elaborate on that?
Well, that is a novel.
Like, it's a long story just to talk about, or you're actually writing a book?
Honestly, I'm actually having a book written about it. I can give a little bit of a summary. When I was two years old, my dad walked out on my mom. She was overwhelmed, and she had bad men in her life who would leave her. And there were other issues at that time, so we—me and my two sisters—were taken away from her when I was four. We went into the foster system where abuse tends to occur at an alarming rate, and we were in and out of foster homes until I was 17, when I emancipated myself.
And then you were on your own?
I actually got a job at Burger King at age 15, and worked there until I was 19 and made it to manager. But I wasn't happy, and I felt like I wasn't living my life to its fullest. So, me and my sister moved to Tennessee to rebuild our relationship with our mom. That's where my uphill battle started, but I've met many great people and have enjoyed this journey, and I have a great relationship with mom now. Also, when I was 21, I met my half brother for the first time, and now he's a trainer for my company. Funny how life comes together. It's amazing how things just work out, no matter what.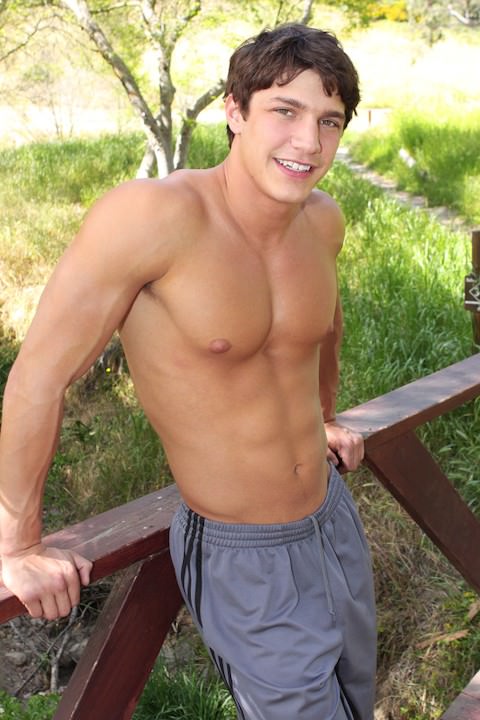 You started porn in 2011, and within a few months you became the most popular model at the #1 gay porn studio. At what point did you realize your popularity and how well-known you were in the gay community? What has that been like?
I wouldn't go that far, LOL. At first it was very hard to deal with, as I was living in a small town in Tennessee where I had just moved. The type of town where everyone knows everyone—a "bible belt" kind of place. Within two weeks of my first video being released, everyone knew about me and was sending around videos, pics, and things of that nature. I had some "friends" turn away from me, and my family went through some times, but I can honestly say with full sincerity that it was a blessing in disguise.
How?
I used to run around being the social butterfly that I am, just living ignorantly thinking everyone was my friend. But after this, I grew even closer to the people who stuck by my side, and to this day I'm still friends with them. It weeded out the fakes, the people who were just there for a good time, and the people who were using me in some type of way. It made life less complicated, and I didn't have to second guess the people in my life who I knew were there for the long haul. The friends and family still here mean the world to me, and I would do anything for them, as they would for me. My mom is an amazing woman, and I moved here to meet her and form a better relationship with her. She is still my go-to. I love her, and she accepts me for me without judging me—and same with my brother.
Being a straight man, what's it like to perform in movies with other guys?
Honestly, I don't really believe in labels. I am what I am. I'm attracted to people, and while physically I'm attracted to the female body, mentally I don't put boundaries or have guidelines on how I feel. I grew up without a father figure, so this obviously affected the way I felt towards men. It made me very careful and almost shy around guys, but I grew up with two sisters and this made me very comfortable around females.
Has there been anything at Sean Cody you were able to do easily that surprised you?
I am usually pretty good at anything I try. That may sound cocky, but I like to think of it as confident.
Your first bottoming scene with Tanner was particularly surprising. Was filming that scene a tough decision for you?
It was only tough because I'd never done something like that before. Just like anything you do for the first time, you are nervous. But, [bottoming] was just a matter of time. I'm not a close-minded person, and I'm open to a lot of things.
Out of all your scene partners, who would you say was your personal favorite?
You either click or you don't, and if you don't click, you have to make it click. I'm a pretty easygoing person, so I usually click with every model, but I can't say that I have a favorite. I don't want to hurt anyone's feelings!
Finally, it sounds like things are running pretty smoothly now, and being Sean Cody's Brandon hasn't had any negative affect on daily life or running Cope With Fitness?
It hasn't affected me as much as some people would think. I'm not one to talk about it much, because I'm just not that guy who tries to make people think I'm cooler than I am. I'm very content with how my life has changed the past couple years. I've matured at an alarming rate, and I never thought I'd be at this stage in my life two years ago. I look back feeling proud and hopeful. I know that because I'm putting my whole heart into my company and my clients, it will work!
It's clear how committed you are, and thank you again for taking the time to chat, Jeff!
[Cope With Fitness]
[Twitter: Jeff CopeWithFitness]
[Sean Cody: Brandon]