Nine Times Sean Cody's Curtis Sucked Cock Better Than You

As arguably one of the best cocksuckers in the entire history of gay porn, Sean Cody's Curtis is an iconic cocksucker who deserves to be singled out for his outstanding achievements in the art of cocksucking. Is Sean Cody's Curtis the best cocksucker of all time? Possibly. Is he the best cocksucker in the history of Sean Cody? Definitely.
Here are nine times that Sean Cody's Curtis sucked a cock better than any of us probably ever could (click any link to watch all of Curtis' videos on Sean Cody):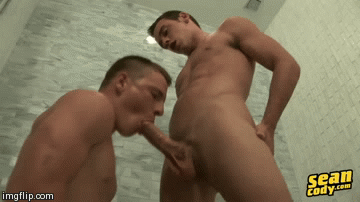 9. Curtis & Rylan
There was no deep-throating during this iconic shower blowjob, but this was the first "big one" Curtis attempted to suck, and his enthusiasm was definitely a sign of things to come! [Sean Cody: Curtis And Rylan Flip-Fuck]
8.

Curtis & Marshall
Other than a little bit of gagging/choking (Marshall isn't
that
hung), this was a perfect example of Curtis going "balls deep." [
Sean Cody: Marshall Fucks Curtis Bareback
]
7.

Curtis & Trey
No dick sucking in this clip, but part of being a good cocksucker is being a good cum guzzler, and Curtis knows this all too well. One of the best oral cum shots in Sean Cody history! [
Sean Cody: Curtis, Trey, And Rylan's Fuckfest
]
6. Curtis & Ashton
Now this is a giant cock. Not only does Curtis take it all the way to the base, he holds it there until Ashton can't take any more and is forced to pull out before cumming too soon. [Sean Cody: Ashton Fucks Curtis Bareback]
5.

Curtis & Jarek
By far the wettest blowjob Curtis has ever given, the only thing better than seeing Jarek's fat cock engulfed in Curtis' spit is listening to Jarek's orgasmic moaning. [
Sean Cody: Jarek Fucks Curtis Bareback
]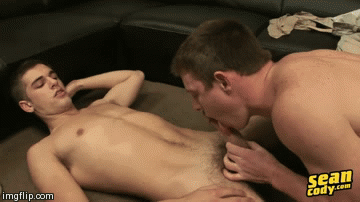 4. Curtis & Jess
This was Curtis' first truly "perfect" blowjob. He basically makes love to Jess' monster cock by using a variety of techniques (hands, simultaneous sucking and stroking, deep-throating, tongue), delivering the kind of oral experience that Jess would never have again. [Sean Cody: Jess Fucks Curtis]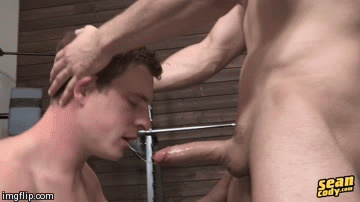 3. Curtis & Randy
Everyone knows where they were the first time they saw Curtis impale himself on Randy's absurdly thick uncut cock. How did Curtis even do this without poking a hole in the back of his head? It's a gay porn mystery. [Sean Cody: Randy Fucks Curtis Bareback]
2.

Curtis & Liev
Simply put: This blowjob defies all the laws of science and medicine. I'm beginning to think that Curtis isn't even human, since he apparently doesn't need to breathe? [
Sean Cody: Liev Fucks Curtis Bareback
]
1.

Curtis & Ethan
Anyone who's watched any gay porn over the last few years has undoubtedly seen gifs or images from this blowjob, as it is quite literally the most iconic gay porn deep-throating of the past decade. It's a cocksucking masterpiece. It's the Mona Lisa of blowjobs. It's the #1 Curtis Blowjob Of All Time. [
Sean Cody: Ethan Fucks Curtis
]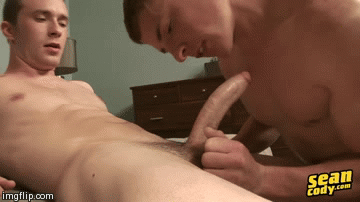 Agree with this list? Disagree? Need to see more of Curtis before you decide? You can watch all of Curtis' movies here, and don't forget, Sean Cody is now offering $1.00 memberships for the first time ever.