[Updated] Sean Cody Memberships No Longer Include Video Downloads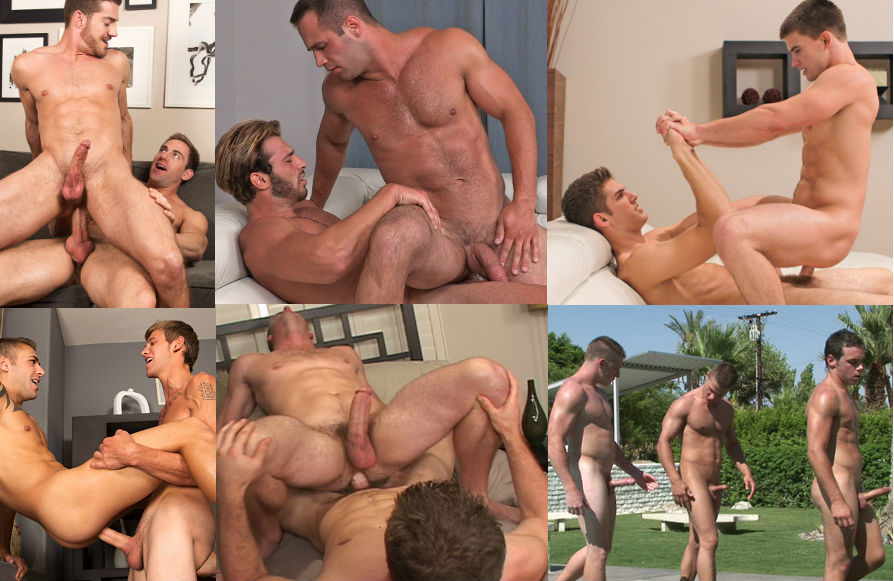 This story has been updated below.
For nearly 16 years, Sean Cody members have been able to download and own all of the studio's videos after purchasing a membership, but as of yesterday, new members do not have that option. Several of those new members—who joined Sean Cody yesterday—wrote to Str8UpGayPorn explaining this drastic alteration to Sean Cody memberships, and here is one:
Hey Zach,

Sean Cody seems to have changed the way their membership site works. Now when you log on as a member, you can stream their videos using your paid membership, but if you want to download them, you have to pay an additional fee. I think this just started today.

Duo scenes are $1.99, and solos are $0.99. This is going to be very unpopular and deserves to be widely condemned. There was no explanation anywhere for this. I never got an e-mail and there was nothing on the site itself explaining why this is happening. It sucks.
Indeed, there is currently no notice or information about download capabilities anywhere on the site, including the join page with the various membership options. Here's the screenshot from the new member, showing that, in addition to the $17.99 monthly membership charge, there's now a download charge of $1.99 per sex scene:
On the one hand, most new Sean Cody scenes aren't worth downloading, so this isn't really a big deal (can you imagine paying $2 extra to download a 2017 Sean Cody scene that Sean Cody itself admitted is "awful"?), and if there's something you like, you can still watch it streaming as many times as you want, for as long as you're a member. On the other hand, a majority of scenes produced prior to 2017 are in fact very good and worth downloading, so hopefully longtime fans of the studio already have all their favorite scenes saved.
Existing (legacy) Sean Cody members who joined the site prior to December 1st, 2017 still have download capabilities, but anyone who joins now will have to pay extra. This was confirmed in a live chat with another new Sean Cody member ("frank") who had an online conversation with a studio billing rep ("Paulina"), as seen below:
frank
8:15:48 a.m.
Hello and Good morning. I just signed up for a month to month membership and I see I am not able to download any videos without paying an additional 1.99 per video. I don't understand this. I was a member previously and never experienced this issue.

Paulina
8:19:05 a.m.
You joined on Dec 02, 2017, since Dec 01 downloads are no longer free. I can set you up with a discounted rate, 12 months for 89.94 for men.com if you want to join a site with free downloads

frank
8:20:05 a.m.
So you are saying as of 12/1, no one can download anymore from Sean Cody without paying an additional price per video?

Paulina
8:20:55 a.m.
Correct. This option is only available to legacy members who set up their accounts before that date and kept their accounts active and running the whole time

frank
8:21:29 a.m.
That isn't fair. It did not say that anywhere on the purchase page when signing up.

Paulina
8:22:57 a.m.
I believe the website does not advertise free downloads anywhere. Would you like me to set you up for a discounted rate to men.com?

frank
8:23:59 a.m.
Not free of course. As a paying subscriber, it has always been available. I was a member on three previous occasions. No one expects the downloads to be free, but they do expect it to be part of our monthly membership.

Paulina
8:24:17 a.m.
The terms and conditions changed on Dec 1

frank
8:24:23 a.m.
No, I do not want that. I want a refund. I just signed up today, less than 30 minutes ago. It isn't right.

Paulina
8:24:57 a.m.
We cannot remove the charge that has been processed. As the billing company for the site, we are obligated to respect the Terms and Conditions of the website. They include an agreement that members are responsible for all charges incurred until cancellation of service. If you wish I will transfer your membership to men.com.

frank
8:28:04 a.m.
You know what, just leave me where I am then and cancel my account so I am not charged on January 1 for rebill.

Paulina
8:28:26 a.m.
No problem, I will do that. One moment. I have canceled the billing on the account and sent you an email to confirm. Is there anything else I might be able to assist you with, or any other questions you may have about your account?

frank
8:29:54 a.m.
No,thank you. But you can put a message in to the site that this new policy will not go over well with new subscribers.

Paulina
8:30:14 a.m.
I will pass your feedback to the web design team, thank you.
What's most interesting about the chat is the rep's repeated attempts to convince the member to switch over to Men (which is owned by the same parent company as Sean Cody). Also, why the change to Sean Cody's download options (which have been a key and successful selling point tied to the studio's brand for nearly 16 years), but not to Men's download options?
In addition to Men, most major gay porn studios (Helix, Corbin Fisher, NextDoor, BelAmi, GuysInSweatpants, CockyBoys, GayHoopla) offer memberships that include unlimited downloads of videos. Some others (Falcon, FraternityX, NakedSword) do not offer downloads at all—not even for an extra charge per video. So, at least Sean Cody has the option, I guess? Of course, this change needs to be clearly explained on the join page. And, with 2330 total scenes listed on the site right now, it would cost approximately $4,000 if you wanted to download them all.
UPDATE:
A Sean Cody rep has responded to Str8UpGayPorn's inquiry about the change in download options, explaining that it's based in part on a model used on the straight side of the industry. The rep also likened the change to what we already see on Netflix and other streaming video sites:
The download charge was using a model that is being used on the straight side. It is also part of concept of moving the products to more of a Netflix streaming model you see on the SFW content side.
The rep confirmed that the change does not apply to legacy Sean Cody members who joined prior to December 1st, and those members still have free downloads included in their memberships. If you are a legacy member but are receiving prompts to pay for downloads, that's a system glitch, and you should contact Sean Cody billing support.