Sean Cody's Gay Porn Getaway Orgies, Ranked From Worst To Best
It's hard to believe, but Sean Cody hasn't released a scene with more than two people in nearly eight months, setting a record for the longest the studio has ever gone without a group scene. That last group scene was a "getaway" scene (and by "getaway," I'm referring to Sean Cody scenes not filmed in their San Diego studio, e.g., "Puerto Rico Getaway"), and it was called "Deacon's Gangbang."
"Deacon's Gangbang" was filmed in a mountain cabin, and despite the cast of skilled performers, it was not good:
Given the dearth of Sean Cody group getaway scenes (will they film one ever again?), it's a good time to revisit all the Sean Cody Getaway Orgies that were filmed outside of the infamous San Diego studio, and the 10 below have been ranked from worst to best.
Here are nearly 50 Sean Cody men in 10 different getaways sucking and fucking in various cabins, hotels, mountain ranges, resorts, and jungles around the world. Click any link to watch the full orgy on Sean Cody.
10. Deacon's Gangbang Getaway
Stars: Sean, Daniel, Jackson, Deacon
Release Date: November, 2018
Best part: When it was over.
Worst part: All of it, but especially the nude food fight at the end.
Final verdict: Avoid watching at all costs.
9. Wyoming Getaway
Stars: Deacon, Asher, Jack, Lane, Dillan, Malcolm
Release Date: December, 2017
Best part: Asher being fucked by Jack.
Worst part: Jack using Asher's feet to stroke his cock.
Final verdict: Nothing memorable and no standout performances in this gloomy Wyoming orgy.
Trailer (watch full scene here):
[
Sean Cody: Wyoming Getaway
]
8. Winter Getaway
Stars: Blake, Brendan, Robbie, Atticus
Release Date: January, 2016
Best part: The cabin was nice.
Worst part: The fake fucking, with Robbie pretending to fuck Atticus.
Final verdict: This conclusion to the 8-day long getaway was at least better than the chaotic (and yet totally boring) 9-man orgy that preceded it, but the fake fucking (as seen below) ruined it for me.
Clip of the fake fucking (watch full scene here):
[
Sean Cody: Winter Getaway
]
7. Puerto Rico Getaway
Stars: Brysen, Daniel, Manny, Jayden
Release Date: June, 2017
Best part: Brysen.
Worst part: Bad picture quality, camera work, lighting, editing, and direction throughout. Adding insult to injury, you have to listen to Daniel's screaming and overacting.
Final verdict: Unless you're a diehard Brysen stan, skip it.
Trailer (watch full scene here):

[
Sean Cody: Puerto Rico Getaway
]
6. Ski Retreat Getaway
Stars: Harley, Devin, Addison, Berke
Release Date: June, 2008
Best part: Devin being double-penetrated by Harley and Addison while he sucks Berke's cock.
Worst part: Kinda awkward watching Addison, a convicted murderer now serving life in prison, having sex.
Final verdict: Was never crazy about any of these guys, but the sex is solid, they fuck in several different positions, and it's all well shot.
Clip (watch full scene here):
[
Sean Cody: Ski Retreat
]
5. Desert Getaway (a.k.a. "Fuckfest 6")
Stars: Danny, Billy, Gage, Nicolas, Ford
Release Date: October, 2007
Best part: Billy and Nicolas being jackhammered side-by-side by Danny and Gage.
Worst part: Thinking about how much hotter this would've been without the condoms.
Final verdict: Every single guy tops and bottoms in this scene (I miss when Sean Cody had more versatile performers), making this must-see for fans of flip-fucking.
Clip (watch full scene here):
[
Sean Cody: Desert Getaway
]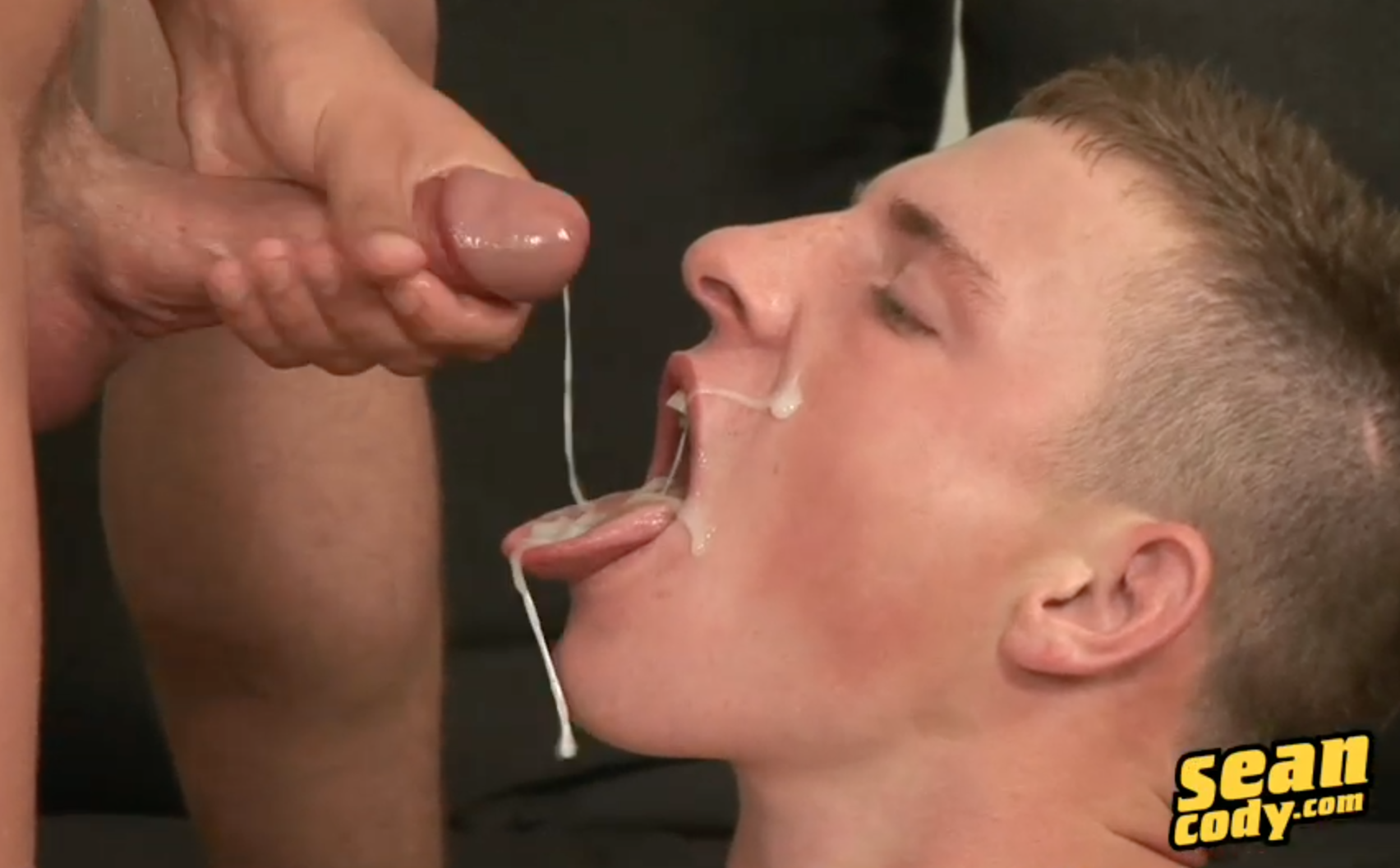 4. Palm Springs Getaway
Stars: Curtis, Trey, Rylan
Release Date: November, 2008
Best part: The legendary cum facial that Trey gives to Curtis.
Worst part: Neither Trey nor Rylan get hard while they're being fucked. (Curtis of course does, thankfully.)
Final verdict: Another great scene for vers fans, as everyone tops and bottoms in this three-way.
Clip (watch full scene here):
[
Sean Cody: Palm Springs Getaway
]
3. Hawaii Getaway
Stars: Matt, Isaac, Doug, Keith, Jake
Release Date: November, 2009
Best part: Jake and Isaac holding each other while being fucked on the table by Matt and Doug.
Worst part: Despite being in other Hawaii scenes during the same shoot, Sean Cody's Pete and Kurt didn't partake in this orgy for some reason.
Final verdict: With so many of the studio's most beloved stars (Jake!) in one scene sucking and fucking in so many different configurations, this is an all-time classic that's only gotten better with age, and a reminder of just how great the studio used to be in every regard (casting, directing, editing, etc.).
Clip (watch full scene here):
[
Sean Cody: Hawaii Getaway
]
2. Spring Break Getaway
Stars: Brysen, Deacon, Asher
Release Date: March, 2017
Best part: Brysen creampies Deacon, and then Asher eats Brysen's load out of Deacon's ass.
Worst part: Someone should've been DP'd (Brysen being DP'd by real-life boyfriends Deacon and Asher would've been epic).
Final verdict: The best three-way on this list, starring three of the studio's best (and hottest) performers, with genuine chemistry and excellent fucking from start to finish. Even all of the behind-the-scenes moments are hot as fuck.
Clip (watch full scene here):
[
Sean Cody: Spring Break Getaway
]
1. Mountain Getaway
Stars: Andy, Coleman, Bryce, Noel, David, Tanner
Release Date: December, 2013
Best part: With so much bareback fucking in so many great positions throughout (with the exception of Noel who only tops in this scene, everyone takes turns fucking each other side by side on the sofa and the coffee table), there are several parts of this orgy that could be considered the best.
But, if I have to single out one thing, it's the final 10 minutes of this orgy featuring Bryce's gangbang that cannot be missed:
Bryce being gangbanged in the kitchen and consecutively creampied one-by-one by his co-stars will be remembered forever. David's creampie in particular is unforgettable, as he fucks Bryce's ass with Tanner's cum still inside of it, and proceeds to bust his own huge nut that comes pouring out like a waterfall. A quick clip of David uncontrollably cumming inside Bryce's ass:
Worst part: None.
Final verdict: Not just the best Sean Cody group scene of all time with six of the studio's best performers, but also one of the best group scenes in the history of gay porn, with the pump and dump finale being the most iconic thing Sean Cody has ever done. "Mountain Getaway" should be required viewing for anyone who is gay and/or enjoys gay porn.
Trailer (watch full scene here):
[
Sean Cody: Mountain Getaway
]