Sebastian Kross Fucks Killian James And Cums In His Mouth In On The Lookout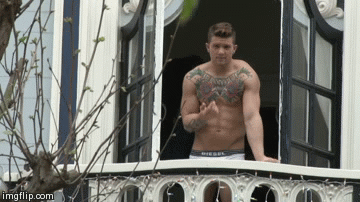 When Sebastian Kross is standing shirtless on his balcony and motions for you to come up, you obviously get the fuck up there as fast as you can.
And that's exactly what Killian James does in his debut scene as a NakedSword exclusive, in this debut scene from NakedSword's On The Lookout. A lot of times studios will save the best scene for last when they release a new series, but NakedSword isn't wasting any time and getting right to the point by releasing this Killian/Sebastian duo first.
And in case anyone had any doubts about NakedSword signing such a relatively unknown performer to an exclusive contract, this scene is proof that they made a great decision. Killian James loves dick, loves getting fucked (listen to him beg for Sebastian Kross' big cock in the trailer below), and he definitely loves cum.
Trailer (watch full scene here):
[
NakedSword's On The Lookout: Sebastian Kross Fucks Killian James
]