Sex Worker Jessie Colter Assaulted In San Francisco By Two Clients In Town For White Supremacist Rally
Performer and sex worker Jessie Colter went to meet with two clients early this morning in San Francisco, and he's just shared the news that those two clients assaulted him during the meeting. Colter reported the incident to authorities, and he was able to escape "pretty much unscathed." Via Colter's Twitter: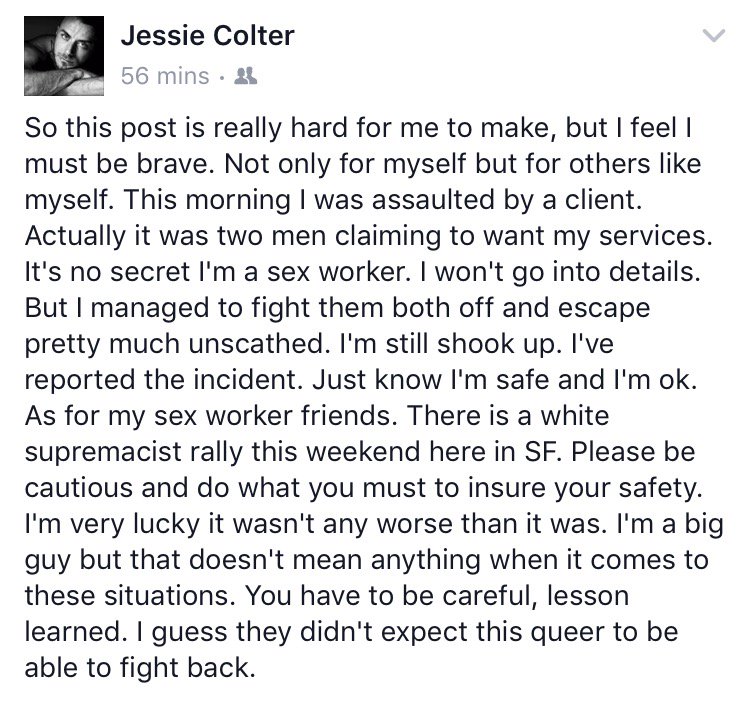 Colter's two assailants may have been involved with this weekend's white supremacist rally in San Francisco, according to what police told him.
Incidents like this unfortunately occur regularly for sex workers, and while Jessie Colter was not seriously harmed, many sex workers aren't as lucky. Making matters worse, some sex workers don't feel safe reporting these incidents to police because of potential legal consequences they themselves might face. Two years ago, male escort service Rentboy was raided and shut down by the U.S. Homeland Security, and its founder was recently sentenced to prison. By shutting down an organized and resourceful service that helped so many (something even the judge overseeing the case admitted), the government has only further marginalized, alienated, and endangered sex workers.
Last month, a black male sex worker was killed while meeting with a wealthy white client in West Hollywood. Police and the district attorney are being accused of not properly investigating the crime, because of the victim's profession and race.