Spencer Laval Fucks Himself With A Dildo On ActiveDuty, Then Barebacks Johnny B. NextDoor
It's a busy week for dreamy gay porn hunk Spencer Laval (and it's a great week for his fans), as he's appearing in two different gay porn scenes at two studios—ActiveDuty and NextDoorRaw (both studios are owned and operated by the same parent company)—today. The first one, from ActiveDuty, is kinda weird.
In one of the strangest gay porn scenes this year, Spencer's ActiveDuty co-star, Bradley Hayes, bails in the middle of the scene (I wonder if he was a paid a full scene rate?) after receiving a phone call, leaving Spencer to jerk off by himself and fuck himself with a dildo.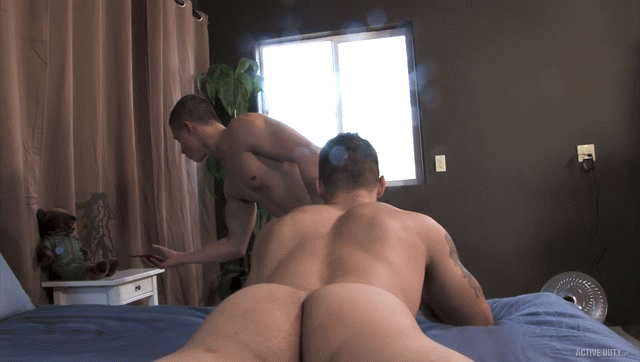 See ya, bro.
While Bradley leaving during the cocksucking was probably part of the scene's "plot," it seems like a waste of everyone's time to have had him there to begin with? Then again, who the fuck cares, because look at how hot this ends up being:
Trailer (watch full scene here):
[
ActiveDuty: Spencer Laval Fucks Himself
]
Then, on NextDoorRaw, Johnny B. finds out that Spencer Laval has been cheating on his girlfriend with another man, and when Johnny confronts Spencer with the news, you will never guess what happens next shouldn't have any trouble being able to guess what happens next.
Trailer (watch full scene here):
[
NextDoorRaw: Spencer Laval Fucks Johnny B. Bareback
]