Which Of Men.com's Family-Themed Gay Porn Series Is The Best?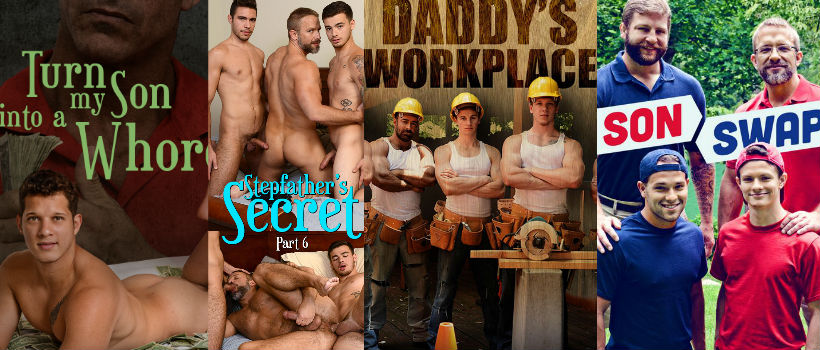 At first I thought they were just trying to push the envelope. Then, I thought they were just fresh out of ideas. Now? I honestly believe that the producers at Men.com are truly (and perhaps unhealthily) obsessed with the idea of non-related family members having gay sex with each other, watching each other have gay sex with people not related to them, or inviting other people to have gay sex with their family members. Since February, there have been at least 20 different gay porn scenes featuring stepfathers, sons, stepsons, brothers, brothers-in-law, and fathers on Men.com. Surprisingly, we've yet to see anything involving an uncle or a cousin (which might actually be legal in Georgia where most of these videos are filmed?).
Make no mistake: None of the men having sex with each other in any of these series are depicted as being blood-related. In fact, Men.com even went so far as to say that the three stepsons who have sex with each other in "Stepfather's Secret" were each adopted from three different families, from three different states (what are the odds that they all ended up gay!?). That being said, Men.com's producers are clearly sexually aroused by non-related family members fucking, even if they dance around a full-blown "I-word" scene with clever disclaimers, convoluted plots, and step in-laws twice removed.
Which of Men.com's family-themed gay porn series is the best? In case you forgot, a quick recap of all the family-themed gay porn series (most of which contained multiple scenes) that Men.com has released this year:
[
Men.com's "Your Dad's Gay": Rock Fucks Tyler Morgan
]
[
Men.com's "My Neighbor's Son": Rafael Alencar Fucks Jack Radley
]
[
Men.com's "Son Swap": Dirk Caber Fucks Luke Adams
]
[
Men.com's "Daddy's Workplace": Johnny Forza Fucks Matthew Ryder
]
[
Men.com's "Stepfather's Secret": Dirk Caber Triple-Penetrated By Johnny Rapid, Trevor Spade, And Asher Hawk
]
[
Men.com's "Turn My Son Into A Whore": Aaron Bruiser Fucks Nicoli Cole
]
And the latest family gay porn from Men.com released today, featuring Johnny Rapid (who else) and his brother-in-law Zane Anders:
[
Men.com's "My Brother In Law": Zane Anders Fucks Johnny Rapid
]