ManyVids Signs On As Presenting Sponsor Of The Str8UpGayPorn Awards And Str8UpGay Summit; Award Nominations To Be Announced On November 1st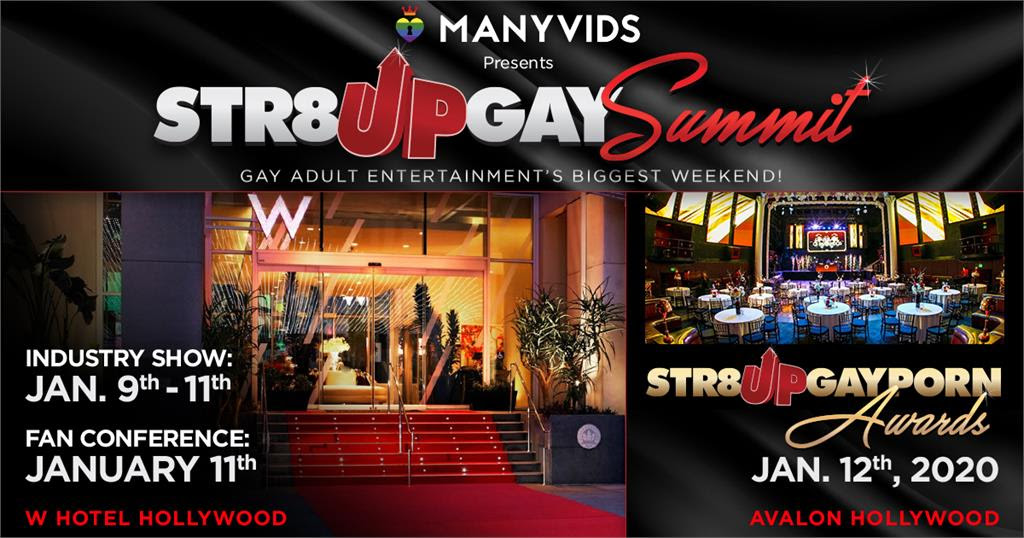 The 3rd annual Str8UpGayPorn Awards and first ever Str8UpGay Summit are now just three months away, and we're proud to announce that ManyVids has signed on as our presenting sponsor for the big weekend in January. Here's the full press release, along with some news about nominations and a trailer for the show down below:
THE FIRST OF ITS KIND STR8UPGAY SUMMIT TAKING PLACE AT THE W HOTEL HOLLYWOOD, JANUARY 9-11th

&

THE 3RD ANNUAL STR8UPGAYPORN AWARDS AT AVALON THEATRE HOLLYWOOD, SUNDAY JANUARY 12th, 2020

Hollywood, CA- Str8UpGayPorn is honored to announce that ManyVids, the number one clip site in the world, has signed on as the exclusive presenting sponsor of gay adult entertainment's biggest weekend, featuring the industry's two most prestigious events: The 2020 Str8UpGayPorn Awards and the first ever Str8UpGay Summit! The Str8UpGay Summit, the first of its kind industry and fan show, will take place at the W Hotel Hollywood, January 9th – 11th, while the 3rd annual Str8UpGayPorn Awards will return to the Avalon Theatre Hollywood on Sunday, January 12th, 2020.

Co-Founder & CEO of ManyVids Bella French says of her involvement with Str8UpGayPorn, "ManyVids is enormously proud to be the Presenting Sponsor of the upcoming 2020 Str8UpGayPorn Awards and Summit. This is, above all, a celebration of love and equality, and as a champion of diversity, ManyVids works hard to create and nurture a platform for all performers to express who they are. This year's Str8UpGayPorn Awards and Str8UpGay Summit will be something truly special, and we cannot wait to be onsite and connect with these incredible people. It's going to be epic!''

The Str8UpGay Summit presented by ManyVids kicks off on January 9th, 2020 with registration and welcome party. The Industry Summit will take place on January 9th, 10th and 11th. Also, on January 11th, for the first time ever in this setting, fans will have the chance to meet their favorite stars, studios, directors, and lifestyle brands at the Str8UpGay Fan conference. Then, on Sunday, January 12th, it's time for gay porn's biggest night when the 2020 Str8UpGayPorn Awards return to the Avalon Theatre Hollywood!

Str8UpGayPorn co-founder Davyd Dixon says of the partnership, "Str8UpGayPorn is thrilled to be working with ManyVids for the first time. We love their message of sex positivity, and the way they strive to elevate the industry out of the shadows and into the mainstream. ManyVids playing such a big part in this groundbreaking weekend for the gay adult industry and fans truly shows their commitment to the community."

Beginning today, industry and fans can book hotel rooms at The W Hotel Hollywood at the Str8UpGay Summit group rate of only $199.00 from January 9th -12th. Go to the just-launched Str8UpGaySummit.com to register for the show and to book your rooms. The rooms will go fast, so if you plan on coming, book soon!
As announced last month, there will be 28 categories presented at the Str8UpGayPorn Awards, with 20 of them determined by online fan voting, and 8 determined by our returning panel of judges, which includes adult industry members, journalists, writers, film critics, and other gay media professionals.
Nominations for the 3rd annual Str8UpGayPorn Awards will be revealed here on Str8UpGayPorn on November 1st, 2019, at 2:30 p.m. PST. Before nomination day, however, there will be more news about the Str8UpGayPorn Awards announced here, so please stay tuned, and please prepare yourself.
Don't forget to visit Str8UpGaySummit to book your hotel rooms for the weekend, and here's the trailer for the 3rd annual Str8UpGayPorn Awards: