Teddy Bryce Opens Up About His Porn Career, Being A Tattoo Artist, Filming Scenes With Straight Guys, And More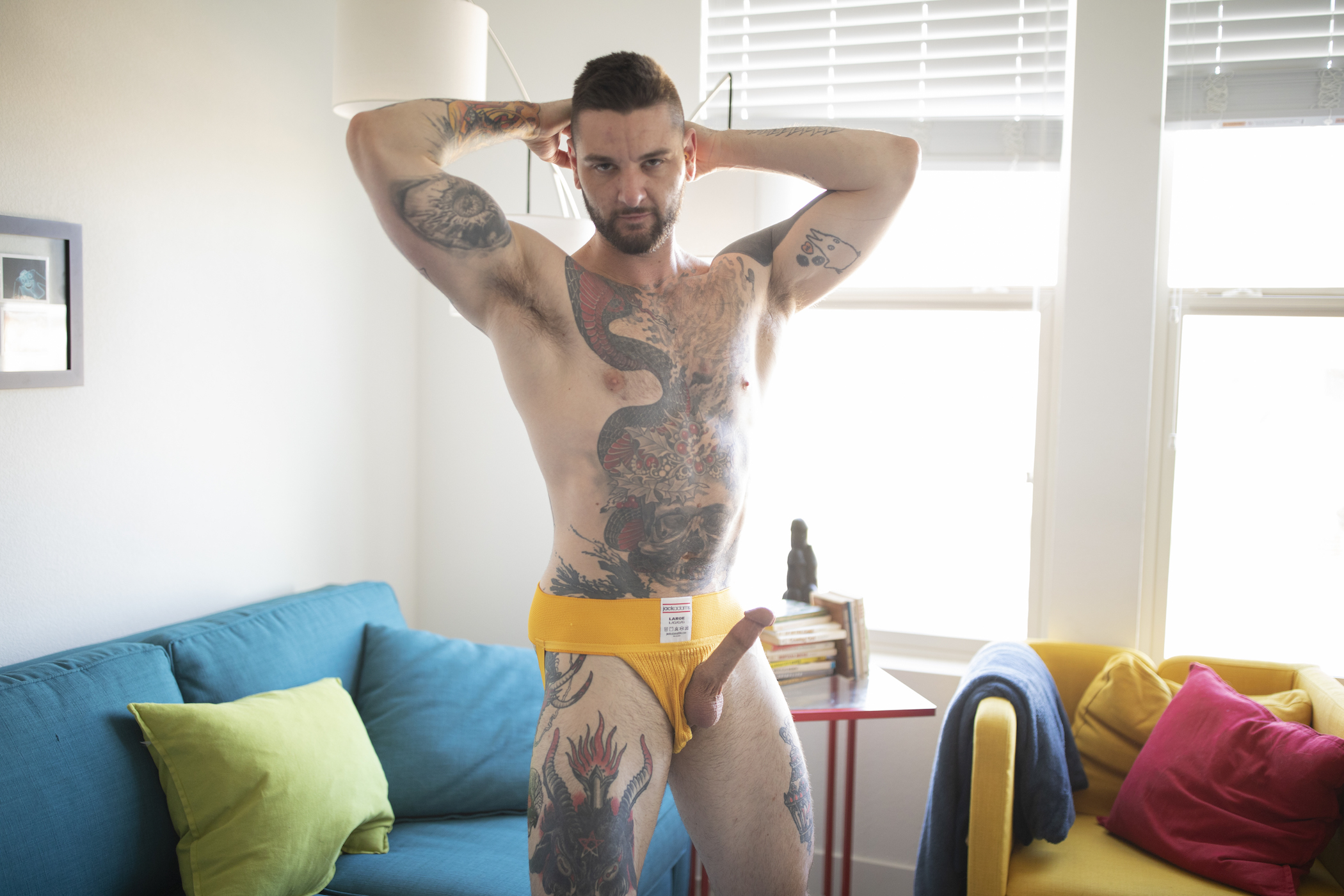 Str8UpGayPorn recently caught up with performer Teddy Bryce, and in our interview below, Teddy reveals how he got started in porn, what it's like filming with straight guys, how his tattoos have affected his career, and a lot more. Other than the studio images below, all of the photographs in this post were taken by director Isabel Dresler and shared exclusively with Str8Up, so thank you to her, and thank you to Teddy for taking the time to chat!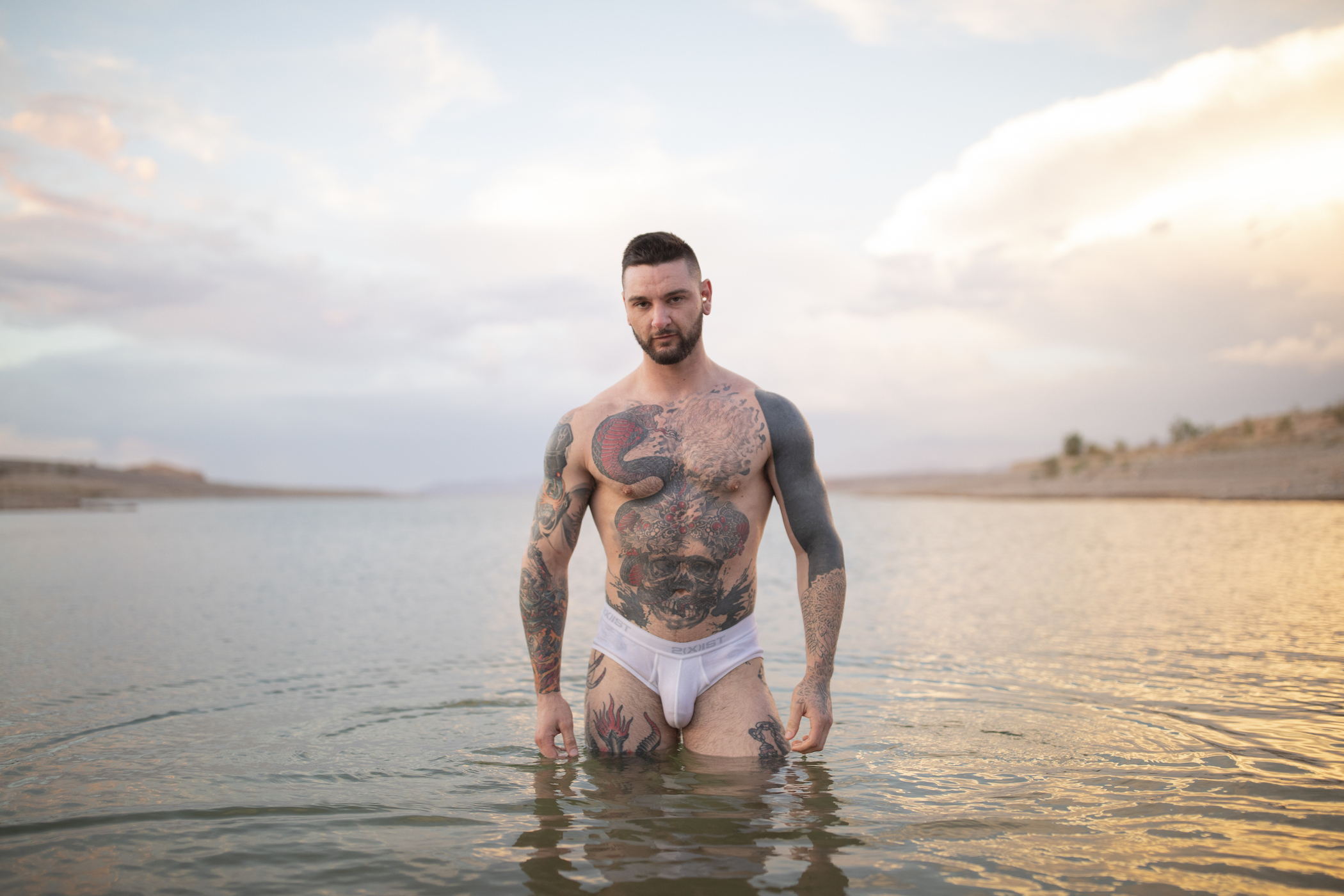 Str8UpGayPorn: Hi Teddy! How old are you, and when did you decide to become a performer?
Teddy Bryce: I'm 29 now. I started doing my own cam shows when I was 25 with another heavily tattooed friend. The stuff we did was really dirty, so our goal was never really to make money. We honestly just liked the validation and freaking people out a little bit. The only thing we asked for was that people send us pizza. So, when we started getting multiple pizzas in a session, I realized I could probably start doing this for money.
Pizza is always a good sign. Had you watched a lot of porn before? What kind?
Before getting into porn, I mainly watched hardcore amateur videos on Tumblr. I definitely had my favorite stars in porn though. Mainly science fiction level muscle boys, like Erik Rhodes. From there, I started to romanticize the idea of being a big star or being exclusive with a big studio. I didn't realize that when I started getting into porn, the industry was changing dramatically, mainly because of access to hardcore amateur videos on Tumblr.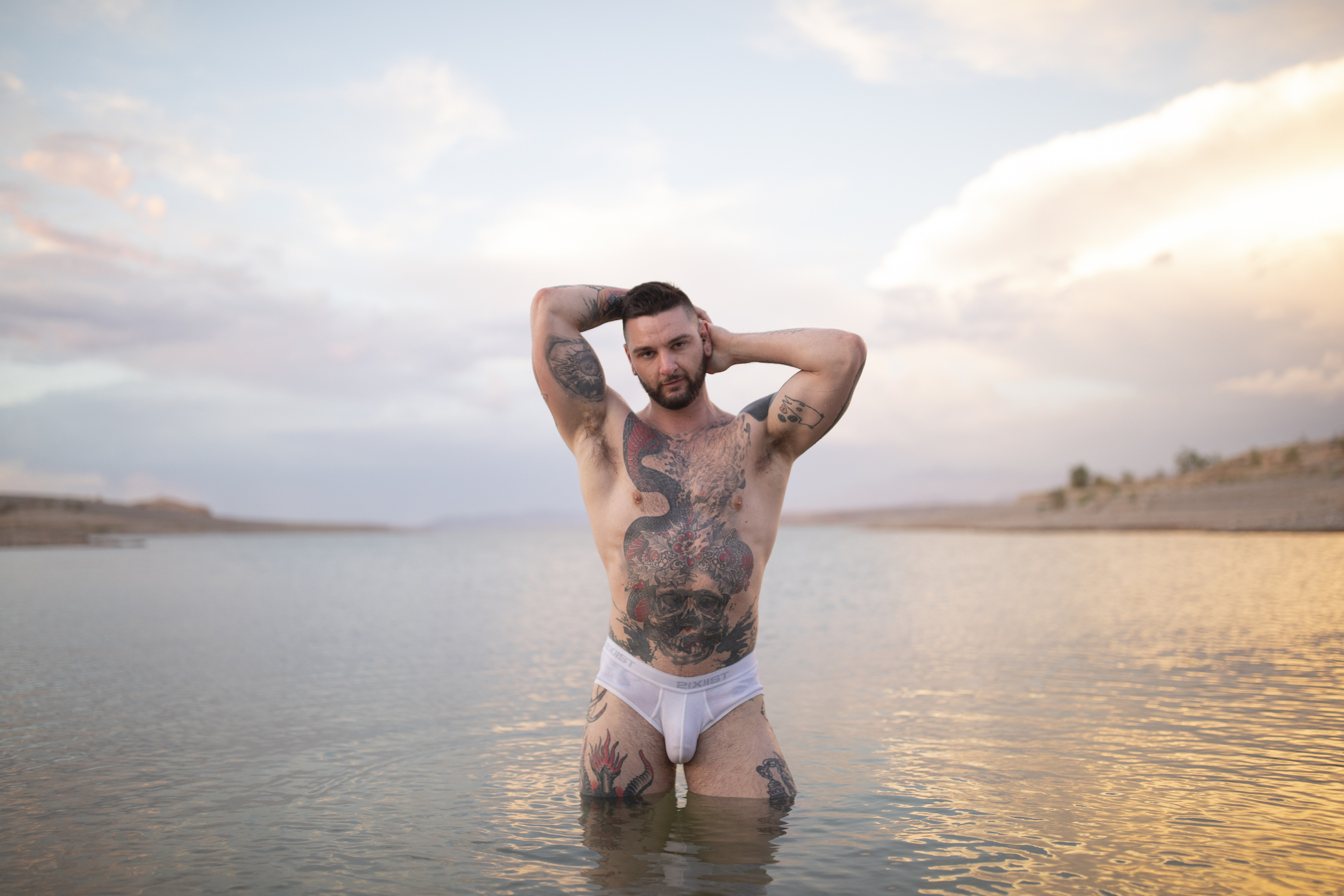 What was it like shooting your very first gay porn scene? Were you nervous?
My very first scene was a fisting scene with STUDFIST under a different name. I had been getting more into fisting in my personal life and I knew one of the owners of the company, so I hit him up to do a scene together. It was pretty low tech, so I really wasn't nervous, and we basically just got to have sex without stopping too much. That might've been the quickest and easiest shoot I've ever done.
What has been one of your favorite or most memorable scenes that you've filmed so far?
I think the most fun scene I've ever done was for BlacksOnBoys, where I was gangbanged by Timarrie, Ray Diesel, and this guy named Zero. We had great chemistry off set and the sex on camera was super hot and easy. It's definitely the scene I'm most proud of and it always comes up as a fan favorite.
There are many performers in gay porn now who are bisexual, pansexual, straight, or choose to not to identify with any one sexuality. Do you think a performer's real-life sexuality off-camera plays a role in how they have sex on-camera?
This is a great question that is probably going to lead to an unpopular answer, but here goes: I've worked with performers who identify as straight in their personal life, and they are definitely not my favorite to work with. When I work with another gay performer, there is a level of ease to a shoot that you don't get with someone who identifies as straight. When I work with another gay performer, we are able to kiss, flirt, and play with each other on camera. Also, with consent, we can help work each other up and get boners, allowing the shoot to go much more smoothly.
I take it that doesn't happen with straight guys?
With someone who identifies as straight, you don't get any of that. I've also noticed an air of overly-compensated masculinity from straight performers that can be hard for someone who has been meant to feel bad about their sexuality their whole life. I also think it's a little disappointing as a community and industry to fetishize straight men, giving them jobs over gay men just because they want more money than they would get in straight porn.
What about bi guys?
Yes, I've also worked with bisexual men, and honestly, I love them. I really think that the way men choose to identify dictates their behavior on set. If you identify as straight, you have to live up to that, even at the detriment of the shoot.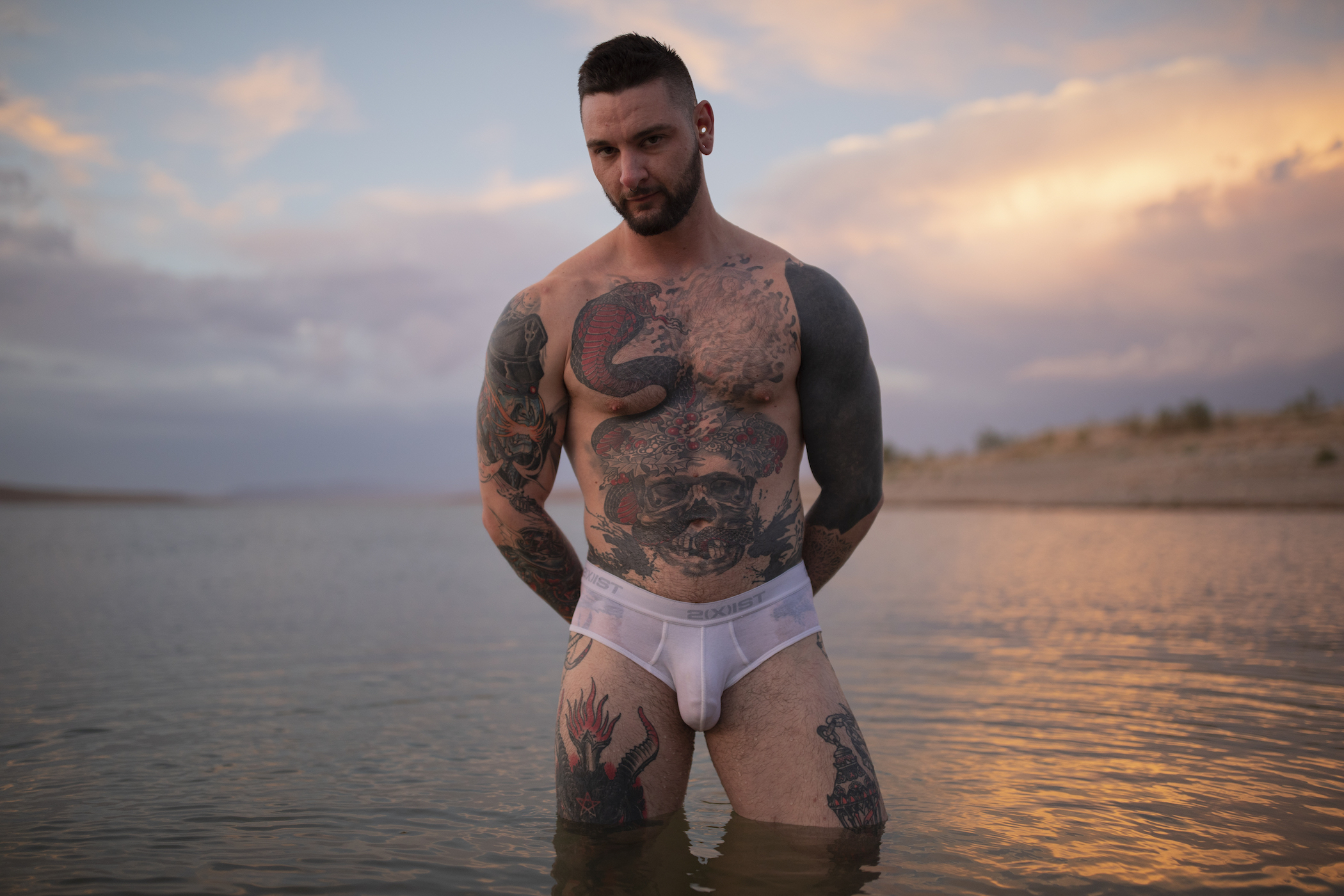 Performers are everywhere on social media with huge fan bases and followers. What is your favorite thing about being on social media and interacting with so many people? And, conversely, what is the worst part about this?
I love being on social medial. It can be a full time job, but I'm my own boss. I can post photos that make me feel sexy and people who follow me will respond. I also have a very hard look, so social media is my chance to show more of my personality. But, like any platform, it can get dark. I get a lot of people telling me to get out of porn because of the tattoos or that my tattoos are terrible. It can be hard not to tear into those people, but I just try and give them a compliment and move on. If it goes on, I just block them and it's like it never happened. So, social media can be a helpful tool, or it can cause of a lot of stress. I usually stay away from anything controversial or political and just retweet scenes I'm tagged in. But, I secretly love watching other porn stars say outrageous things or get into petty fights. I kind of live for it.
Oh, me too, definitely. You mentioned your tattoos, and I wanted to ask more about that. Do you think the tattoos have played a role in you being cast—or not being cast—by certain studios?
My tattoos have definitely made things very difficult for me as a model. Certain big studios and directors that I thought I would be perfect for refuse to hire me. I usually get a backhanded rejection like, "You're tattoos are so hot and I personally love them, but they aren't right for the studio." And I understand, it's hard to project a fantasy onto someone who already has an aggressive look. I'll never be cast as the guy next door who gets to have sex on white sheets. But I think that has more to do with the industry being stuck with a formula that is outdated.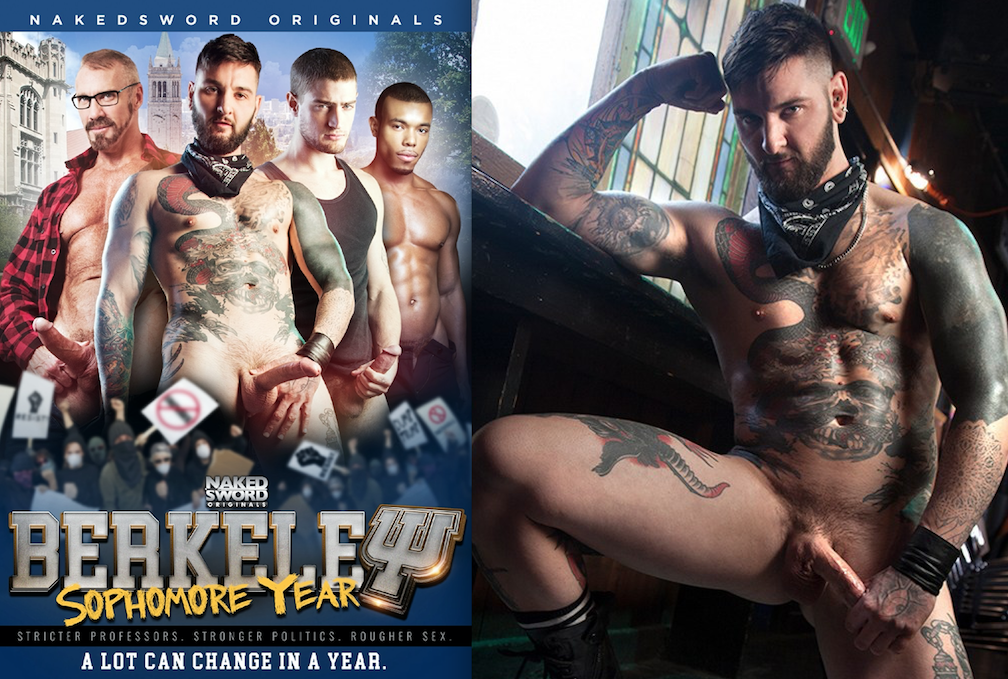 And yet, you have had several hot scenes at what are considered mainstream gay porn studios.
There are really amazing directors out there, like mr. Pam, who are working hard to break down these stereotypes. I also really like working with Isabel Dresler because she always shoots me with a sweeter, softer eye that I never get on big studio shoots, but I think it gives a more accurate representation of who I really am. But, as far as the tattoos go, I love them. I won't stop until my whole body is covered…except probably my face.
Do you work in any other jobs right now, or are you primarily focused on performing?
My main focus right now is my art. I've been painting and drawing since I can remember. Tattooing has given me the opportunity to make good money from drawing all day, which is all I really want. Don't get me wrong, tattooing is the hardest thing I've ever done, so I'm giving it all of my attention right now. I tried to do porn full time for a bit, but I just didn't get booked enough. There's so many sexy men out there, and unfortunately, the tattoos are a hard sell for the higher-ups in the industry.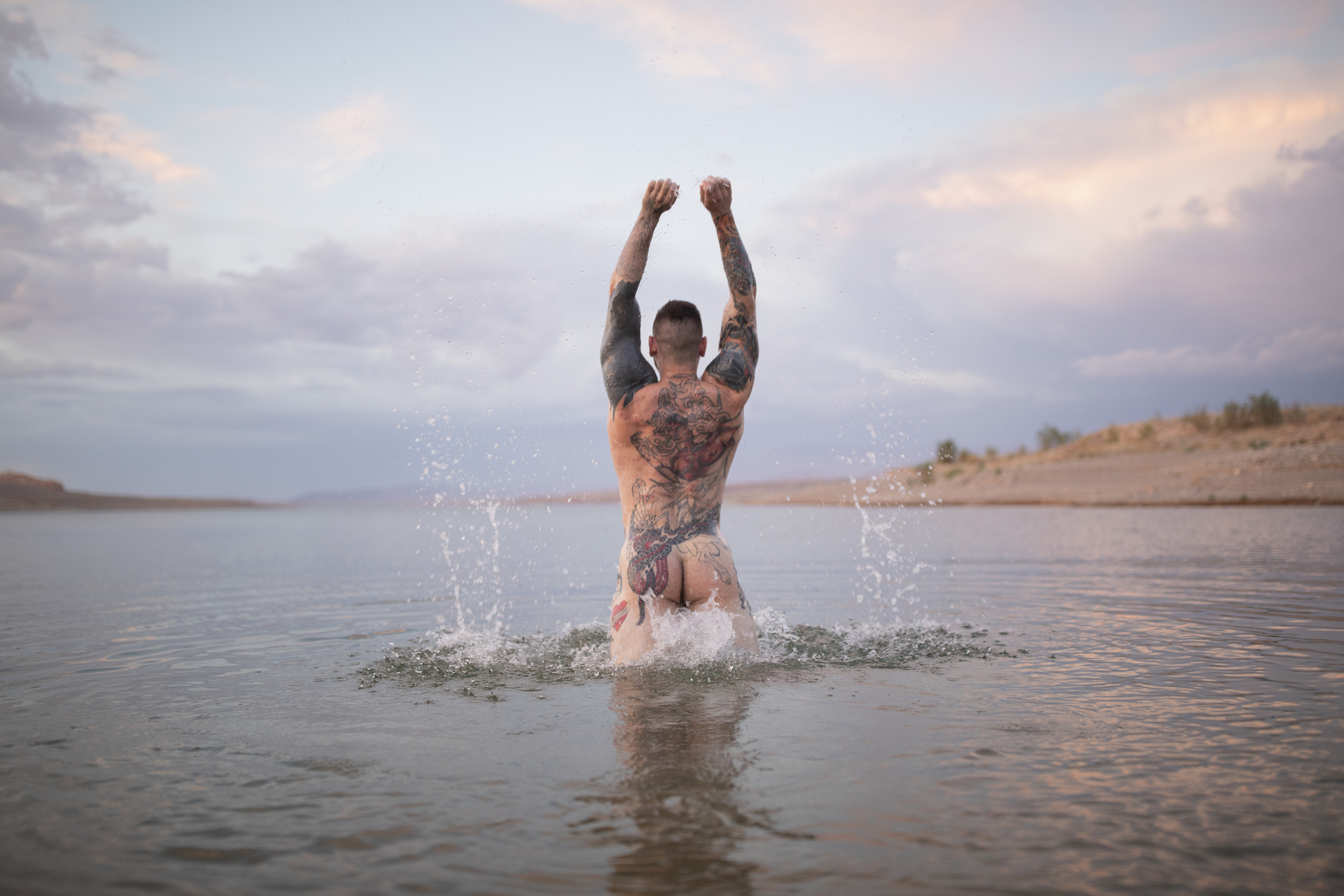 Do you talk about your work in the porn industry with friends, family, or people in the tattoo world?
I definitely use my porn career to my advantage. As a tattoo artist and illustrator in my personal life, I've used my porn persona to help boost my business. It's really hard to gain followers on an art account on social media, so I've played up the ass shots to get more followers. Luckily, the art world doesn't really care that I do porn, but it's definitely not the first thing I bring up to strangers. My family knows, but that is only because my sister is really sneaky and she has a big mouth.
When you're not performing or tattooing, what do you do in your free time for fun?
Mainly draw. I'm always working on something. I really enjoy riding my motorcycle around San Francisco, going to museums and book stores, going to metal shows, watching mindless TV or movies, reading comic books, and taking naps when I can. I have a boyfriend in Liverpool, so I talk to him a lot, too.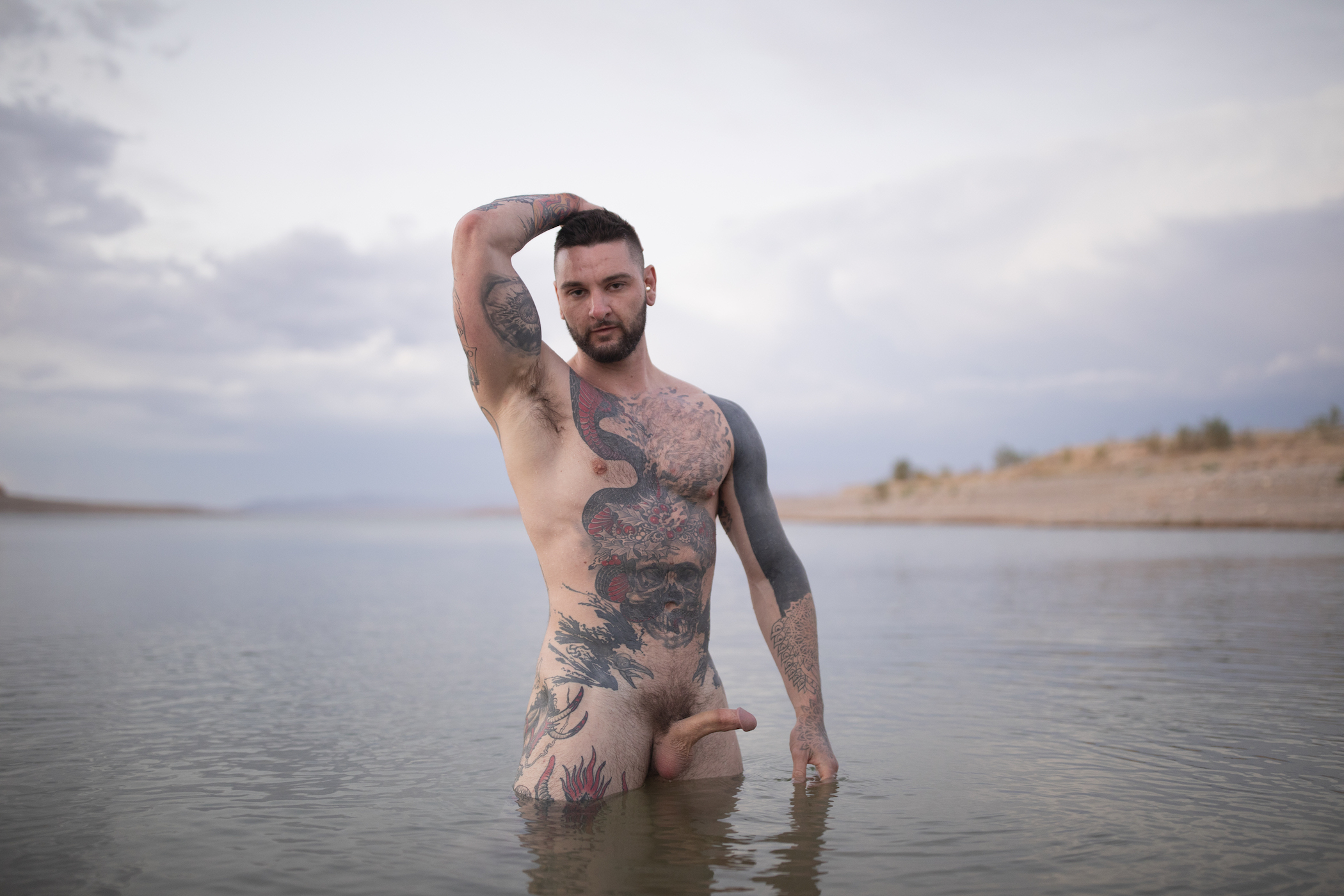 Thanks for taking the time to talk today, and for fans who want to follow your art work, where can they keep up with that?
I'm very excited to say that I have a ton of stuff in the works, including a solo show at the end of this month. Those who are interested in my art or in getting a tattoo from me, you can check me out on Instagram at @coltonjamesart.
Will do, and thank you again, Teddy!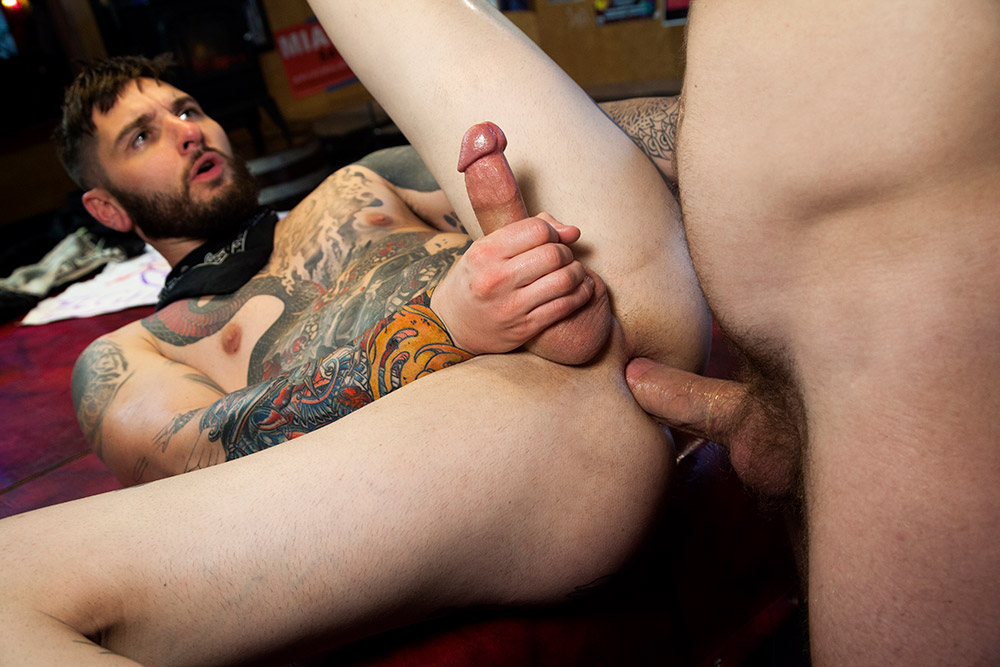 [
NakedSword: "Berkeley," starring Teddy Bryce and Justin Brody
]