Exclusive: 15 Questions With Gay Porn Newcomer Theo Brady
Gay porn newcomer Theo Brady made his debut just last month, but thanks to his gorgeous good looks, active and friendly social media presence, and impressive performance skills, he's already become a huge fan favorite with only one scene released. Now, on the eve of the release of his second scene (trailer below), we had the chance to catch up with the GuysInSweatpants exclusive to ask him 15 questions, and our exclusive Q&A with Theo Brady is below.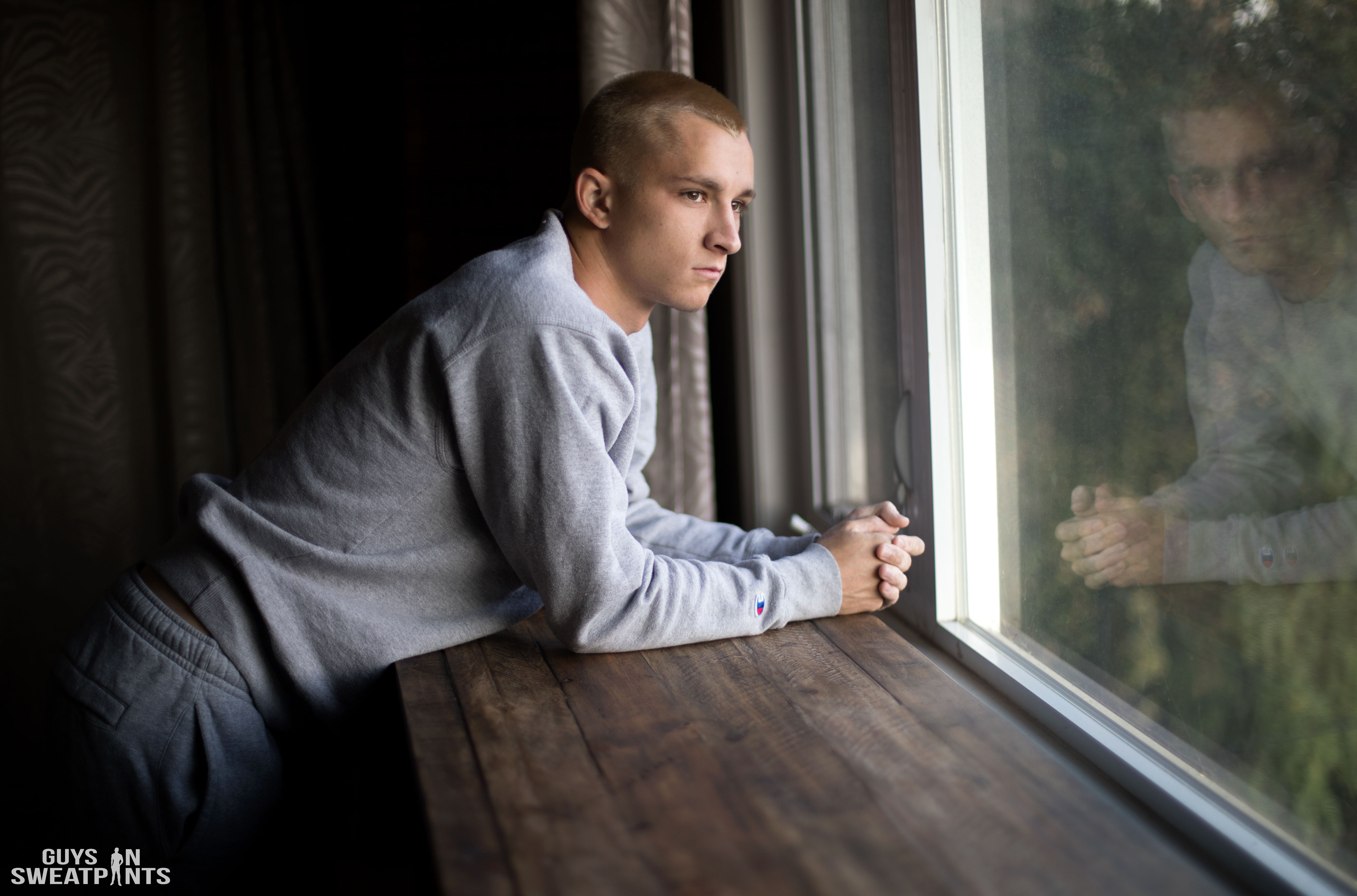 Str8UpGayPorn: Hi Theo! Let's start with the basics. How old are you, how tall are you, where are you originally from, are you single, and where are you based out of now?
Theo Brady: I'm currently 20 years old, going on 21. My height is 5'7" and I'm originally from St. Louis, Missouri. I'm still based out of St. Louis and have been there my whole life. I'm currently single and have been for about three years now.
Are you looking to date anyone, or are you just taking a break right now?
Dating has been a rough journey for me, and I just haven't ran into the right person yet.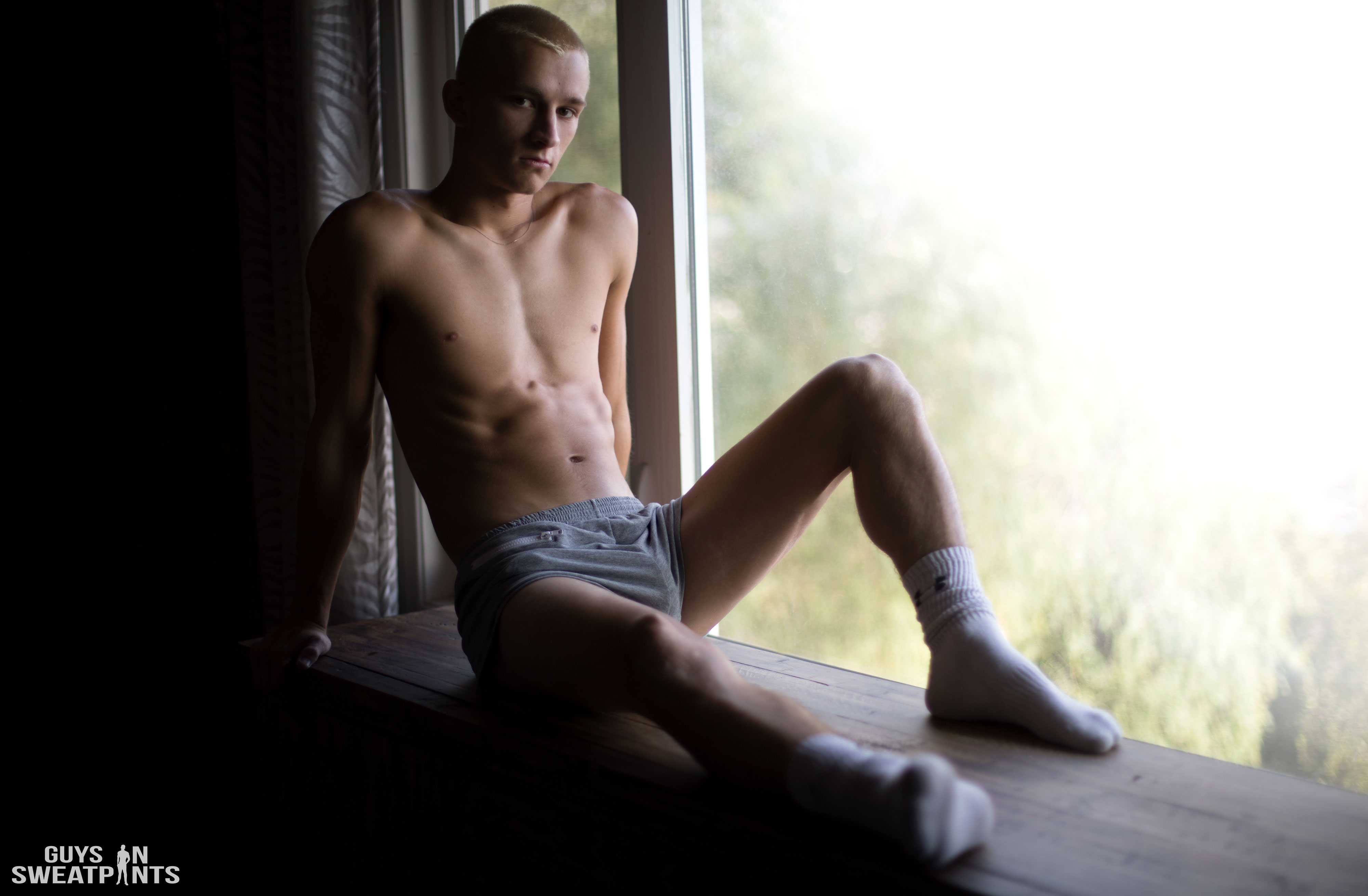 When did you decide you'd like to become a performer, and tell us about the casting process at GuysInSweatpants?
Tbh, I never even thought about being a performer. I would post shirtless or artsy pics on my original personal Twitter, but that was the extent of that. Getting into the business was pretty cool for me. I was at work one morning and got a DM from Austin Wilde asking if I'd like to come out to California and shoot a scene with his site. If he hadn't messaged me, I would have never even thought about getting into the industry, considering I've never performed on camera or applied anywhere.
Wow! That's really surprising, given how natural and relaxed you are on camera. How has it been amassing such a devoted fan base in such a short amount of time? People really love your work, so what's it been like getting so much positive feedback?
It's honestly been a blessing with how well things are going. I couldn't believe how fast I gained recognition, and I'm so thankful for everyone who has helped me get there. All my followers and fans are so supportive and make me feel good about myself in areas that I've struggled. I wouldn't be in the spot I'm in if it wasn't for them and GuysInSweatpants.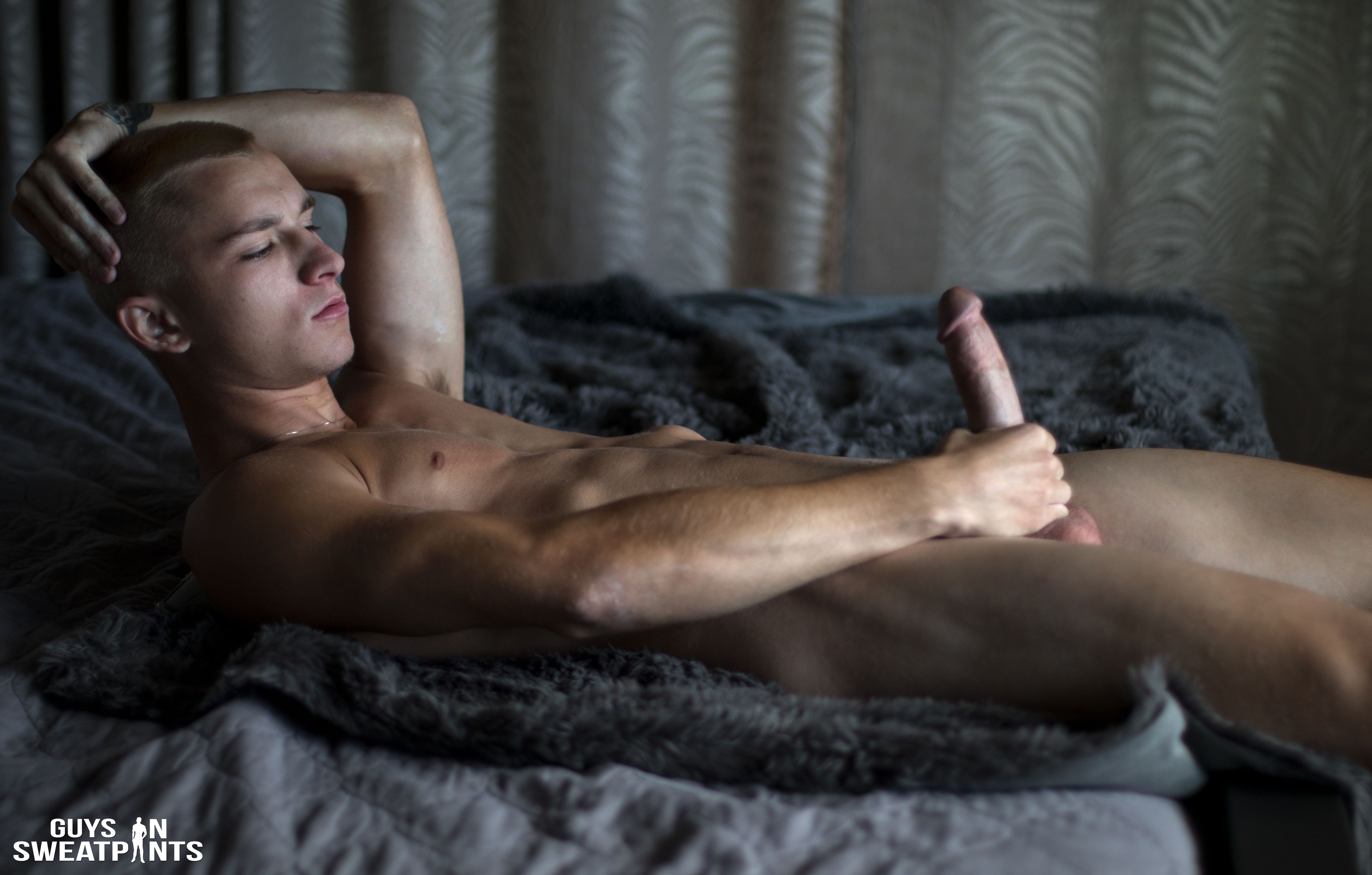 What kind of porn did you watch prior to becoming a performer? Any particular site or studio you'd watch?
I never really watched a specific site, I'd kind of just get on the internet and find what I thought was hot. My favorite type of porn though would have to be muscle jocks fucking. I really love athletic type guys.
Performers are everywhere on social media today. What is your favorite thing about being on social media and interacting with so many people?
My favorite part about being on social media is that I get to interact with so many people around the country and the world. Everyone is so sweet and supportive. They actually enjoy seeing me perform and seeing the pictures I post, which I am so grateful for. It is also a way to kind of get an idea of what the fans want to see next.
And, conversely, what is the worst or most challenging part about social media?
The only challenging part I've ran into are some of the negative comments people leave. For the most part, I don't really pay attention to those people cause I'm all about spreading love.
Tell us what it was like shooting your debut scene. Who was it with, and were you nervous? What did you think it would be like filming, and did the filming go as you expected it to?
My debut scene with Trevor Laster was a blast. I wasn't nervous at all about the "shooting" part of it, but I remember just not wanting to fuck up. Trevor was so hot, I didn't even notice the camera was there after a few minutes.
What, if anything, surprised you during that first shoot?
It went a lot better than I personally expected it to go because GISP made it such a comfortable setting, and they're all so fun to work with. More like a brotherhood than anything else.
What was it like filming your new scene, with Miller Axton?
Filming with Miller was by far one of my most fun scenes. We just vibed instantly, which made it so easy for me. Throughout the whole scene, we were having a good time with a lot of shits and giggles. He was such a good scene partner, and has the kindest soul.
Is there anyone you look forward to shooting with later on, whom you haven't filmed with yet?
I've had my eyes on Greyson Lane, and a little birdie told my he may be in bed with me pretty soon.
Nice! When you're not here shooting in California, what do you do in your free time at home?
When I'm not in California shooting, I'm at home working my other job. I love going out with friends, smoking, and having a good time. One of my favorite hobbies is hiking. I love to find cool, unique places I can hike to and escape from reality for a little bit. I also love working out and staying active, it plays a huge role in my life considering I grew up wrestling and doing MMA.
Over the last few years, performers have become much more open about their work in gay porn with friends and family. Is that how it is for you, or do you not talk about your work with people outside of the industry?
When I first came up to California to shoot, I didn't really tell anyone, cause I wanted to see how things went first. After everything went so well, the first thing I did when I got home is opened up to my very best friend about it, who was so so so supportive. As time went on, people started finding out just through the internet and talking. It's been about 50/50 with the support system. But the people who don't support obviously weren't my true supporters all along. Now that so many people—besides my family—back home know, I'm very open and comfortable to talk about it with others.
As a new model, what advice would you give to someone who's thinking of becoming a gay porn star?
If I were to give any advice to someone, I would say to trust your gut. If you think this is truly what you want to do, then do it. But, if you question it the slightest bit, you should re-think it for sure. Also, if you're new in the business, you should always stay your true self. By doing that, I have gotten to experience so much and meet so many cool people.
Do you have more shoots planned in the coming months?
Yeah! I have a few shoots lined up for the rest of the year, which I'm more than excited for you all to see. But as far as who, that's gonna be a surprise 😉 . I will give you one hint: His first name starts with G and his last name L. You will be seeing plenty of me around—I'm not going anywhere and I can't wait to see what 2019 has planned for me.
Can't wait to see! Thanks for taking the time to talk, Theo!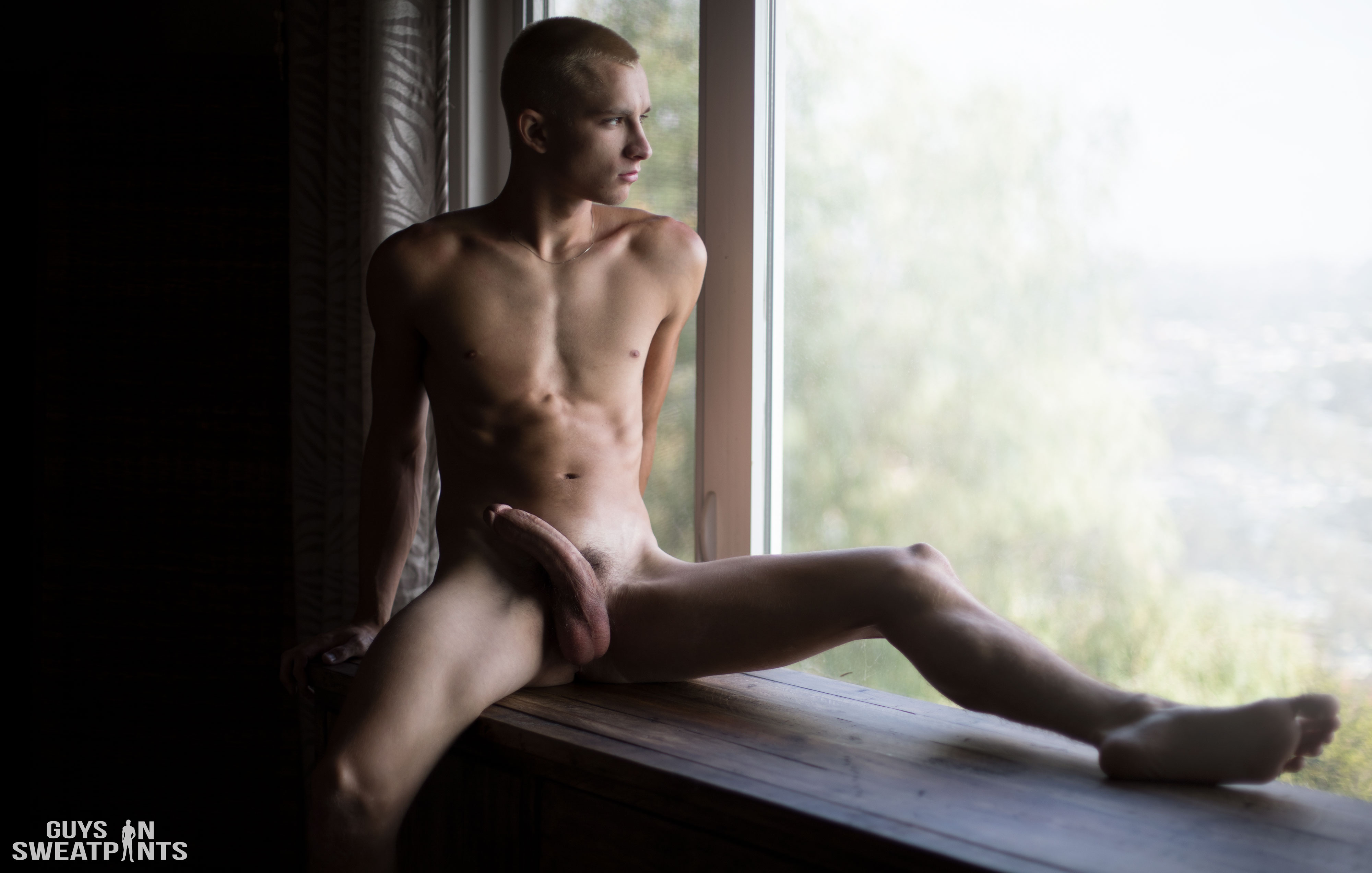 Theo Brady and Miller Axton preview (being released here on GuysInSweatpants):
Trailer (watch full scene here):
[
GuysInSweatpants: Miller Axton Fucks Theo Brady Bareback
]