[UPDATED] Which Duo Would You Rather Join: Wesley Woods And Chris Harder Or Jacob Hansen And Travis Stevens?
Two new duos released today, and if you could join one of them to turn it into a three-way, which one would you choose?
First, it's Travis Stevens fucking Jacob Hansen bareback at Helix:
If you prefer having a more serious three-way, you might want to join Wesley Woods and Chris Harder at Himeros:
In this duo, "Worship Me," Chris Harder explains to Wesley Woods why he loves him so much while he's sucking his cock. Description via Himeros:
When guys have sex, it sex, it's usually about getting off. And while there's nothing wrong with that, what would happen if we used sex as a form of devotion. What if, in a very real way, you used sex as a way to worship your partner – to bask in the presence of the god that they are.
As Chris strokes Wesley's cock and tells him that he loves him, Wesley becomes emotional and begins to cry. Then, he busts a nut on Chris' face.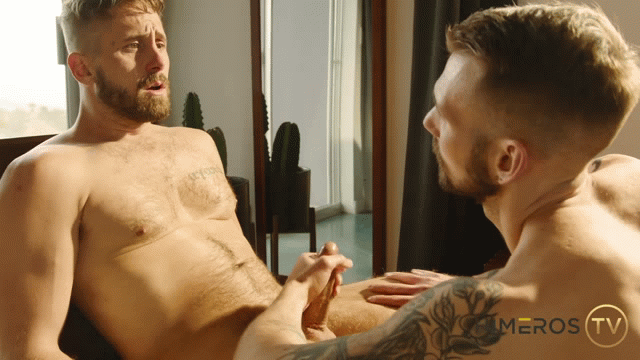 I'm not sure if joining this extremely intimate duo would work out too well (you might feel like a third wheel, tbh), but if you're in the mood to cry, it could be fun? Trailer (watch full scene here):
[
Himeros: Chris Harder And Wesley Woods
]
If you're in the mood for a traditional bareback fuckfest, there's the Jacob/Travis option on Helix. Trailer (watch full scene here):
[
Helix: Travis Stevens Fucks Jacob Hansen Bareback
]
Have a preference?
Update:
Wesley Woods has written a note on Twitter giving some back story on his Himeros scene. In the note, he shares how he was feeling and where he was at, emotionally, during the production. It turns out, the emotion you see in the scene is very real and not just part of the scene's script or theme, and it stemmed from a real-life incident last year when Wesley was attacked by three straight men in West Hollywood. Here's the note that Wesley shared on Twitter today: