Treasure Island's Next Movie Will Feature Cocaine Being Snorted Off A Cock
Treasure Island Media has already released movies featuring men shooting up crystal meth, men being cut with knives and then having their blood used as anal lubricant, and men being injected with hundreds of loads of HIV-positive semen, so a movie featuring cocaine use ranks pretty low in terms of shock factor. That said, illegal drug use in porn is obviously still against the law, so it's worth pointing it out whenever it happens.
Treasure Island Media's drug of choice this time around appears to be cocaine (although it could also be meth, or even ketamine), and here's someone snorting it off of a cock in their upcoming movie, "London Cum Junkie."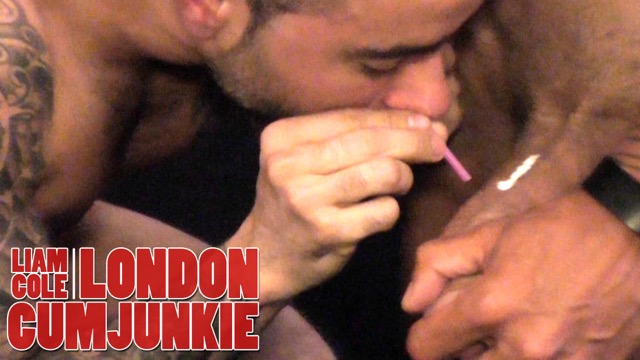 So, I wonder where the Free Speech Coalition stands on this one? If you're waiting for the adult industry trade group (which is supposed to exist to protect adult industry performers) or anyone else in the porn industry to condemn this kind of bullshit and/or prevent it from being distributed, don't hold your breath. After all, the Free Speech Coalition and Treasure Island Media are old pals (they even share the same lawyer!), so don't expect anything to get in the way of that cozy relationship—not even a little coke.
But even if you don't care about performer safety (and honestly, I could give two shits about the guy doing the rail here), you would think that the gay porn industry would care about what's supposed to really matter to them: Money.
Why money?
Credit card companies like Visa and Mastercard have strict rules when it comes to what kind of content they're associated with via the companies they process payments for. For example, most gay porn studios don't allow bloggers to use the word "incest" (even as a joke!) when promoting scenes with content that resembles or implies incest, and that's because credit card companies don't want anything to do with incest—which is obviously illegal in the United States.
With illegal drug use, it's the same thing.
So, if someone at Visa or Mastercard decided that they didn't want to be involved with profiting off illegal drug use (and I'm honestly surprised that this hasn't happened yet), they could instantly and easily stop processing payments for Treasure Island Media, all the VOD sites that stream their movies, all the DVD/wholesale distributors and retail stores that sell their movies, and all the affiliates that do business with Treasure Island. So, it's not just Paul Morris and the trash at Treasure Island Media who could be affected—it's anyone in the adult industry who does business with them. That's a lot of different adult companies and conglomerates, and a lot of money.
Good luck trying to sell your dumb movies if consumers can't use their credit cards to buy them.