Paul Morris Now Paying People To Get His Name Tattooed On Them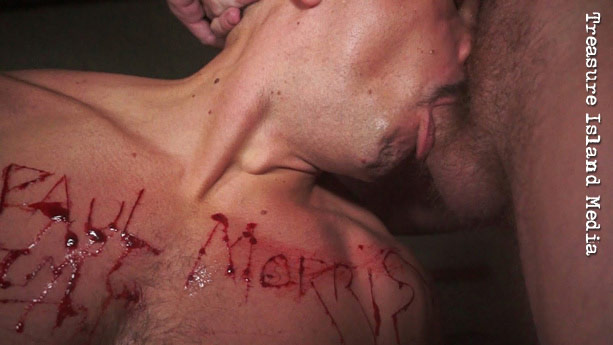 Paul Morris' narcissism knows no bounds. The stunt in his last snuff film where Dayton O'Connor carved the words "Paul Morris" into Miles Andrew's chest was just the beginning, as now Morris is offering to pay anyone who gets a tattoo of his name.
This is your chance to prove your devotion to Treasure Island Media. Here's the deal – Tattoo any of the T.I.M. approved designs ANYWHERE on your body, and we'll take care of you. That's right we'll pay for your TAT! The choice is yours. To begin your journey to being one of Morris' Marked Men, simply send us an email to with your legal name, the location you want the tattoo (a photo is not required but never hurts) and where you would like to have the work done. After that, just give us a few days and one of our hard working men will talk with Paul to get his blessing.
The latest person willing to become free, lifetime advertising for Treasure Island is someone named Dice, who proudly posted the below photos of his "Paul Morris Owns Me" tat.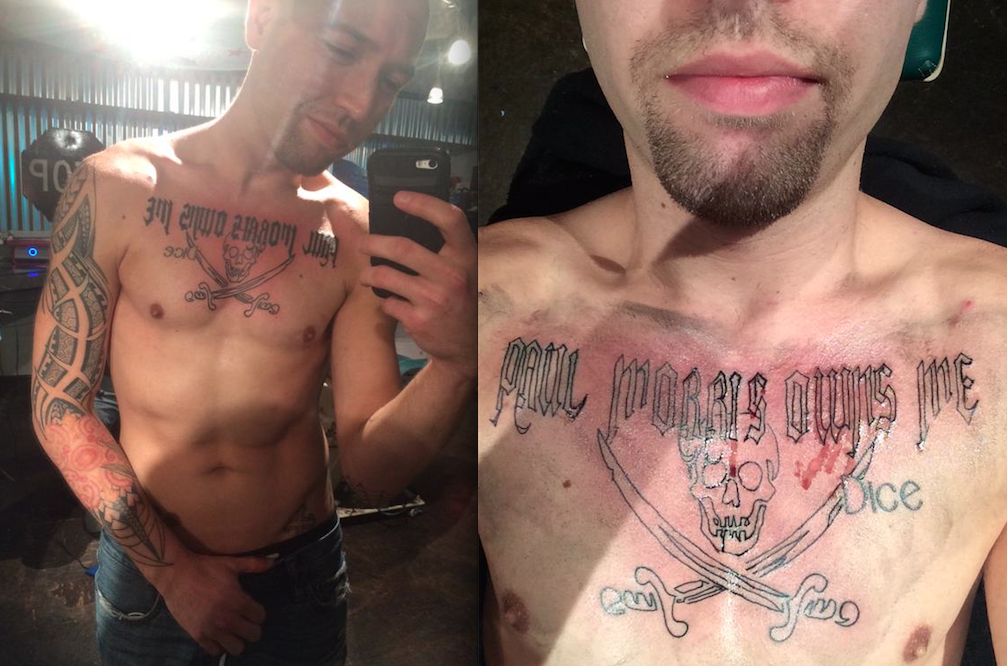 In case you needed to hear Dice explain himself:
There's two sides to everything, this side reflects my full on love and respect for Paul. Paul's a man that know what he wants and what he likes, I respect that majorly. […] Recently I've been going to SF an my last trip was scouted to possibly work for another studio, saying my head could be covered with makeup…..that's not gonna happen. Also been written online for work at other places. This is my point to prove and show, I'm Paul's no one elses. I'm a TIM only guy. In the video footage from day one when I got my taint tattoo, I stated 'anything for Paul Morris.'
Cool story.
Remember Miles Andrew? Here he is explaining why he let Dayton O'Connor cut him with a knife, and as you can see from his profile image in the message below, the carving turned into something resembling permanent cat scratch scars.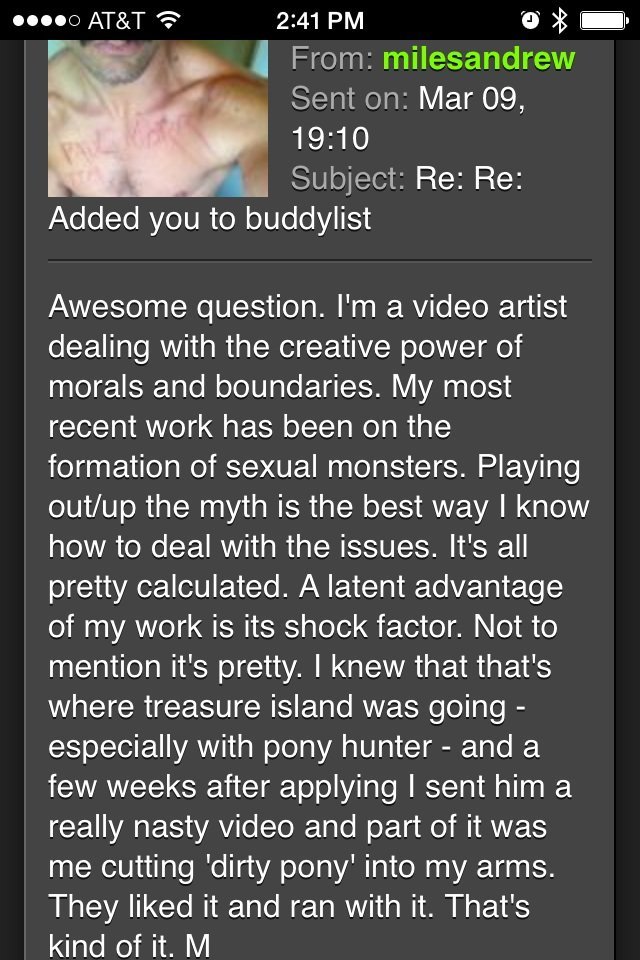 For someone who encourages other people to get his name carved and tattooed onto their bodies, Treasure Island Media owner Paul Morris is notoriously reclusive. What does he look like? According to his Wikipedia, Morris hasn't been seen in public since becoming a pornographer, but there has to be someone out there who has access to him, and who can take his photograph.
If you are in possession of any photographs of Paul Morris or are able to obtain them by any means, please send them to Str8UpGayPorn. All correspondence will remain 100% confidential, and anonymity is guaranteed.