20 Questions With Gay Porn Superstar Tyson Tyler
As hot as he is humble and as sexy as he is smart, Tyson Tyler might be the most perfect gay porn star I've ever interviewed. An instant favorite of both fans and studios ever since his first scenes debuted in 2012, Tyson Tyler is now being bombarded with award nominations at the Hookies, the Grabbys, the Prowlers, the Cybersockets, and probably next year's Golden Globes if he keeps it up. In this week's 20 Questions, I ask Tyson about his awards, his scenes, his thoughts on racism in gay porn, what it takes to have a career as successful as his, and more!
1. Hi Tyson! You're up for an incredible four Hookies this weekend: Best Body, Best Porn Star, Best Social Media, and Best Ass. Which one do you want to win the most?
Well, obviously I'd like all four, but if I had to pick just one I'd say Best Ass! I really put in work at the gym to keep my ass looking porn ready!
2. I remember seeing you last year at the Hookies in what I think was the best outfit of the night. What will you be wearing this year, and will you be attending the show with anyone?
Last year was my first time at the Hookies so I really wanted to make a statement and I think I managed to do that! This year, I've already made up my mind as to what I'm wearing, and I can say that it's sexy, slutty, and sporty. I'm going to be there on my own this year, but I know I'll see a lot of familiar faces that I'm very excited to see.
3. Do you have a boyfriend? Is it hard to date people while still maintaining such a high profile career as a performer and escort?
To be honest with you, having a boyfriend at the moment isn't the right thing for me. I can honestly say that I am not looking for one. I want to focus on my career and go as far as I can with porn and branch out into other aspects of the porn world. I think most guys I meet have this preconceived notion of how I'm going to be, which is unfortunate because I'm pretty down to earth and sometimes even shy, which most would never expect.
4. Other than you and three or four others, there aren't any African-American performers who have worked consistently in what some people consider "mainstream" gay porn for the so-called "big" studios. Do you think that has to do with racism, or are there just not as many gay black men applying to work in this industry?
Well, I definitely think there is some racism to a certain point. I've seen it here in the U.K. as well as the U.S. There's the whole "ghetto thug" porn world that a lot of black guys do. Some are happy to stay there and not branch out, while others who do try and work for mainstream studios get turned down because they don't have the "right look," or for having worked in "thug" porn. There are plenty of black guys who want to do gay porn, but even in 2015 there is still a color issue, and that's just the way it is.
5. Over the last ten years or so, do you think gay porn studios are getting better at featuring different races and ethnicities, or are they getting worse? Or have things just remained the same?
I don't think things are getting better or worse, it's pretty much remained the same. If you are black and vocal about the fact that you got turned down from a job because of your race, then you will be seen as "difficult" and having an "attitude," which will then make even fewer studios want to work with you. I have been fortunate enough to work with professional people throughout my career, but there have been times when I've wanted to pull the race card. I've decided not to as I think that ultimately it would end up damaging my career rather than helping it.
6. Have you ever had any negative experiences in applying for and/or working with a gay porn studio?
Yes, of course I have. And studios can just get away with it by saying you don't have the "look" they want, which is fair enough. But then you look through their catalog and you realize that what they really mean is "You're black, and we don't hire black models." You gotta read between the lines sometimes and just know which studios will hire black performers and which ones won't.
7. Which has been your favorite studio to work for so far?
I really loved working for Falcon, Hot House and NakedSword. All very fun, professional studios that don't have time for crap. It's always a pleasure to work with them.
8. What about your favorite scene partner? With whom would you love to work again?
That's a tough one, but I'd really like to work with XL again. I think our scene was hot as fuck, and I'd love to do something with him again.
9. That's really hot that you mention XL, as he said the exact same thing about you when I interviewed him a few months ago.
We had chemistry right from the get-go!
10. With your good looks, have you ever considered doing non-porn modeling?
I have done some non-porn modeling, but I'm not really actively looking for that kind of work. If I thought I would have more fun doing that then I think I'd look for more work as a model. I just love working in gay porn!
11. Were you always so attractive growing up, or did you grow into your good looks? At what point did you know you were hot and could be a gay porn star?
Hmm…There's never been a moment where I've actually thought: "I'm hot." I don't look at it that way. When you have that kind of vision of yourself, you can be a bit of a douche. I'm an attractive guy, and some will think that while others won't. I'm OK with that. I have always been curious about porn and wanted to be involved in this world even from a young age, so for me it's truly felt like my calling rather than having no money and saying, "Well, let's give gay porn a go!"
12. Do people recognize you on the street or in public?
Some do recognize me in the street, but it's quite funny because they know they've seen me from a porn movie and they get all awkward—they know that I know. It's great to meet people who support you and your career. I love it, and I wouldn't be here without fans of my work.
13. What physical feature do you think attracts people to you first?
Face. People tell me I have an interesting face, which I take as a compliment!
14. Back to more awards. You were nominated for Hottest Cock and Best Group Scene at the Grabbys. Will you be at that show in May, and was that group scene for Raging Stallion a challenge to film? I know those kinds of scenes can take a long time to film.
Yes, I'm very happy and excited to be nominated for two Grabbys! I will be attending, and I'm so excited about going. Into Darkness was amazing to shoot. There was chemistry on the set, and though it did take longer to shoot than most other scenes I've done, it really was worth it because it's such an incredible scene. It's one of the best, if not the best, scenes I've done so far!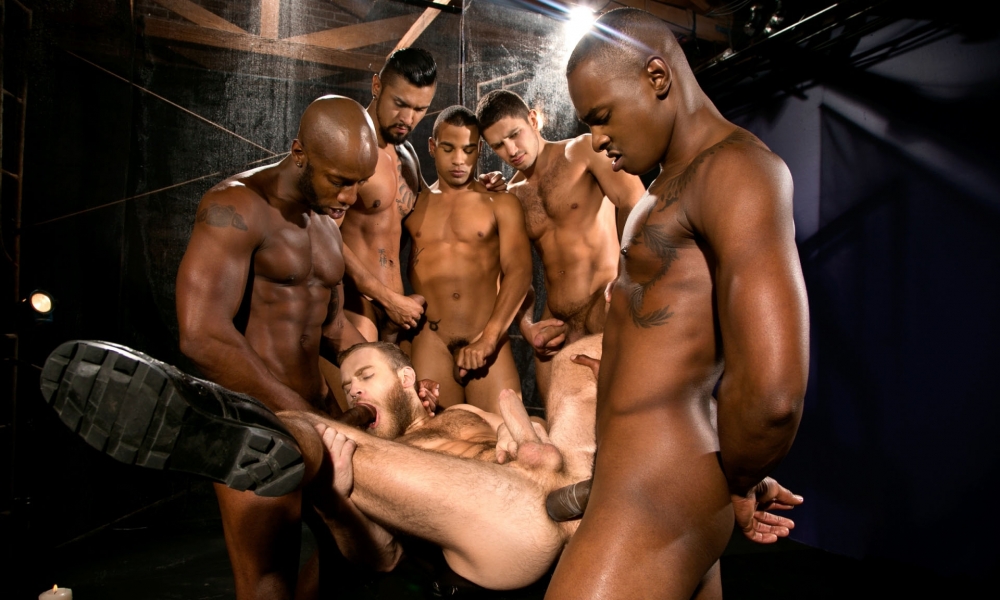 15. Is it harder to get booked for scenes while living in the U.K.? Most studios have tight budgets and can't even pay for a model to fly across one state, let alone across multiple continents.
Here's the thing about that. I have to be in the U.S. to get work there. There are very few studios that will fly me out from the U.K., so I book my own flights and tell studios I'm going to be in the U.S. for a certain amount of time, and then I get booked.
16. So will we be seeing a lot of you in the U.S. in 2015?
I'm doing a lot of things this year. First my trip to NYC this week, and I'll be working with some studios around the U.S. in Las Vegas, Miami and L.A. I'm planning to start my very own line of sex toys in the future, so I'm also working towards that. And finally, I'm also working on a comic strip concept which I'm very excited about, and I know a lot of people will be into as well.
17. Do you have a day job outside of modeling/performing in the U.K.? What are some of your hobbies and interests?
This is my full time job. I love dancing and listening to music; those are two big passions of mine.
18. Favorite singer or band?
Dawn Richard is everything to me. She does her own thing and is probably the only artist that is doing her own thing, not giving a fuck about sales or whether or not she'll have a hit. Gotta respect that, and her incredible talent for making amazing music.
19. Any gay porn stars you've looked up to as inspirations over the years?
Wow, yes. François Sagat has always been an inspiration; he was not only an incredible performer, but also a great business man. I think he knows exactly what he is doing, and I really admire that.
20. What would you say is the most important thing a new gay porn star can do to ensure that he has a career that's as long and as successful as yours?
The main thing is don't be a mess. I think most times a lot of guys do porn because they "had no other choice," and that creates a lot of unnecessary drama. It's not good to work with performers who don't give a fuck about what they are doing, and who are only in it for the parties, drugs, and sex. This is a job, and you have to be professional at all times. That's the only way you will ever get more work. It's really as simple as that.
Don't forget to vote for Tyson Tyler in this year's Hookies through tomorrow night, and voting is still open at the Prowlers for one more week. For more Tyson Tyler, view his scenes on Raging Stallion, Hot House, NakedSword, NextDoorEbony, GuysInSweatpants, and Men.com.

[
Raging Stallion's Into Darkness: Tyson Tyler
]