Watch A Cat Upstage Michael Hoffman And His Buddy As They Stroke Their Cocks
The most interesting thing about this new Michael Hoffman jerk off video is not the other guy with whom he's jerking off, it's the two cats, obviously.
The two cats make their cameos in the opening moments of this otherwise nap-inducing, 20-minute jerk off video (I dare you to watch the whole thing) that was shot on a fixed tripod from, like, 75,000 feet away. I'd say that Michael Hoffman's jerk off buddy is hot, but you can't even tell what he looks like? Also, is this video (in which Michael Hoffman and his friend rub each other down with oil and then stroke their cocks together) a sign that Michael Hoffman might go "full gay" and make a porn video where he actually has gay sex with another man?
More importantly, back to those cute cats:
Do the cats belong to Michael Hoffman, or do they belong to his big-dicked, muscular friend? Also, why is the litter box in the fireplace?
At about five minutes in, cool cat #1 cruises by, just to say hi (or maybe he was on his way to the litter box):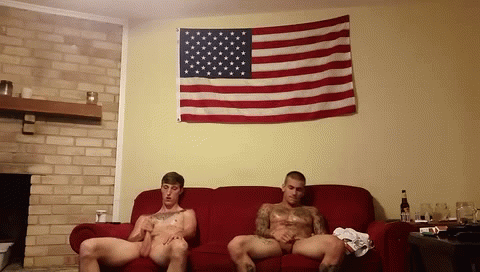 That's the last glimpse of the cat we get, as the bro quickly gets up and (presumably) puts the cat in another room. Then, it's 15 minutes of the bro and Michael Hoffman stroking their cocks and attempting to bust their nuts, which appears to happen (maybe?) in the last minute of the video, but it's hard to tell? Maybe the cats know.
[Related: Masturbating Teen Bodybuilder Michael Hoffman Sold All His Jerk Off Videos To Mindgeek]