What The Hell Is Going On At Manhunt Daily?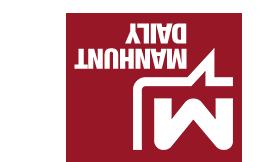 If you've been following any of the Hot Links over on the right side of the homepage this last month, you know that Manhunt Daily's longtime blogger "Dewitt" was let go on or around April 15th, shortly after his final post went up. What you might not know is that the people at Manhunt had been planning on firing Dewitt weeks before April 15th.
I first caught wind of it at the Phoenix Forum, as Manhunt reps in attendance were letting people know that they'd be firing Dewitt as soon as they got back to Boston. I'm told that Dewitt— who ran the Manhunt Daily blog for over five years—was becoming a liability due to his increasingly outspoken persona, which was on full display during his Twitter meltdown over Johnny Rapid's arrest in January (if you saw his tweets at the time—they've since been deleted—you know what I mean), and his erratic outbursts put a huge strain on Manhunt's business relationship with Men.com At any rate, Manhunt had been planning on firing Dewitt since at least the end of the March, and they obviously had plenty of time to plan for his replacement—so why didn't they?
This might be of no interest to any of you (does anyone care about the inner workings of a gay porn blog?), but considering Manhunt Daily was (and still is) the most highly-trafficked gay porn blog in the U.S., it's obviously of interest to me and people working in the gay porn industry. The Manhunt Daily blog refers a ton of traffic to other websites, resulting in a considerable amount of revenue for studios, DVD retailers, sex toy manufacturers, etc., so if the blog dies, eventually a lot of that traffic and revenue will, too.
Today, after over three weeks with no new posts, the Manhunt Daily blog was finally updated. The problem is, this "update" (if you can even call it that) is even more confusing than if they had not posted anything at all. What does this even mean?
It's true: we've been down for awhile now! Our beloved Dewitt dutifully managed our services for many years and provided us with numerous stories on cocks, butts and everything in between. The good news is that we are actually splitting content across multiple new formats and sites, which will feature more opportunities for our loyal readers to engage, see the hottest content and naturally, get back to our adult ways. Stay tuned for more information about our new blogs, too!
???
I have no idea what "splitting content across multiple new formats and sites" is supposed to mean, but my best guess is that it translates into something along the lines of: "We have no idea what we're going to do with this website."
Then, the post concludes with an advertisement for Mr. Skin:
In the interim, our friends at Mr. Skin have compiled their Top Ten Celebs in Speedos, which we are happy to report and share with you below.
You're running the highest ranked blog within your industry, and after firing your employee and not posting anything for three weeks, you return with an ad for celebrities in speedos?
UPDATE: Another bizarre post just went up, with even more weird doublespeak:
The Manhunt Daily as you know and love it will be transitioning into different servings. Many people loved / hated Mr. Dewitt Daily, but we want to focus our return to YOU, our readers, members and supporters. To that, we will be unveiling in the coming weeks new plans to focus on Manhunt members and what makes them unique (not to mention reward members for their loyal patronage with new ways to win love and swag).

[…]

Last, and certainly not least, we will be bringing back the Daily. Well, sort of. Another helping entity with us at Online Buddies is OLB Media, the same fine folks that have created scenes from Maverick Men, Deviant Otter, Sketchy Sex, Fraternity X and more. In addition to exclusive content and insights on those sites, we'll provide the same adult-oriented content that you've known and loved.
It took them over a month to come up with something that still doesn't make any sense?