Which Gay Porn Studio Owner Would You Rather?

More and more gay porn stars are starting their own gay porn studios, where they're able to work behind and in front of the camera as both a producer and a performer. It's a smart move, because there's nothing better than being your own boss (and getting to legally have sex with your hot employees without being accused of sexual harassment).
Some producer/performers have been around forever (e.g., Jake Cruise), and some are just starting out (e.g., Deviant Otter), but which one would you most like to work for? And by "work for," I mean fuck.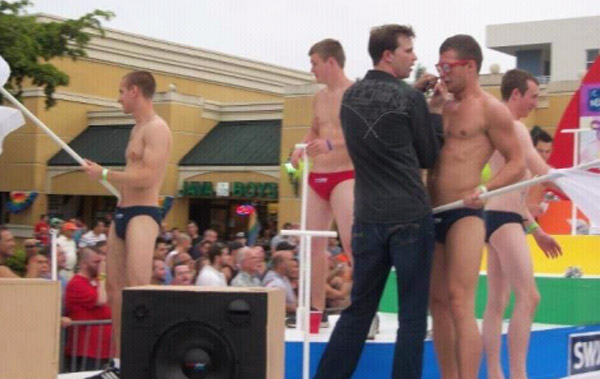 Dallas Reeves: Dallas "Coke Float" Reeves started as a performer nearly a decade ago, and now (with his agent/partner Baileey) he has his own gay porn site. The content is kind of ratchet, but what do you expect from a Florida-based bareback studio? Also: Who knew this site would still be up and running for nearly a year now?!
Jake Cruise: The great, great grandfather of gay porn producer/performers, Jake Cruise has been operating his own studios since before the days of Leo Giamani and David Taylor (remember David Taylor?). He's great at giving massages and fighting with Michael Lucas, but would you fuck him?
Michael Lucas: Speaking of the Truvada Queen, producer/performer Michael Lucas may be a hypocrite who's changed his stance on barebacking, but at least he's always been consistent when it comes to supporting the deaths of innocent Palestinian children.
ChaosMen's Bryan: The photographer turned studio owner and performer doesn't show up in his scenes as much as he used to, but whenever he does, the model he films with is guaranteed to get one hell of a blowjob.
The Maverick Men: Everybody wants to fuck the Maverick Men, so if they're your favorite, prepare to get in line. You should also prepare to take it rough, because sometimes they run out of lube.
Austin Wilde: It probably won't take much to convince anyone to have sex with Austin Wilde, whose GuysInSweatpants launched in early 2013. And yes, he might be the best looking guy on the list, but unless you don't have a gag reflex, you're in for a challenge.
Deviant Otter: He lets people pee on him, he fucks his fans, and he'll give you Molly! What more could you ask for in a gay porn producer/performer?
So, which one do you want to fuck?