Which Wife Reacted Better To Catching Her Closeted Gay Husband Fucking Another Man: The Menstruating Wife Or The European Wife?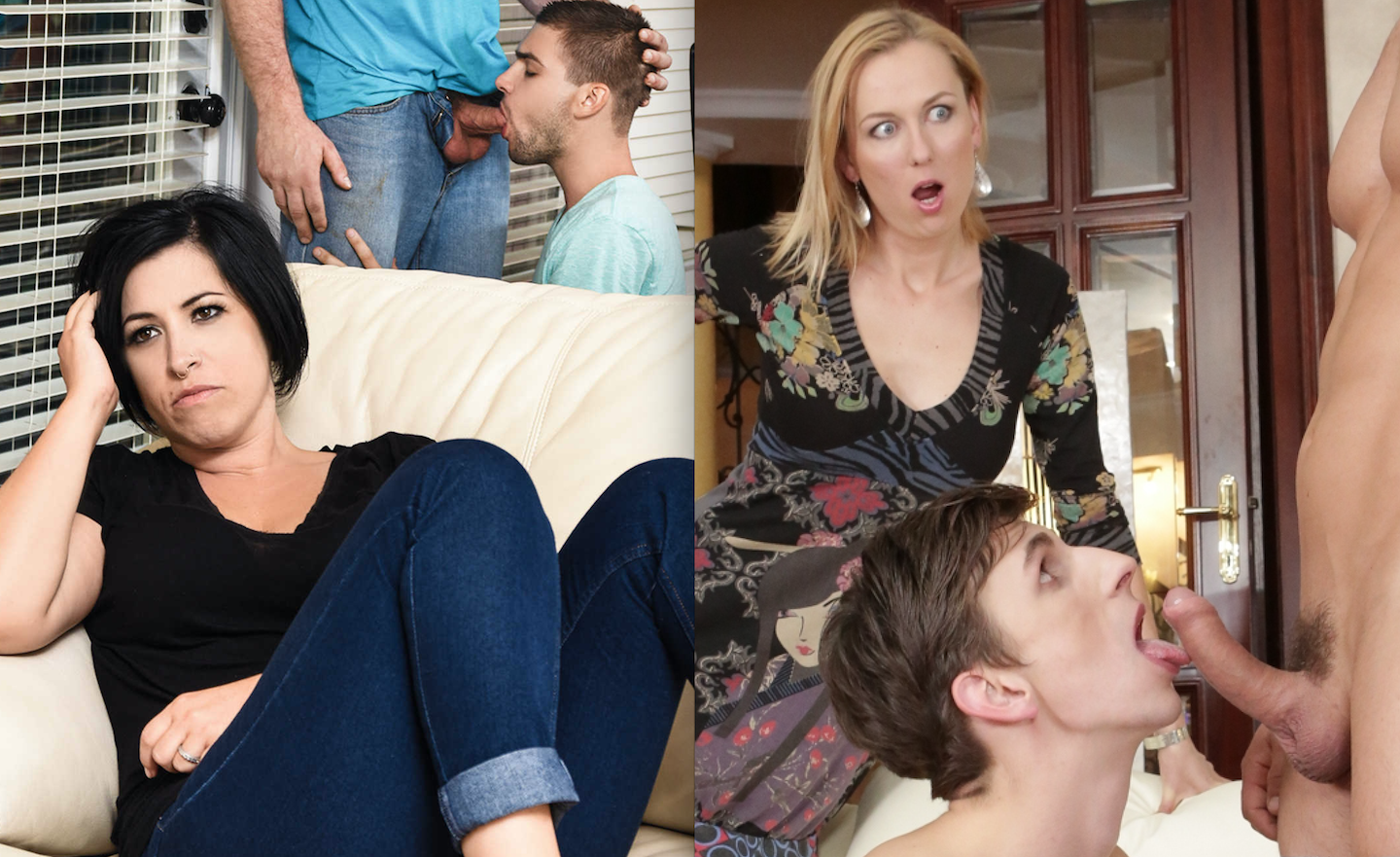 Today in men fucking men in front of their wives, we get to enjoy TWO women being cheated on by their adulterous and closeted gay husbands. Fun!
Several studios in the gay porn industry are committed to advancing the antiquated and homophobic notion that gay men should remain closeted and cheat on their wives (because homosexuality is obviously wrong), as this plot device has been used in scenes nearly every single day throughout 2017. The first one today comes from Men.com, and it features a porn star named Hunter Adrian cheating on his wife by fucking Johnny Rapid right in front of her in their home. She's watching TV and has her back to them, so she has no idea what's going on, obviously.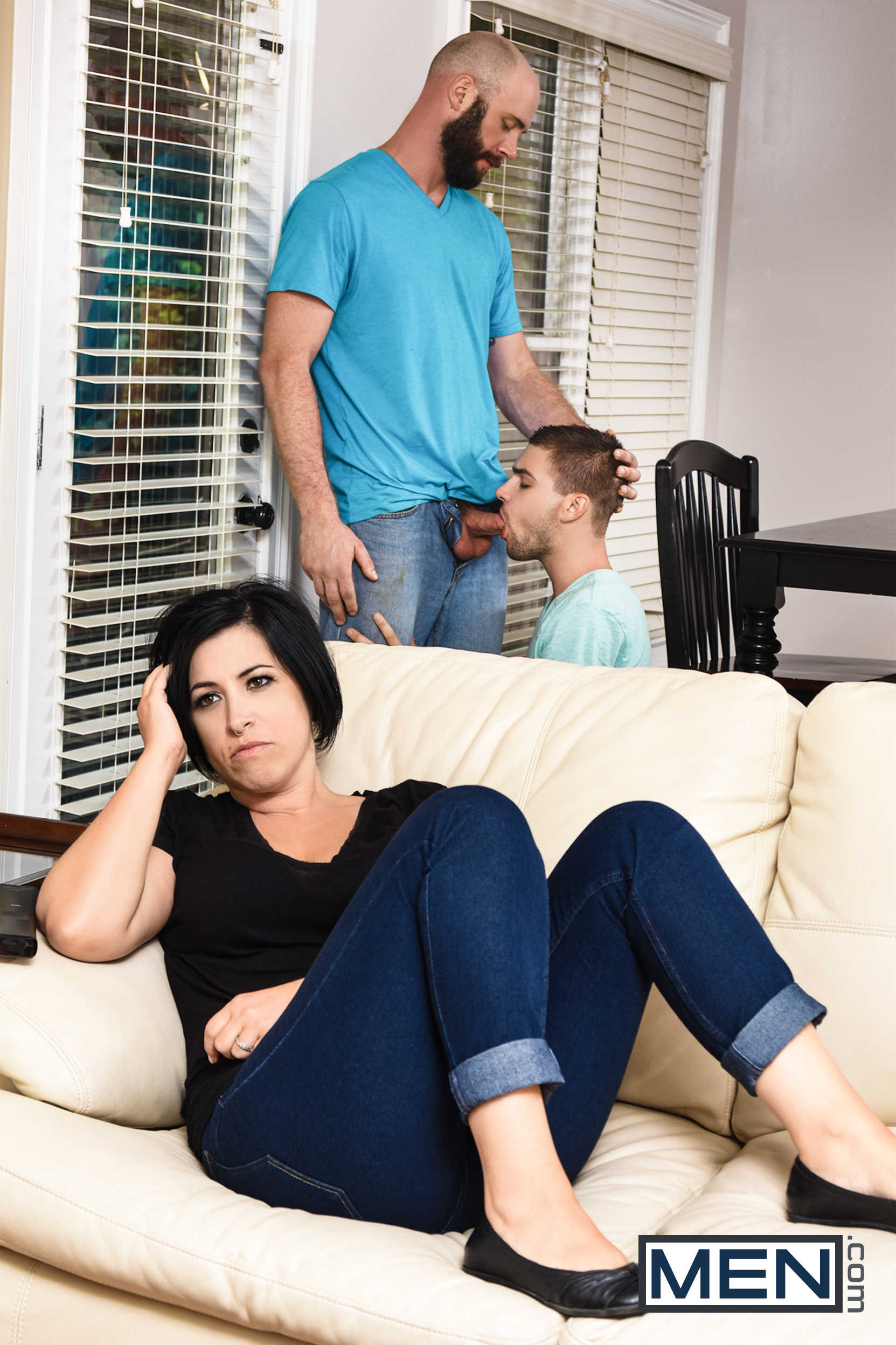 Because veiled homophobia isn't sexy enough, this scene also explores female menstruation cycles, with the wife letting her husband know that she can't fuck him because she's "cramping," and is about to start her period. The husband then sees Johnny Rapid running naked through his backyard (Johnny has just been caught fucking someone's else boyfriend next door, of course), and he, naturally, invites Johnny in to suck his cock—while his wife is sitting right next to them. Totally feasible.
I might be able to suspend disbelief if there were maybe a wall or a door between them, but this is literally the most unbelievable thing I have seen in my entire life.
Johnny and the husband eventually move into another room to fuck and cum on a staircase in the middle of the house, with the wife and the neighbor walking in and finding them. The wife is understandably upset, but she goes after Johnny, not her husband:
As if this couldn't get more ridiculous, someone in production messed up, because the photos released for the scene show a knife-wielding female neighbor entering with the wife, instead of the baseball bat-wielding male neighbor who's actually in the video. The hell?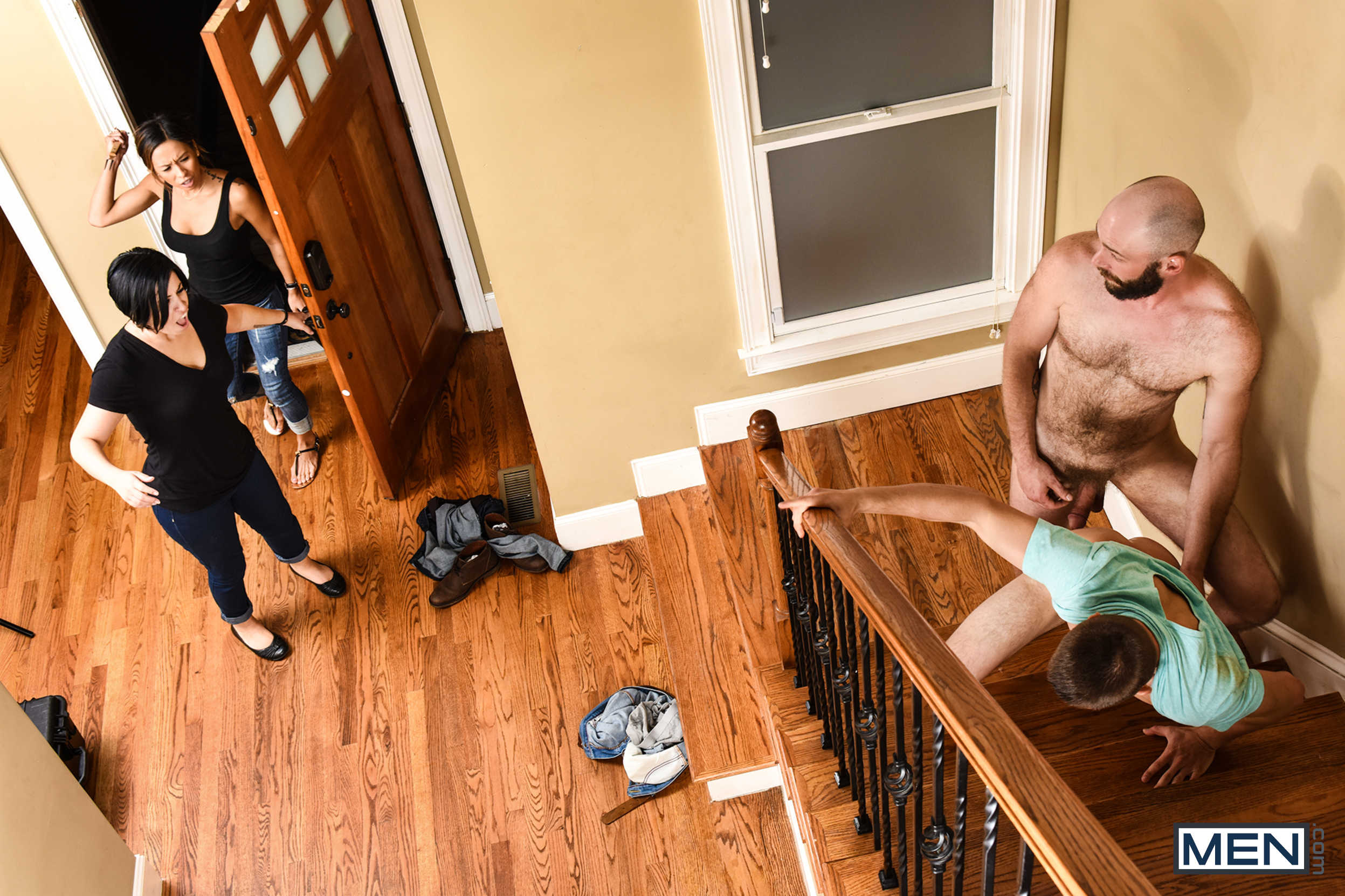 [Men.com: Neighborhood Pervert]
The other scene today featuring a woman discovering her closeted gay husband cheating on her with another man comes from MaleReality, a European based production company. So, even studios in other countries are joining in on the fun.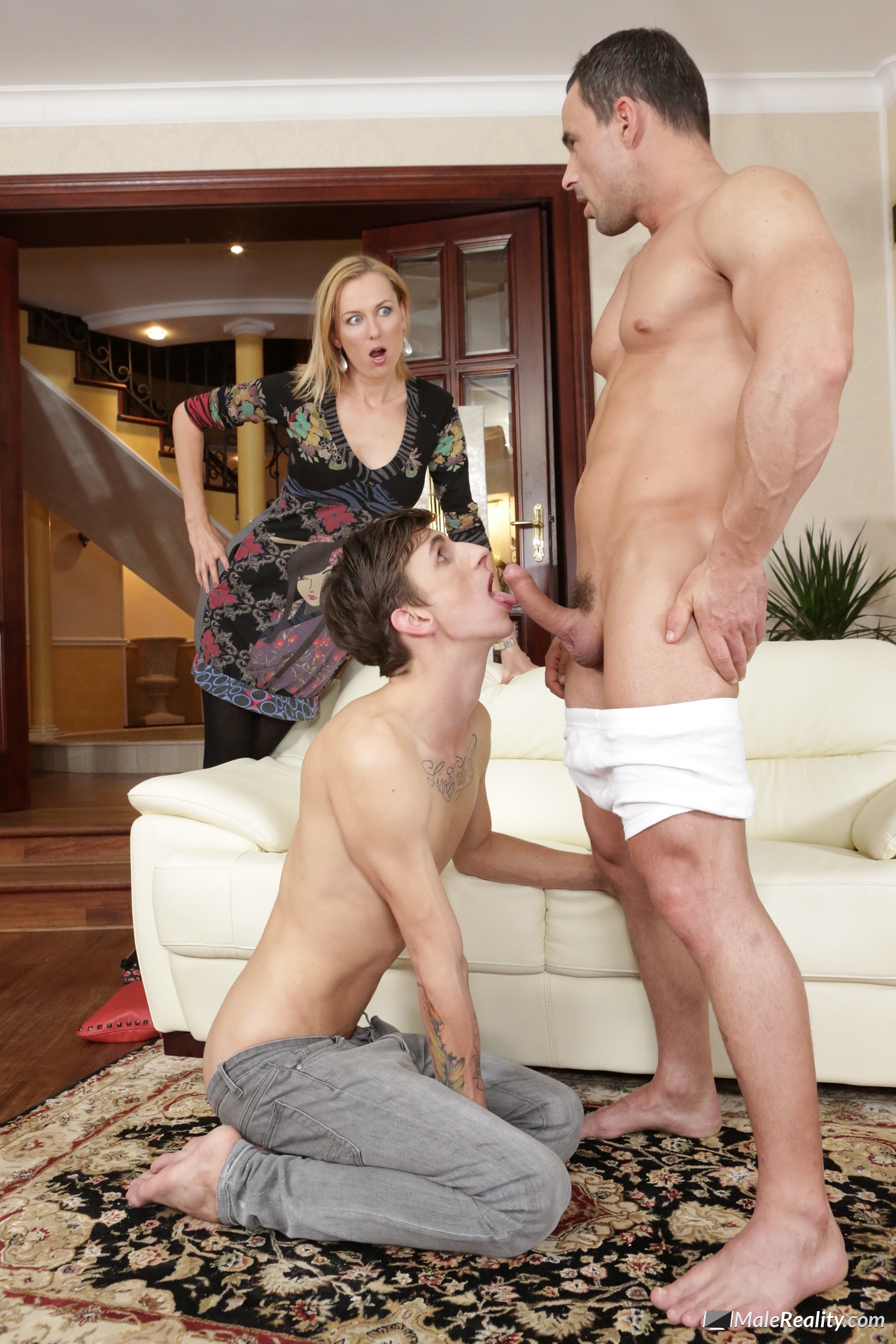 On the one hand, at least the wife isn't sitting in the same room, clueless about the gay sex going on behind her. But on the other hand, this wife is bizarrely reacting as if she's just discovered that her husband didn't empty the dishwasher, not that he's, you know, getting his dick sucked by another man in her living room.
Like many wives in gay porn, rather than get violent or angry, this wife simply leaves the room and suggests that they'll just deal with the problem later. LOL, oh well.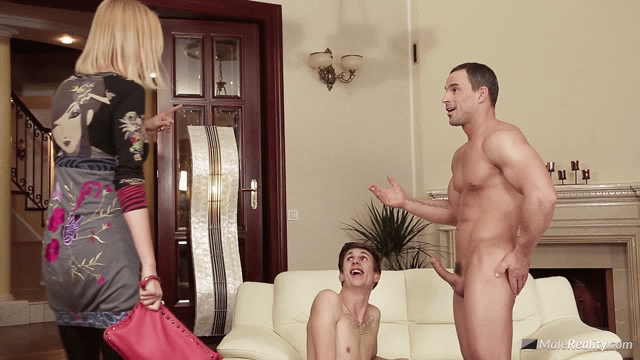 In another production/photography mishap that differs from the video, upon discovering her cheating husband, the photos for this scene indicate that the wife actually seems…aroused?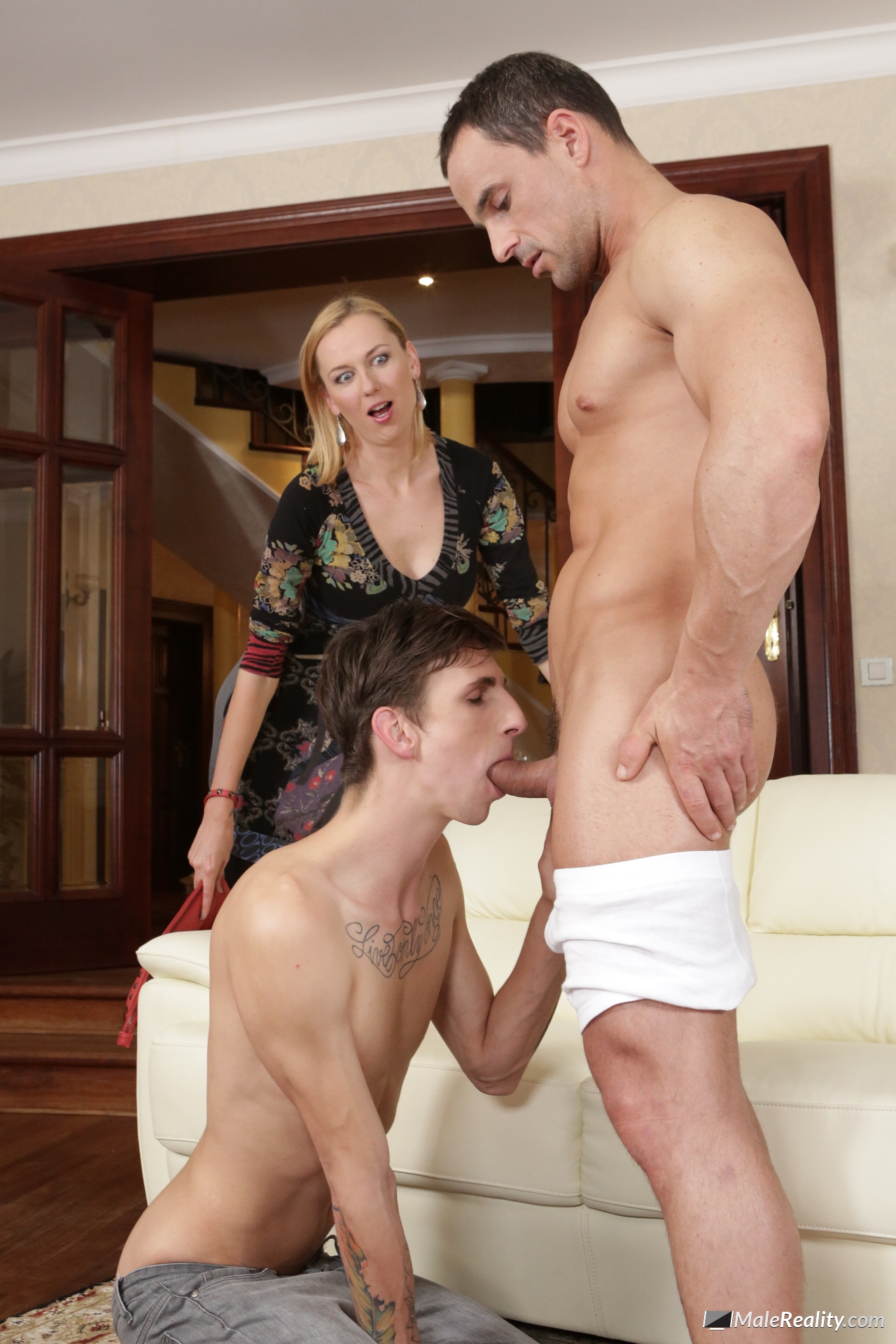 And yet, flustered: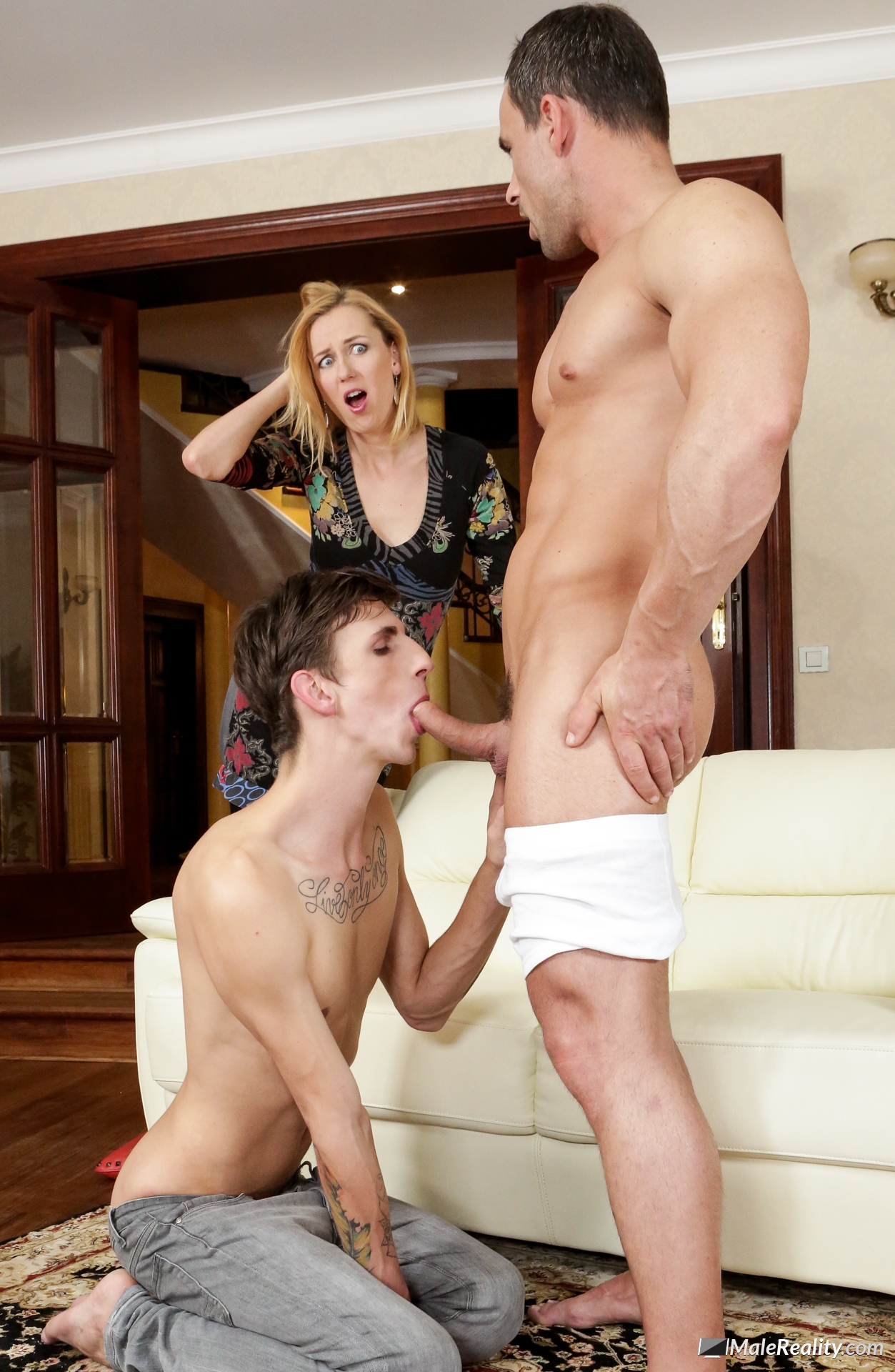 Also…LOL, you crazy gays!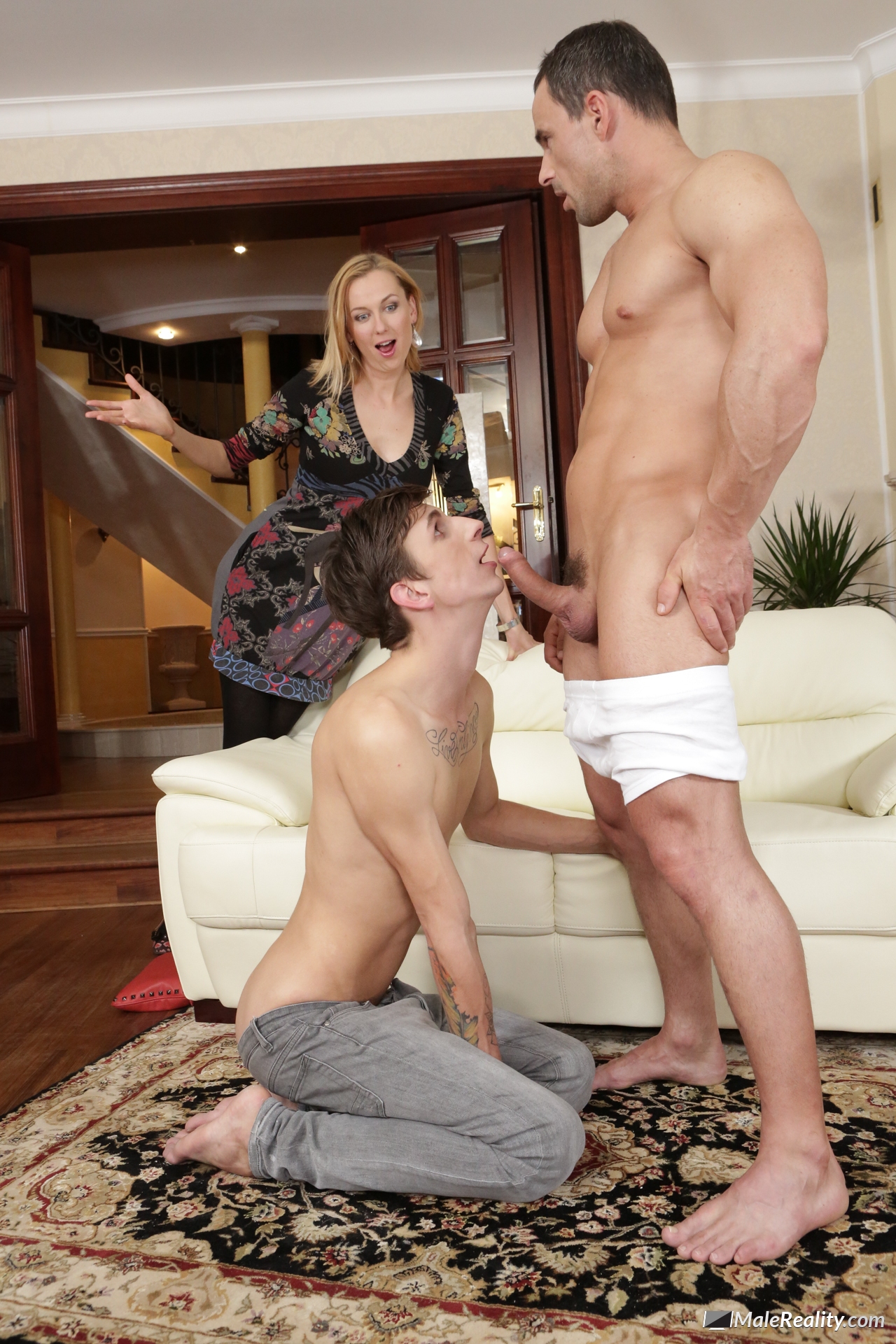 [Male Reality]
Which wife had the better, more realistic reaction upon discovering her closeted gay husband fucking another man in their home?