WATCH: Lucky Perp Gets Fucked Bareback By TWO Hung Security Guards
The latest perp on YoungPerps is twink Buddy Wild, and he has a bit of a backstory with one of the fake cops fucking him bareback in that storage room with all the CPUs and cable boxes we've seen a gazillion times. Here's the "plot" for this week's update:
This young tagger is caught vandalizing mall property and finds himself trapped by two hung and horny officers. During questioning, the cute stud recognizes one of the officers as a kid who picked on him in high school. Not much has changed — the officer and his buddy make fun of the kid, strip him naked, and then give him a choice: get them both off or deal with the police. The kid complains, but eventually he agrees to suck their horse dicks, let them take turns spit-roasting him raw, and take their loads. If only all high school bullies were this hung and this horny.
Dublin Grey and Axil Miller are the fake cops today, and it was a great idea pairing them up to tag team the tagger, given their equally gigantic cocks. I like this three-way a lot:
I do not, however, like them using the same fake cum over and over again: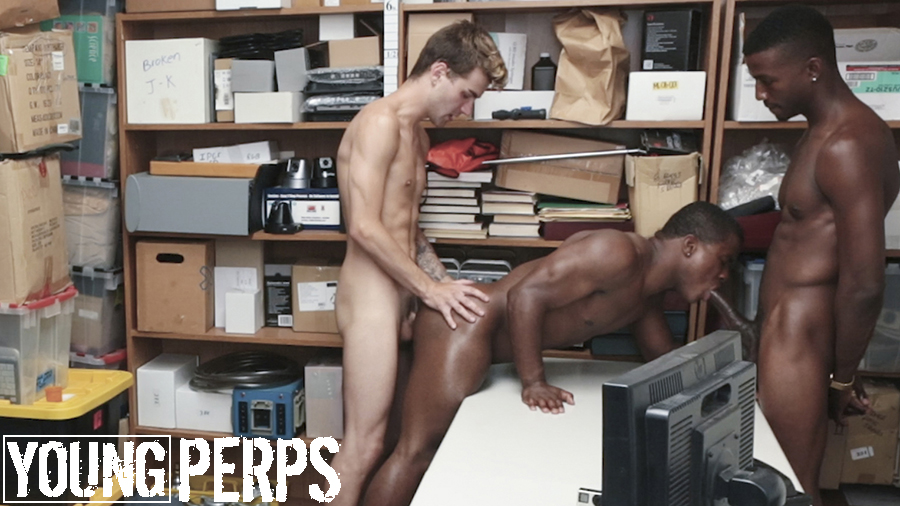 Trailer (watch full scene here):
[
Dublin Grey And Axil Miller Fuck Buddy Wild Bareback
]