Battle Of The Gay Porn Studios: Boys At Camp Vs. Scout Boys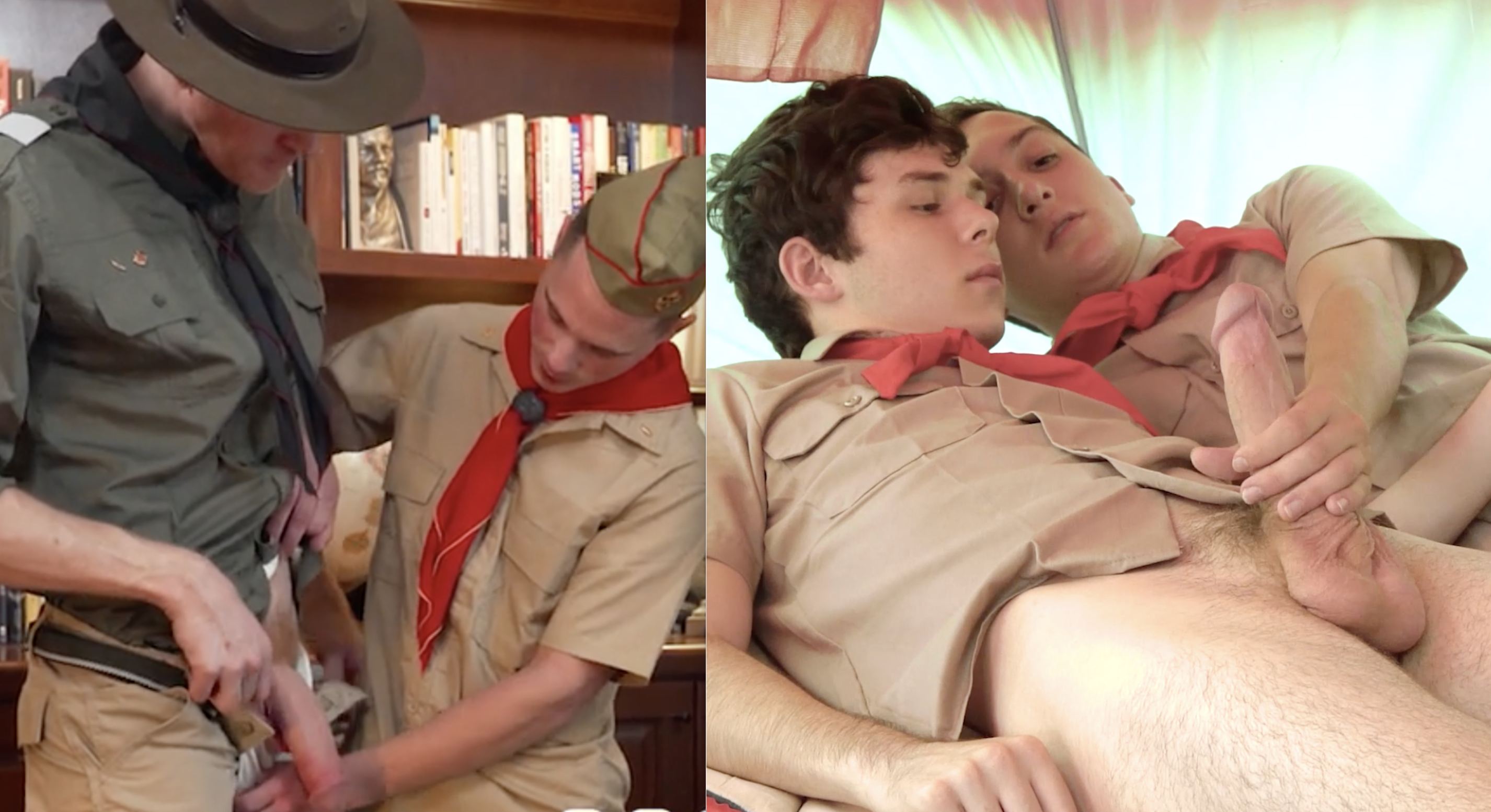 Remember the great gay porn war of early 2020 between SayUncle (née Family Dick) and Gaycest? I can't remember what happened yesterday let alone one year ago, but it had something to do with the former Family Dick owner, Legrand Wolf, resigning and/or being fired from Family Dick and then starting another studio (Gaycest), where he proceeded to reboot all of the Family Dick scenes with most of the same casts, plots, and even wardrobes. Meanwhile, Family Dick rebranded as "Say Uncle" and Wolf took control of the Family Dick domains via arbitration, but now it appears SayUncle has them back (for how long, who knows). Needless to say, the drama has been plentiful for these fauxcest foes, and it continues today with yet another instance of porno plagiarism.
Last year, Legrand Wolf's CarnalMedia (Gaycest, FunSizeBoys, etc.) launched another porn studio, and this one is called "ScoutBoys":
ScoutBoys is literally the same thing as Gaycest, FunSizeBoys, etc., only the twinks and daddies are wearing scouting uniforms, but you know what else is literally the same thing as ScoutBoys? "BoysAtCamp"!
BoysAtCamp is the new studio from the people behind SayUncle, so now it appears they're copying Wolf, but without any of the production value or attention to detail (costumes, sets, props, etc.) at ScoutBoys. In short, BoysAtCamp is the Party City version of ScoutBoys, and it feels like someone walked into a Dick's (not the good kind), pulled a random tent off the shelf, grabbed a few red scarves out of their mom's dresser, and decided to make a porn studio. This is bleak as fuck:
Among the many problems here, why are they going to sleep in the middle of the day while the sun is still out? Maybe they're just taking a nap (do twinks nap?).
Here, for comparison, is ScoutBoys:
Instead of wasting time copying other studios with the same twinks and daddies playing dress-up, can someone film some good porn with hot guys fucking passionately? Bonus points if you can do it without veiled innuendo suggesting that your models are underage.