Year In Review: The Top 10 Gay Porn Cum Facials Of 2017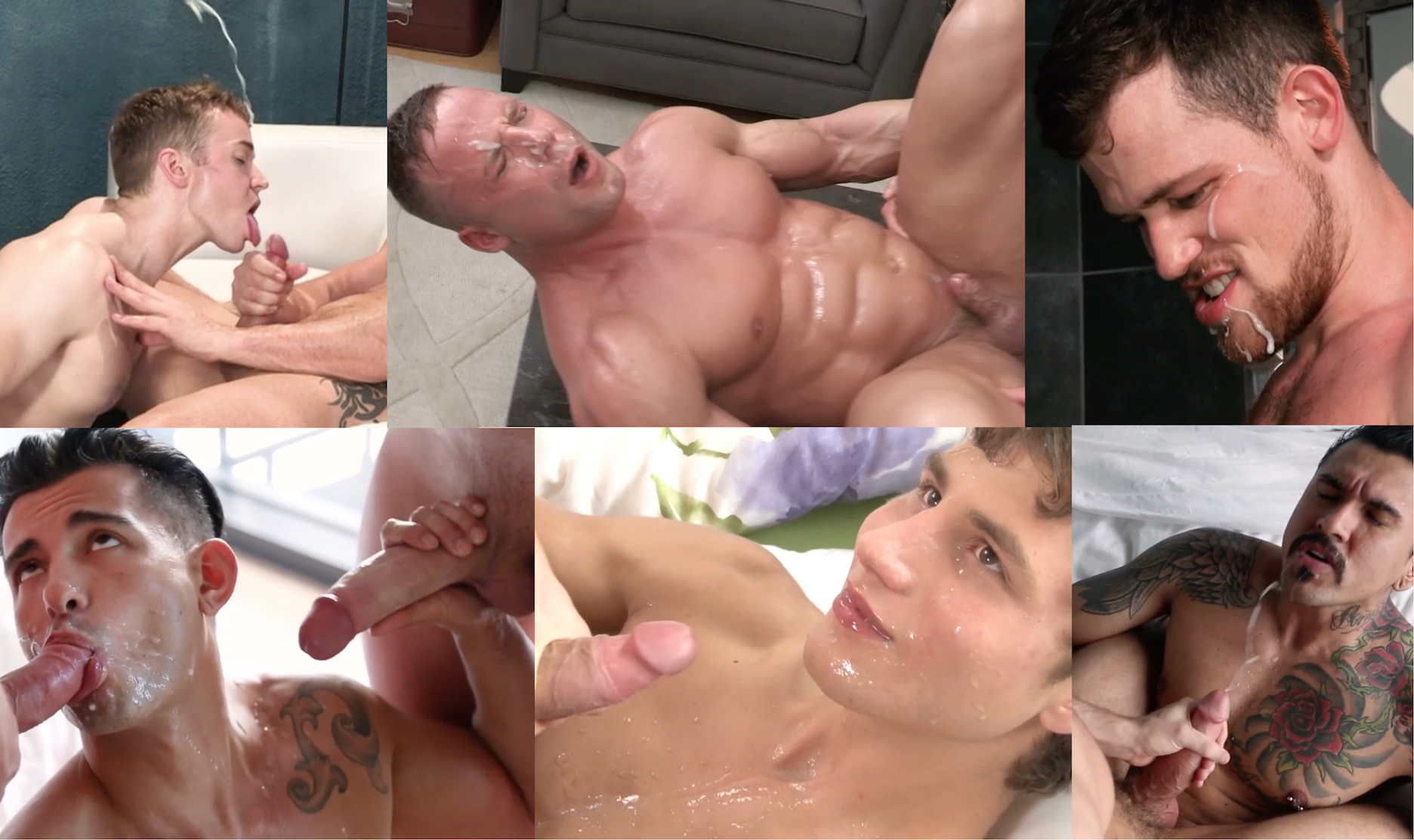 Continuing Str8UpGayPorn's 2017 Year In Review series, it's the annual list celebrating cum facials! One of the best parts (if not the best part) of any gay porn scene is obviously the money shot, and if that hot load of cum happens to be shot onto someone's face and/or into someone's mouth? Even better!
Considerations for this list include: Total amount of cum being shot; strength of cum shot; whether the cum lands on the face, in the mouth, or both; whether the cum was swallowed, spit, or snowballed; hotness of the person's face receiving the cum facial; overall visual/filming quality of the cum facial (i.e., how much of the cum facial was clearly shown on camera).
Here are the Top 10 Gay Porn Cum Facials Of 2017! (Click any link to watch that full movie.)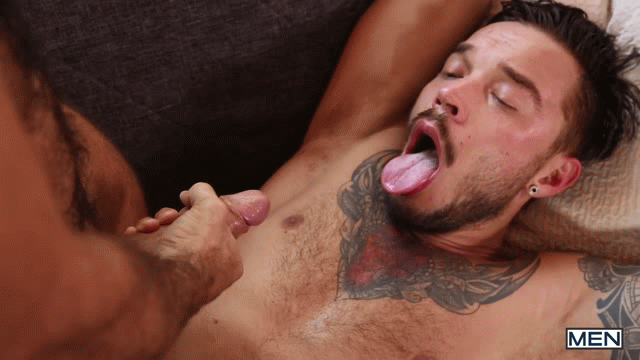 10. Diego Sans And Cris Knight (Men.com)
In my original review, I counted a whopping 10 ropes of cum from Diego Sans here.

9. Calvin Banks And Boomer Banks (CockyBoys)
Expert aim from Calvin, and an iconic swallow/spit combo from Boomer.

8. Dakota Rivers And Gabriel Cross (Hot House)
Dakota has got the range, and Gabriel's willingness to catch it all is impressive.

7.
Milan Sharpe And Peter Annaud (

BelAmi

)
Despite nearly drowning in cum, Peter Annaud seems to be in pure, cum-drenched heaven.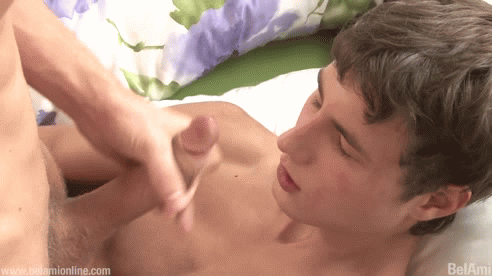 [BelAmi: Milan Sharpe And Peter Annaud]
6. Dante Martin And Cameron Cyle (NextDoorRaw)
As gay porn's very own Bellagio Fountain, Dante Martin shoots the most beautiful, picturesque cum shots in all of gay porn.
5. Sean Ford, Corbin Colby, Zach Taylor, Colton James, And Joey Mills (Helix)
Joey Mills takes not one, not two, not three, but four cum facials here (and he swallows large portions of all the loads), making him the recipient of the most cum facials in a single scene and the cum facial king of 2017.
4. Jack Hunter And Mickey Knox (

ColbyKnox

)
Perfect aim from Jack Hunter and perfect reception from Mickey Knox, with Mickey swallowing most of the cum as he sucks Jack's cock clean. Best of all: Perfect camerawork with no edits, so we see the entire cum facial from start to finish.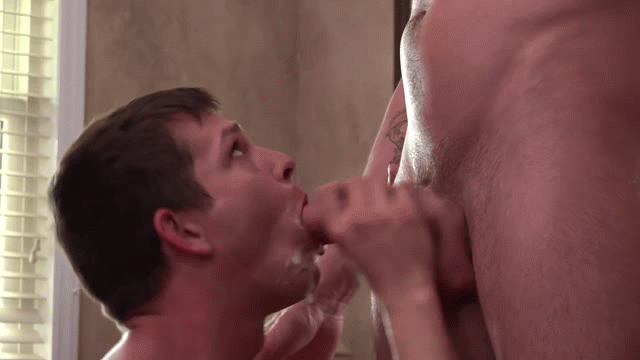 [ColbyKnox: Jack Hunter Fucks Mickey Knox]
3. Kurtis Wolfe And Michael DelRay (

Hot House

)
Two back-to-back, consecutive cum facials for two cum-swallowers here (note that there are no cuts or edits between when Michael cums on Kurtis' face and when Kurtis stands up to then cum on Michael's face). The hot as fuck look on Kurtis Wolfe's cum-splattered face as he's cumming on Michael DelRay's face is the icing on the cake.
And: Is there anything better than seeing two guys with cum-covered faces high-five and congratulate each other after drinking each other's loads?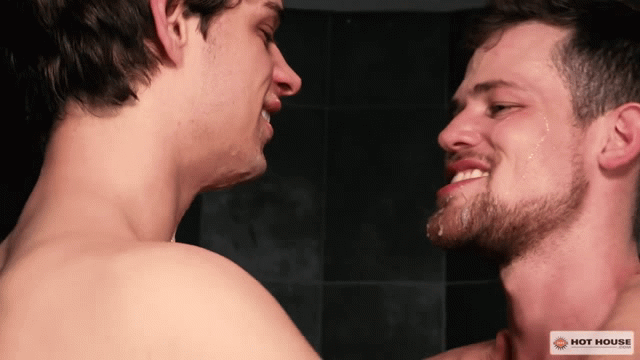 [Hot House: Kurtis Wolfe Fucks Michael DelRay]
2. Josh Moore, Ricky Roman, And Logan Moore (

CockyBoys

)
Taking one cum facial would've been hot enough, but because Ricky Roman always exceeds expectations, we get double the cum facial, and double the hotness. First, the big load from Logan goes in and around Ricky's mouth. Then, an even larger, more rapid-fire load from Josh covers even more of Ricky's face.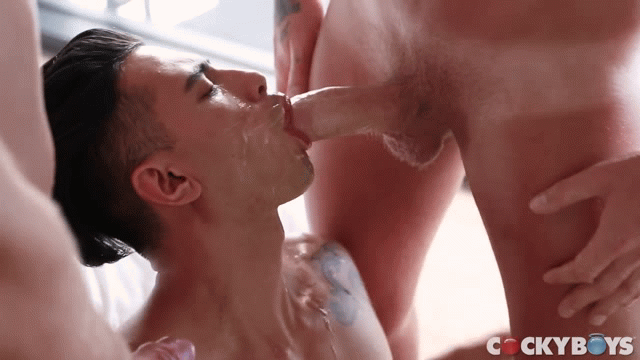 Ricky's final "fuck yeah" after using his mouth to clean off Josh and Logan's thick, cum-slicked cocks is one of the most unforgettable gay porn moments of the year. [CockyBoys: Ricky Roman, Josh Moore, Logan Moore]
1. Daniel and Jack (

Sean Cody

)

The #1 cum facial of 2017 is so beyond anything I've seen before, it's hard to put into words what's going on here? First, it's a creampie. And then, Daniel pulls out, spins Jack around, and continues cumming on Jack's face, for another THIRTY SECONDS? But then, Daniel spins Jack
back
around, and continues to creampie him. So, in addition to this being the longest and most strategic cum shot of 2017, the results of the enormous cum shot as it appears on Jack's face is one of the greatest things I've ever seen. In short: It's easily the best cum facial of 2017, and also one of the most historic gay porn cum facials of all time.