Year In Review: The Best Gay Porn Three-Ways Of 2014
Str8Up's list of the overall best gay porn scenes of 2014 is coming tomorrow, but in the meantime, here is a list of the year's very best three-way scenes. As most of you have observed, threesome scenes are becoming increasingly rare as cash-strapped porn studios would obviously prefer to pay two performers instead of three (and orgies almost never happen—unless they're cheap as fuck and look like this). So with that in mind, rather than a "top 10" list, here is a "top 8" list of The Best Gay Porn Three-Ways Of 2014, presented in no particular order.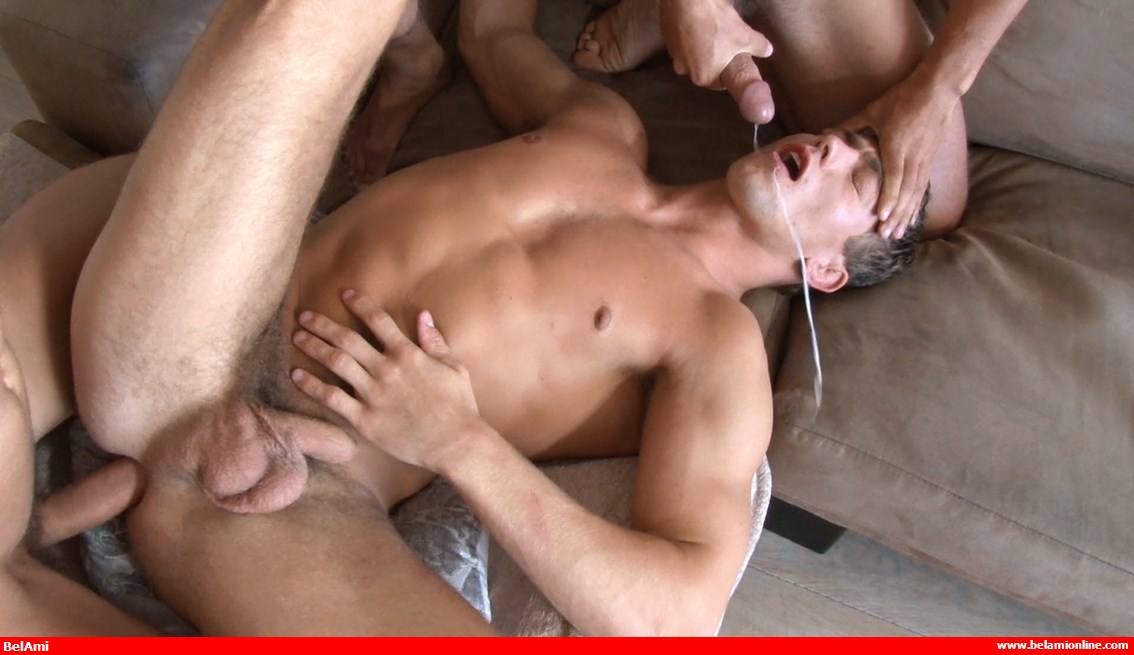 A bareback BelAmi threesome that almost becomes a fourgy, but not quite. Either way, there's nearly 40 inches of cock in this scene, as it features Adam Archuleta, Tim Campbell, and Robin Michaux. Trailer (watch full scene here):
[
BelAmiOnline: Adam Archuleta, Tim Campbell, & Robin Michaux's Bareback Threesome
]
GayHoopla's Dmitry Dickov, Cole Money, and JJ Swift have a threesome. The three bffs suck and fuck their way around a hotel room and, per usual, end up cumming all over each other. And because they're all friends in real life, watching them stick their fat cocks in each other produces the best, most awkward kind of hotness. Could this really be what straight bros do together when no one else is around?
Trailer (watch full scene here):
[
GayHoopla: Cole Money, JJ Swift, and Dmitry Dickov 3-Way Fuckfest
]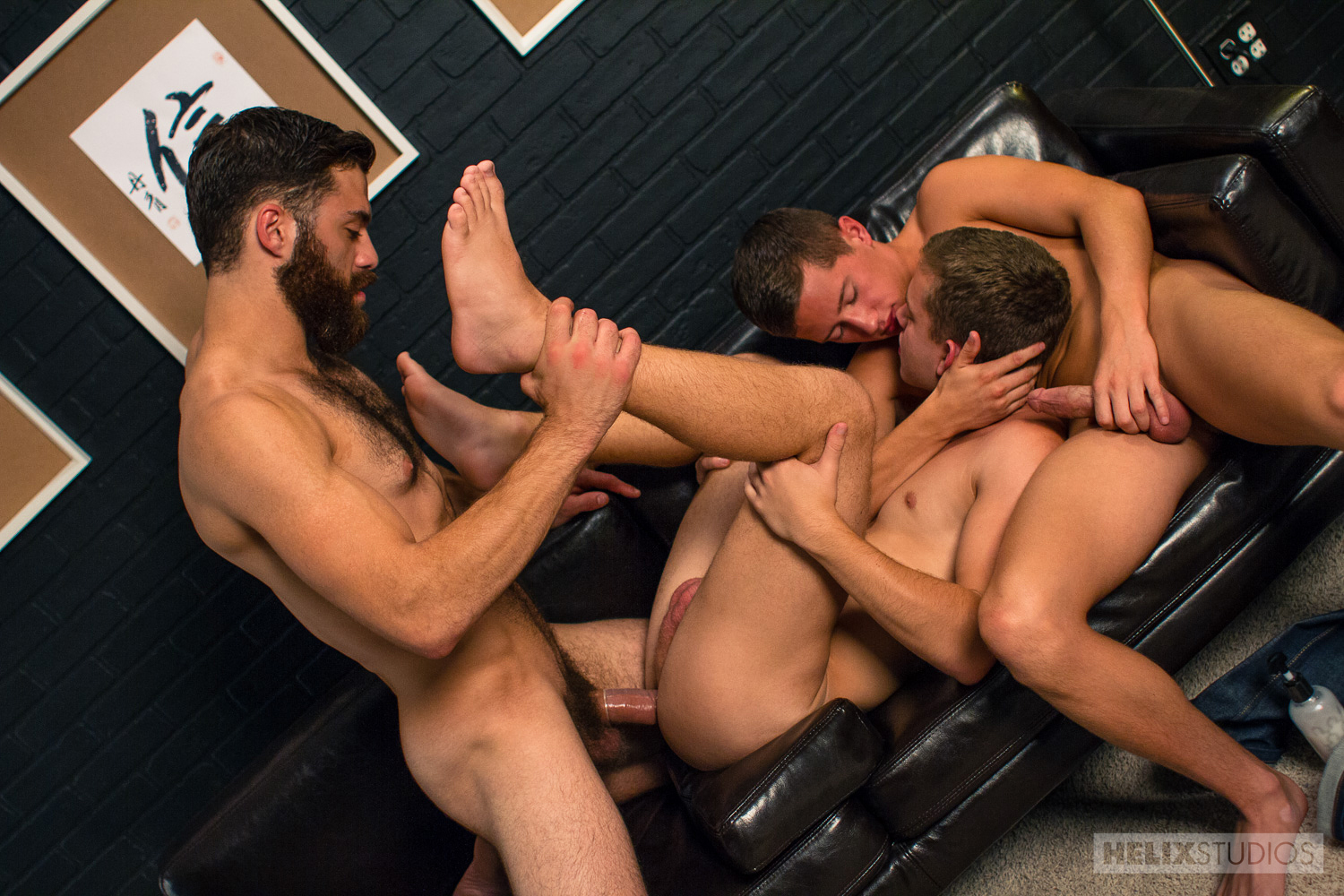 From Helix Studios, ubiquitous twink powerbottom Ian Levine and Channing Tatum's porn twin Tyler Hill take turns getting fucked by "Doctor" Tommy Defendi, who has no moral or ethical problems having gay sex with his patients. Talk about a great bedside manner!
Clip (watch full scene here):
[
Helix: Tommy Defendi Fucks Ian Levine & Tyler Hill
]
Leo Sweetwood and his bro Dillon Anderson Eiffel Tower lucky twink bottom Ian Levine on GuysInSweatpants:
[GuysInSweatpants: Leo Sweetwood 3-Way]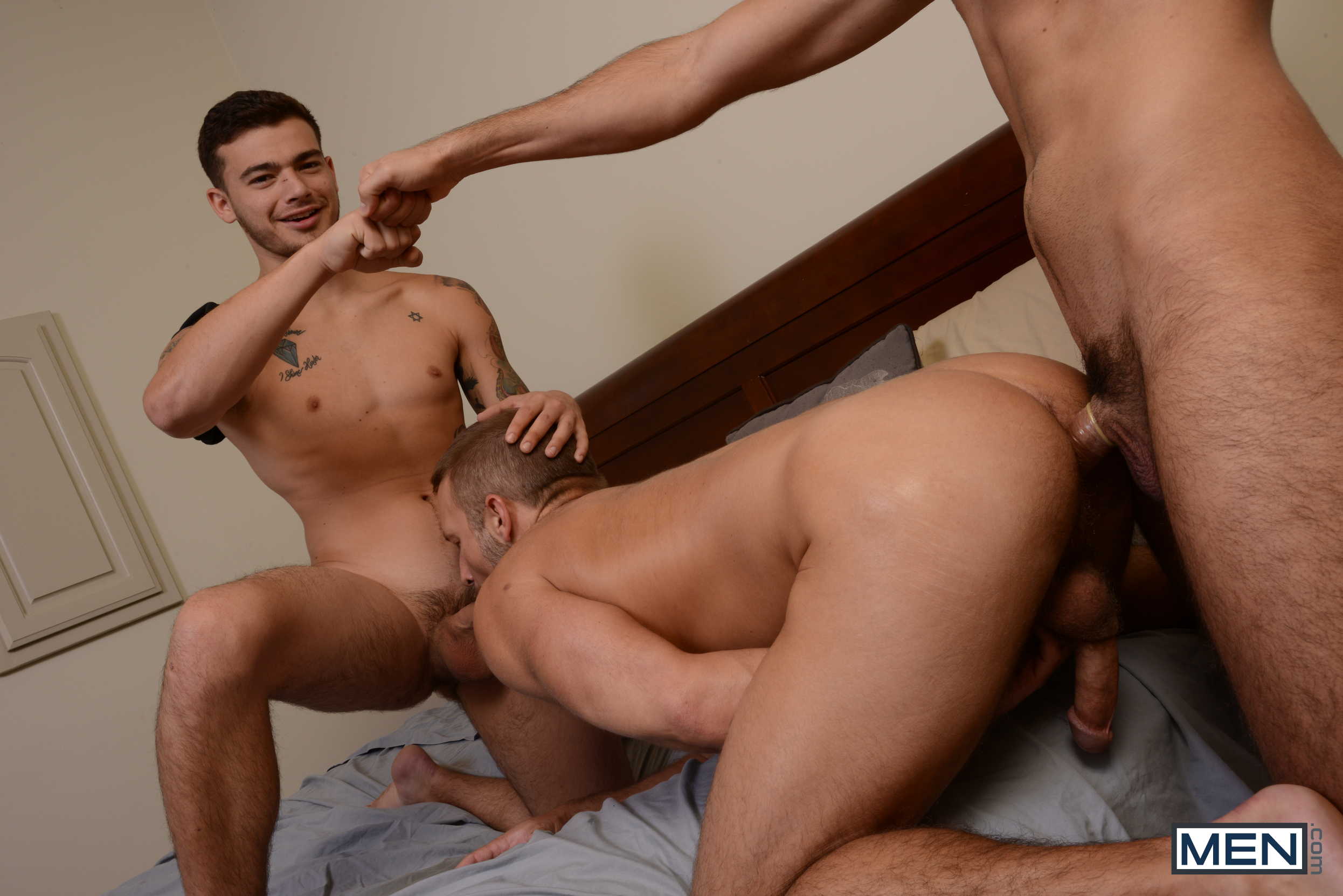 One of the weirdest three-ways of the year, as Trevor Spade and his boyfriend Sam Northman take turns fucking Trevor's stepdad (played by Dirk Caber) in Men.com's insanely twisted "Stepfather's Secret."
Trailer (watch full scene here):
[
Stepfather's Secret: Trevor Spade And Sam Northman Fuck Dirk Caber
]
CockyBoys: Duncan Black, Tommy Defendi, and Darius Ferdynand's Three-Way Fuckfest. Everyone takes turns fucking each other (except for Tommy—he doesn't bottom this time around), with Duncan being spit-roasted by Tommy in the back and Darius in the front. Then, Darius fucks Duncan's award-winning ass. And then, Tommy fucks Darius.
Clip (watch full scene here):
[
CockyBoys: Tommy Defendi, Duncan Black, & Darius Ferdynand 3-Way
]
Another epic BelAmi threesome, this one starring Kevin Warhol (who is now a 5-time facial recipient of a Kris Evans cum shot), Vadim Farrell, and Kris Evans. (FYI: The cum facial at the end of this fuckfest ranked #5 on Str8Up's list of the Best Cum Facials Of 2014.)
Clip (watch full scene here):
[
BelAmi: Kris Evan & Vadim Farrell Fuck Kevin Warhol
]
This three-way scene from Hot House's Trunks 8 features Luke Adams' bubble butt, Donnie Dean's smoldering good looks, and a stacked reverse cowgirl where you get a full-frontal view of all the guys' dicks and balls bouncing up and down as they fuck/get fucked. Watch the full scene on Hot House here.
[
Hot House's Trunks 8: Jake Wilder, Donnie Dean, and Luke Adams
]