Billy Santoro: "My Goal Is To Force Nica Noelle To Stop Filming"
Just a quick reality check for Billy Santoro, Nica Noelle, and any of their delusional fans who've been watching their "friendship" play out on social media over the last several months (a friendship that has, sadly, destroyed the relationship between Nica Noelle and her former BFF, Nick Capra, who does not like Billy Santoro): These people are not actually friends.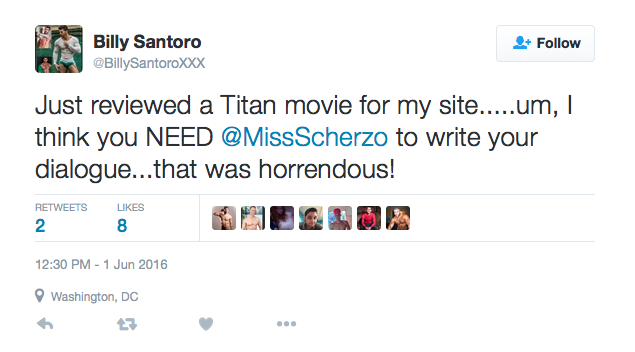 Billy Santoro and Nica Noelle (a.k.a. @MissScherzo, who recently promised to retire from gay porn) might be sucking each other's dicks now, but that could (and undoubtedly will) change at any moment.
While Billy Santoro might be kissing Nica Noelle and Icon Male's ass now (hey, he's gotta book enough scenes to earn enough money to get his $50 iPhone cum dump website up somehow), Billy Santoro was actively and persistently attempting to get Nica Noelle and Icon Male shut down just one year ago.
Here is an email that Billy Santoro forwarded to Str8UpGayPorn last March, in which he tells a local newspaper reporter in Martha's Vineyard—where Nica Noelle used to film all of her creepy incest porn for Icon Male—that the police were sent to her shoot house:

When the reporter wrote back asking for more information, Billy Santoro sent yet another email, this time introducing the reporter to me. Also in this email, Santoro revealed that his agenda was to "force" Nica Noelle to stop filming.

While Billy Santoro and Nica Noelle have since "made up" (Billy Santoro apologized to Nica Noelle, blaming his problems with her on his own alcoholism, which is totally plausible), it's not clear if Noelle knew that Santoro was emailing a reporter in an attempt to destroy her career—if not have her sent to jail(?). Also, there's one other piece of information that Nica Noelle is likely not aware of regarding Billy Santoro.
Last August, Str8UpGayPorn obtained and published an email sent from Nick Capra to Icon Male owner Jon Blitt (Nica Noelle's boss). Capra's damning email, as you'll recall, accused Nica Noelle of being "belligerent" and abusive to her performers, and forcing them to sleep in a house "covered in rodent feces." I published Capra's email here without revealing how it was obtained, but in the interest of transparency (and with his permission, at the time of receipt), I can now disclose that it was Billy Santoro who forwarded Nick Capra's email to Str8UpGayPorn.
Here's Billy Santoro sending Nick Capra's email to Str8UpGayPorn, via text message back in July::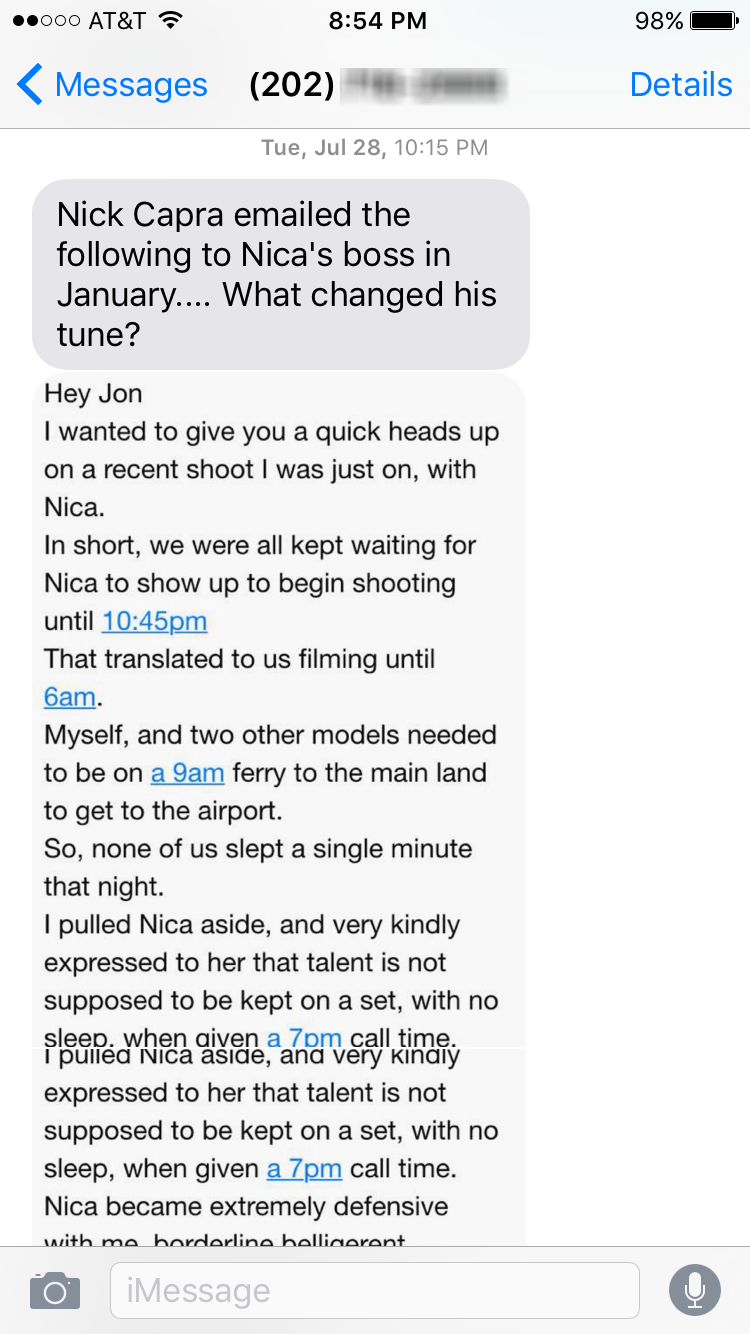 And finally, here's Billy Santoro giving Str8UpGayPorn permission to reveal that it was him who forwarded the email, adding "fuck them both" in regards to Nica Noelle and Nick Capra. What a great group of people.