Exclusive: Nick Capra Calls Nica Noelle "Belligerent," Says Icon Male House "Covered In Rodent Feces"
For most of 2015, gay porn star Nick Capra has been a staunch defender of embattled Icon Male director Nica Noelle. Just this past weekend, Capra—who has both a personal and professional relationship with Noelle—came to Noelle's defense when he dismissed fellow performer Brent Corrigan's accusations against her as "misogynistic."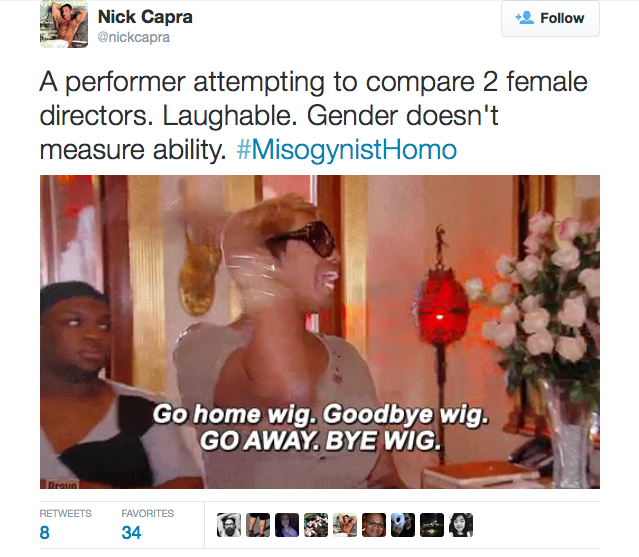 Since January of this year, Corrigan and over half a dozen other gay porn stars (including Billy Santoro, Dirk Caber, Jessie Colter, Caleb King, and Seth Santoro) have individually and repeatedly accused Nica Noelle of abusive treatment while working (or attempting to work) for her on Icon Male shoots. Last month, performer Colton Grey spoke out about the abuse he suffered at the hands of Nica Noelle after she allegedly left him stranded at an airport in the middle of the night. And just as he did with Brent Corrigan, Nick Capra quickly jumped in to dismiss the negative claims and strongly defend his friend Nica Noelle.
In addition to marginalizing Nica Noelle's accusers, Nick Capra has also attempted to dismiss those who have reported on the accusers' allegations, including Str8UpGayPorn editor Zach Sire (me):
By all accounts, Nick Capra and Nica Noelle are extremely close friends, both personally and professionally. Noelle has directed Capra in at least a dozen Icon Male scenes over the past two years, which have earned the veteran gay porn star roughly $20,000, based on average industry scene rates. Capra has called Noelle his "ride or die," and last May was actively helping her recruit models for Icon Male.
Despite all of this strong support for Nica Noelle and Icon Male throughout most of 2015, Nick Capra and Nica Noelle haven't always been the best of friends. In fact, there was a time when Nick Capra considered Nica Noelle an "erratic" and "belligerent" director whose behavior would "drive Icon Male into the ground." There was a time when, after one Icon Male shoot, Nick Capra promised he would "never work for her again." And there was even a time when Nick Capra complained that Icon Male models were sleeping in a house that was "covered in rodent feces." That time was actually less than one year ago, in January, 2015, when Nick Capra sent a strongly-worded email to Nica Noelle's boss, Icon Male's Jon Blitt.
Here is Nick Capra's January, 2015 email to Icon Male owner Jon Blitt, as obtained by Str8UpGayPorn:
Hey Jon,

I wanted to give you a quick heads up on a recent shoot I was just on, with Nica. In short, we were all kept waiting for Nica to show up to begin shooting until 10:45 p.m. That translated to us filming until 6:00 a.m. Myself and two other models needed to be on a 9:00 a.m. ferry to the mainland to get to the airport. So, none of us slept a single minute that night. I pulled Nica aside, and very kindly expressed to her that talent is not supposed to be kept on a set, with no sleep, when given a 7:00 p.m. call time. Nica became extremely defensive with me, borderline belligerent. She began yelling and telling me, "That's entertainment!"

I have been in the gay adult industry almost 13 years, and I've never been kept without sleep and yelled at by the director. The same thing happened the night prior (entire cast kept awake all night, into the morning) as well.

I also feel inclined to tell you that the house that the models sleep in is covered in rodent feces. Nica was told this last time I shot for her, and failed to address it.

I have defended her in the past, to others, because her reputation for being erratic and belligerent does precede her. I will never work for her again. And, her behavior is affecting your company. Other models are starting to convey the same experiences as myself, and the gay side of the industry is small. I can tell you, as someone whom has flourished in 13 years of this industry, that it won't be long before Nica has driven Icon Male into the ground.

I have an extremely loyal fan base (feel free to check my Twitter @NickCapra) but I have chosen to come directly to you and not go public with this, denouncing Nica's reputation. If you have any questions regarding any of the incidences, feel free to contact me via email or phone.

Sincerely,
Nick Capra
Cell: xxx-xxx-xxxx
As of post time, it's unclear what caused Nick Capra to go back on his word and work with Nica Noelle again, but the two have obviously been able to repair their friendship since this January email. It's also not clear why Nick Capra has repeatedly tried to dismiss and marginalize the gay porn stars who have accused Nica Noelle of abusive behavior, given that all of Nick Capra's complaints against Nica Noelle in the above email are identical to the ones coming from other performers (except for the complaint about rodent feces, that one's new).
Str8UpGayPorn has reached out to Nick Capra for clarification and will update this post if he responds.