UNHINGED: Nica Noelle Goes On Bizarre Rant Against Dirk Caber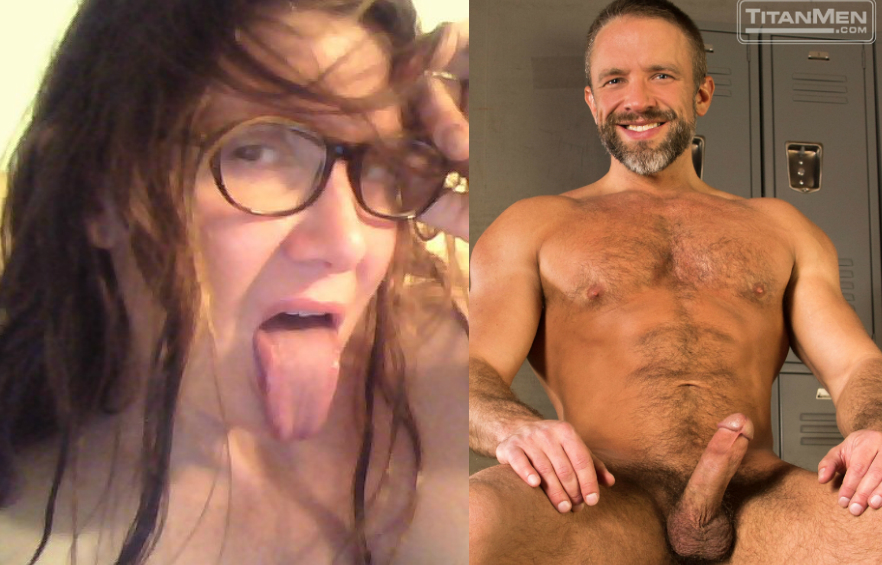 As if her public fights with Billy Santoro, Jessie Colter, Seth Santoro, Brent Corrigan, Diesel Washington, Colton Grey, and Caleb King weren't bad enough, now troubled director Nica Noelle is lashing out at yet another performer. The man in her crosshairs this time? Universally well-liked gay porn star Dirk Caber.
Over the weekend, Men.com and TitanMen star Dirk Caber tweeted what appear to be words of support to Colton Grey, saying that he was "sorry" things ended up the way they did for him.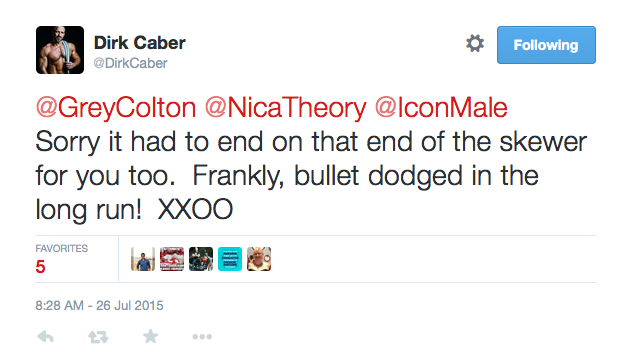 That tweet, unfortunately, was enough to send Nica Noelle even further over the edge, as the now completely unhinged director took to her Tumblr to publish not one but two cryptic posts threatening to release Dirk Caber's private emails.
In the first post, Nica Noelle seems to be claiming that publishing Dirk Caber's emails would "exonerate" her in the court of public opinion (uhh, just like publishing Colton Grey's texts did?):
I have saved all of the emails back and forth with Dirk, and within it, the "skewering" of Dirk, if it indeed occurred, should be apparent. I am leaning towards posting this email thread, with any private information of his (names of others in his life, etc.) removed. Would this be ethical? Would it be fair? If someone is claiming publicly that they were "skewered" by me, do I have the right to post all correspondence that might exonerate (or convict) me of that charge as I see fit? Increasingly I feel I should not be obligated to be the Keeper of Discretion while others take public swipes. The bottom line is, I want to know the truth, too.
In the second Tumblr post, Nica Noelle is deliberately more vague and doesn't mention Caber's name (but it's clear that she's writing about him, as she once again mentions the emails). Here, she calls Caber "manipulative" and says that his tweet to Colton Grey implies something more sinister:
Unless the scandalous backstory is that the discussion was held politely, graciously, and professionally, and that a long string of emails exist to attest to that and to the relative normalcy of the discussion. What we have, then, is not someone who is too "classy" to divulge sordid details on social media, but someone who is manipulative, opportunistic and socially savvy enough to know that if he creates a bit of smoke, the reader will imagine a fire far more spectacular than reality could ever deliver.
The entire delusional, paranoid, and nonsensical post is screencapped below, in case she deletes it.
For his part, Dirk Caber has indicated that he will not be baited by Nica Noelle: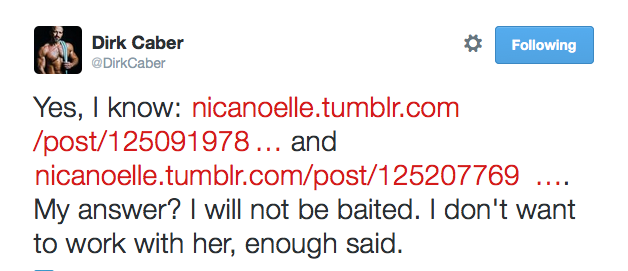 Which gay porn star will Nica Noelle target next? Don't get caught offering support to anyone she's fighting with online, or it just might be you.