[UPDATED] Colton Grey: "Something Needs To Be Done About Nica Noelle"
[Update: This story has been updated below with text messages between Colton Grey and Nica Noelle.]
It's déjà vu all over again.
Gay porn star Colton Grey has just posted a lengthy and unfortunately all too familiar account of his recent experience working (or at least attempting to work) with Icon Male director Nica Noelle. Grey joins a long and growing list of performers—including Billy Santoro, Jessie Colter, Seth Santoro, and Brent Corrigan—who have reported horrific and abusive experiences after working with Nica Noelle and Icon Male. And remember, these are just the guys who've been brave enough to go public.
Here's well-liked and popular performer Colton Grey describing what happened after he was informed by Nica Noelle that he'd be traveling until 5:00 a.m., and then he'd be expected to shoot for up to 16 hours. As Grey explains, Nica Noelle and Icon Male left him stranded at JFK airport (Grey lives in Ohio) late last night.
I asked Nica Noelle if she was the one booking all the travel (it's odd that the director of a studio is handling tasks usually performed by a production assistant), which she confirmed.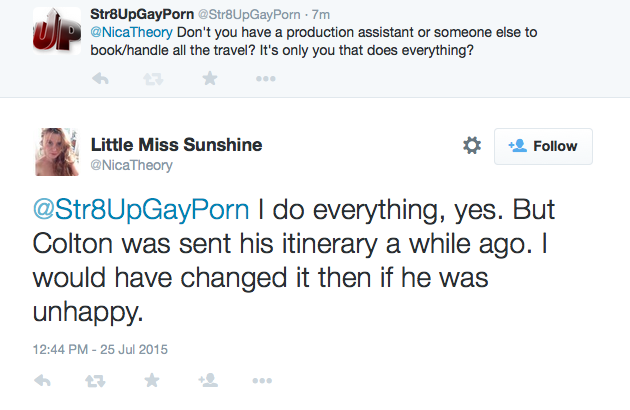 Then, another performer, Caleb King, weighed in on his own experience working with Nica Noelle. When it rains, it pours:
Luckily, Men.com director Marc Macnamara was able to assist Colton Grey with getting home. Also, he had some advice for Nica Noelle: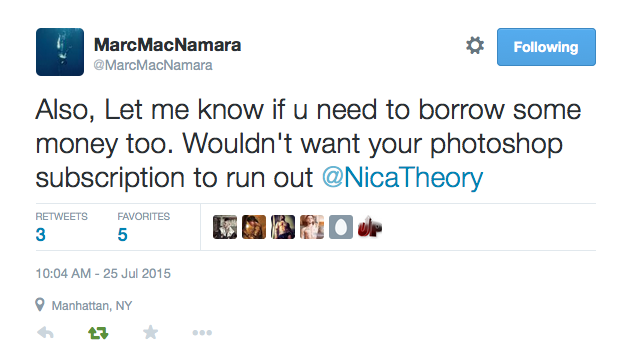 If you're wondering how and why Nica Noelle has been able to continue producing after so many models (with Colton Grey and now Caleb King, we're now up to six who've gone public) have come forward with similar stories of abuse, the answer is simple: Money.
I've heard it several times from multiple people with direct knowledge of Icon Male's membership sales: "Nica's crazy, but her stuff sells really well!" So, as long as Nica Noelle continues to churn out content that "sells," none of the higher-ups at Icon Male parent company Mile High Media will do anything to interfere with her insanity. And in turn, it's the performers who suffer, as we've now seen over and over and over and over and over and over again.
Can anything be done to stop Nica Noelle? The Free Speech Coalition (the adult industry trade group which is supposed to exist in part to protect the welfare of adult industry performers) could get involved, but don't hold your breath. Agents could stop sending Nica Noelle models, but that won't happen either. Highly trafficked blogs like The Sword, QueerMeNow, and QueerClick could stop promoting Icon Male content, but they make money off Nica Noelle, too. In other words, as long as people stand to profit off Nica Noelle, they'll continue to work with her. (The weird thing is, her movies are truly horrible and completely unwatchable, so it's bizarre that they keep selling—but that's another story.) In order for Nica Noelle to be stopped, it's the performers themselves who have to stop working with her. If she has no models, she has no content. Until and unless that happens, the craziness will continue.
Long story short: As long as Nica Noelle's movies are making her bosses money, models will continue to be abused.
***
7/26/15 Update:
Yesterday, performer (and friend to Nica Noelle) Nick Capra tweeted out a series of text messages that appear to be between Colton Grey and Nica Noelle. Obviously, Nica Noelle forwarded the texts to Nick Capra so he would post them (evidently, she was too cowardly to do it herself, so she had one of her friends do the dirty work for her). The funny thing is, the texts show that the conversation went down exactly as Colton Grey described, and they do absolutely nothing to make Nica Noelle look good.
And, in case he deletes it, here's Nick Capra's original tweet containing the text messages between Nica Noelle and Colton Grey: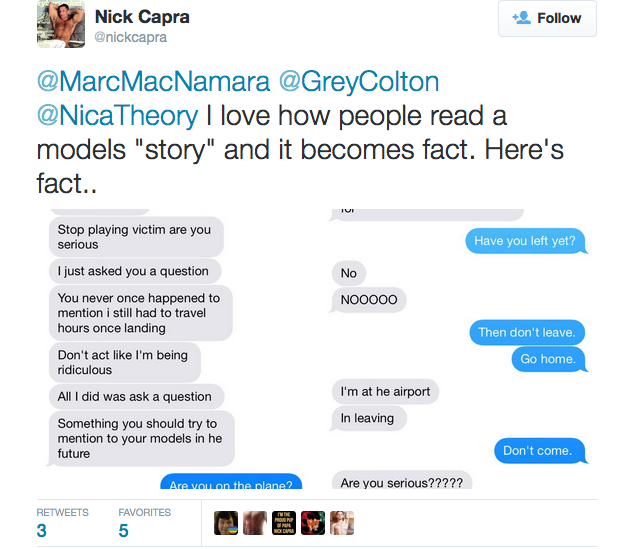 A director forwarding a performer's texts to another performer so they can be published crosses so many different ethical and professional lines, it's almost impossible to even comprehend. This is just more proof that Nica Noelle is completely out of control, and if her bosses at Icon Male/Mile High don't put a stop to the abuse, there's no telling what she'll pull next.
In my opinion, if Icon Male owner Jon Blitt (who, it's worth noting, is a straight man) wants to salvage whatever is left of his studio's reputation, he should fire Nica Noelle as soon as possible, then issue a formal, public apology to all of the performers who've been hurt by her wildly unprofessional and clearly abusive behavior.