Bruce Beckham Exclusive: How To Be Gay Porn's Comeback King In 2017
What's it like to be a gay porn star in 2017—especially one who launched his career in 2004, took an extended hiatus from 2008 to 2016, and then was able to make a stunning return to a dramatically changed industry, almost as if he had never left? Str8UpGayPorn recently had a chance to catch up with comeback king Bruce Beckham—a recent nominee for 2016's Best Gay Porn Star—to find out how he's changed, how the industry's changed, and how he's been able to stay so successful all these years. Bruce's interview is the second in a series of "How To Be A Gay Porn Star In 2017" interviews running on Str8UpGayPorn this month. (Previously: Kyle Ross Exclusive—How To Be An Award-Winning Gay Porn Superstar In 2017.)
Str8UpGayPorn: Hi Bruce! To catch people up, when did you first exit gay porn, and when did you officially return?
Bruce Beckham: I left after a few years in 2007-ish, returning recently in March of 2016.
After eight years away, what do you think is the most noticeable difference from when you started vs. now?
Social media. The direct and immediate interactions and reactions between myself and the consumer, audience, studios, and industry.
Why did you leave the first time?
I was working a fairly lucrative bartending job, and porn was really only a side hobby. Sort of an occasional paid vacation.
And what made you decide to return?
Burn out from the restaurant and nightclub industry. My existing job had taken a financial nose dive, and after considering porn as one of many other options, it seemed like a good opportunity to make my own schedule and steer my own ship for a while, at least for the summer, pending warm reception.
Which you clearly received. Did you need to maintain any of your established, non-porn jobs after re-entering the industry?
Porn was actually an increase in income for me, as well as an opportunity to travel while filming and not feel so trapped in L.A. Porn is my main focus for the next couple of months at least, but I miss doing work that challenges me mentally and creatively. I'm always thinking about what my contribution to the world and my community is, in terms of lasting impact and greater good.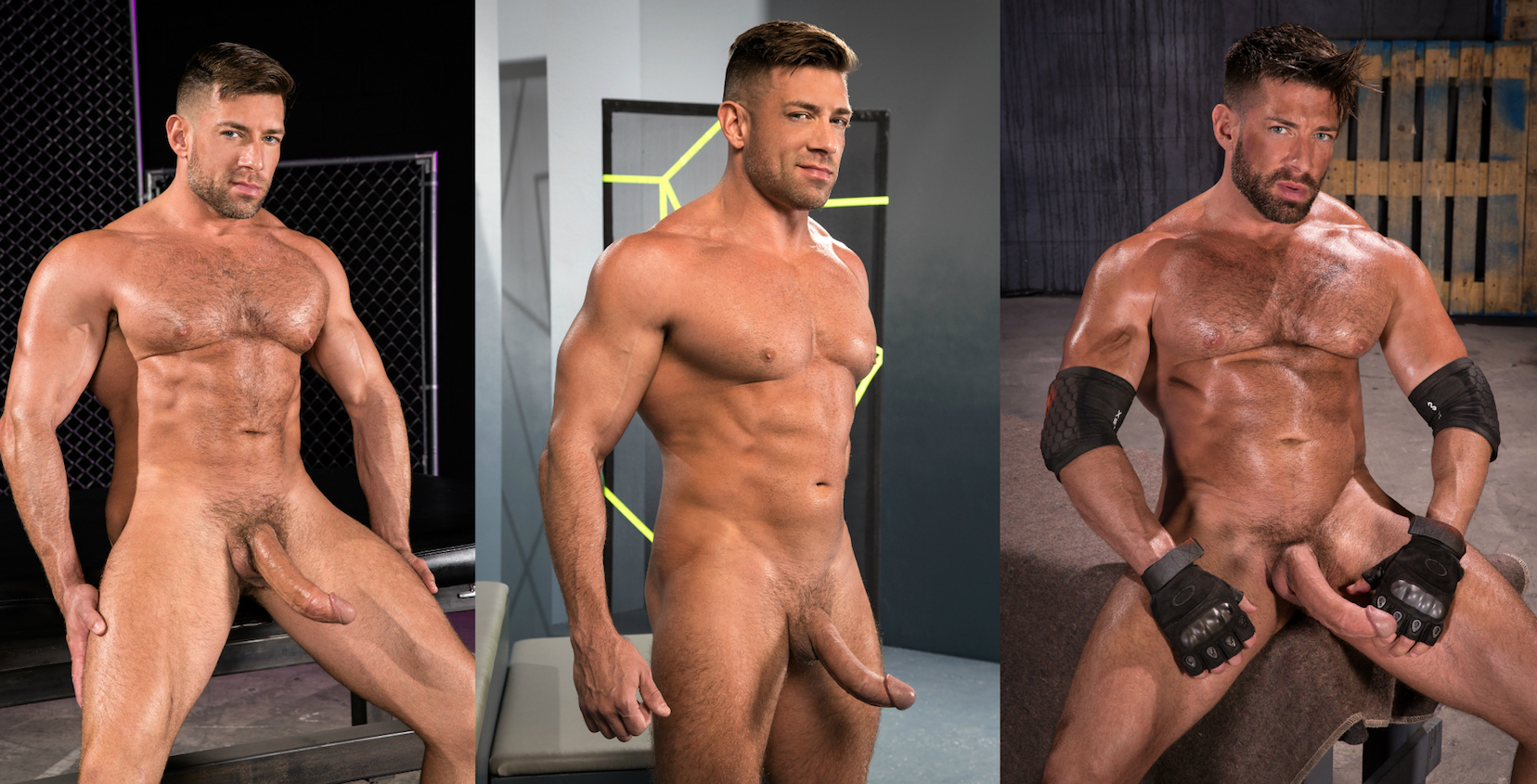 It varies, but if you had to estimate an industry average, what's the scene rate for gay porn stars working today?
Well over $500, not quite $2,000 for non-exclusives. I imagine exclusives to be paid more, but I'm not at all privy to anyone else's rate.
Would it be accurate to say that scene rates for gay porn stars have gone down since you first started, 13 years ago?
Pay has declined by at least half since I was working in the mid 2000's. In my opinion, it's solely from the ability to steal porn from the internet in the same manner that the music industry was hit by online file sharing.
So, is the average performer able to support himself financially only working as a gay porn star?
I've been very capable of supporting myself financially based on my current earnings, but I live humbly and don't spend extravagantly. I budget, and my cost of living is relatively low. My biggest expenditure is rent, and I pay far below L.A. market value for a rent controlled studio.
Are models ever able to negotiate with studios for higher rates?
I recently negotiated a rate that was 15% higher, but I knew that they were eager to have me and that it wasn't an unreasonable overall fee. I was also providing my own transportation several hours away as part of the project.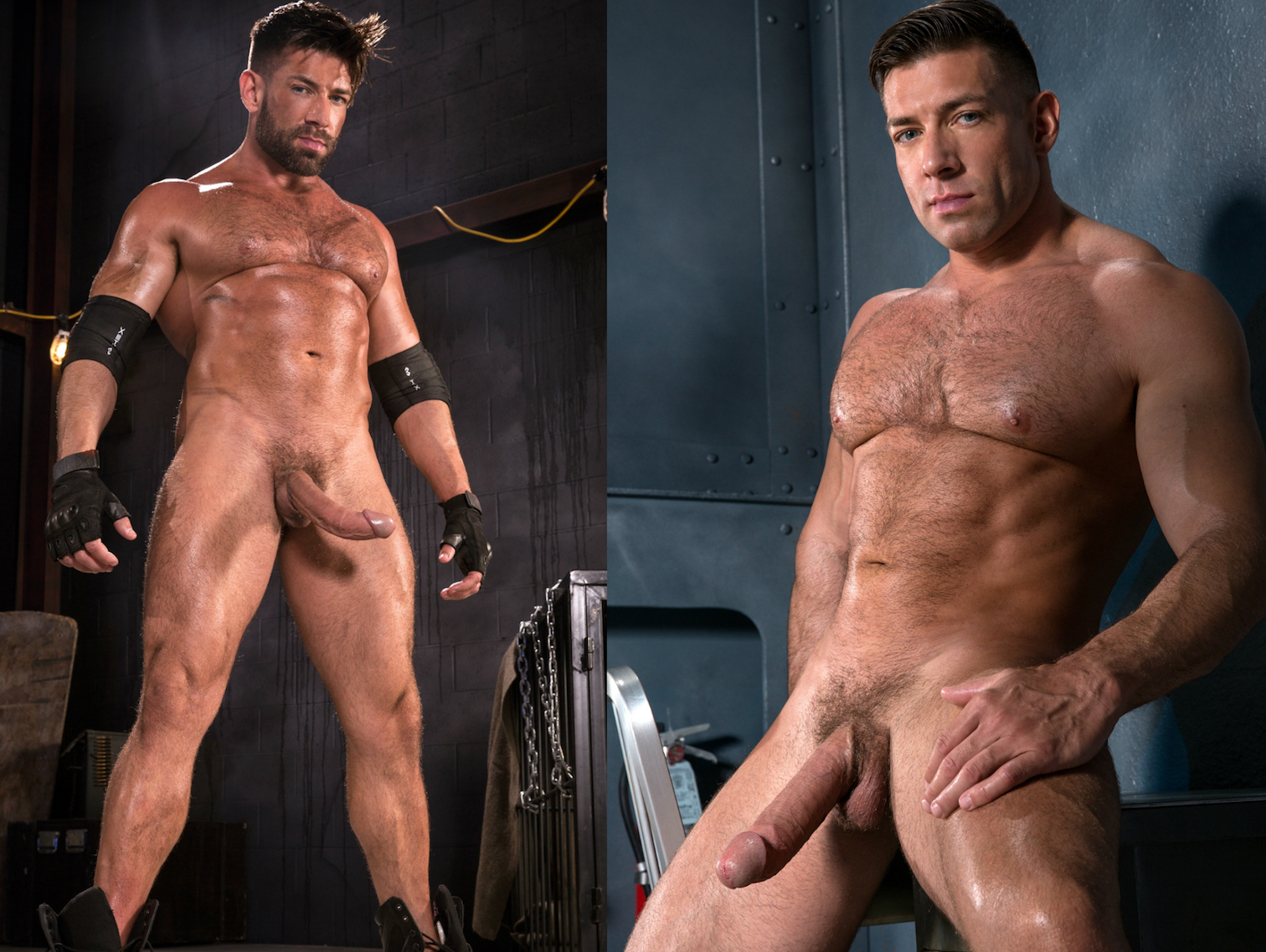 Other than working at a studio, what other ways do models earn money within the adult industry?
I understand merchandise can be lucrative, and there are always opportunities for appearances and cross promotion.
What are some benefits of becoming a gay porn star today?
Freedom to make your own schedule, travel, and interacting with like-minded individuals.
Any disadvantages or negative aspects?
Porn has actually been an entirely positive presence in my life since I returned. It's been a welcome new path. Although, it is tricky explaining to a layman how working in the adult film industry doesn't mean anything beyond the fact that you're monetizing a different, valuable set of assets and skills.
And what advice would you give to someone thinking of joining the industry today?
First and foremost, know who you are and be clear about why you're getting into the industry. Self knowledge can steer you clear of some pitfalls. From there, I'd recommend taking every job that seems like it's a good fit for you personally and your brand. Align yourself with people who you think are symbiotic with how you'd like to represent yourself. Be professional, be responsible, be accountable, work hard, and save. Nothing is forever.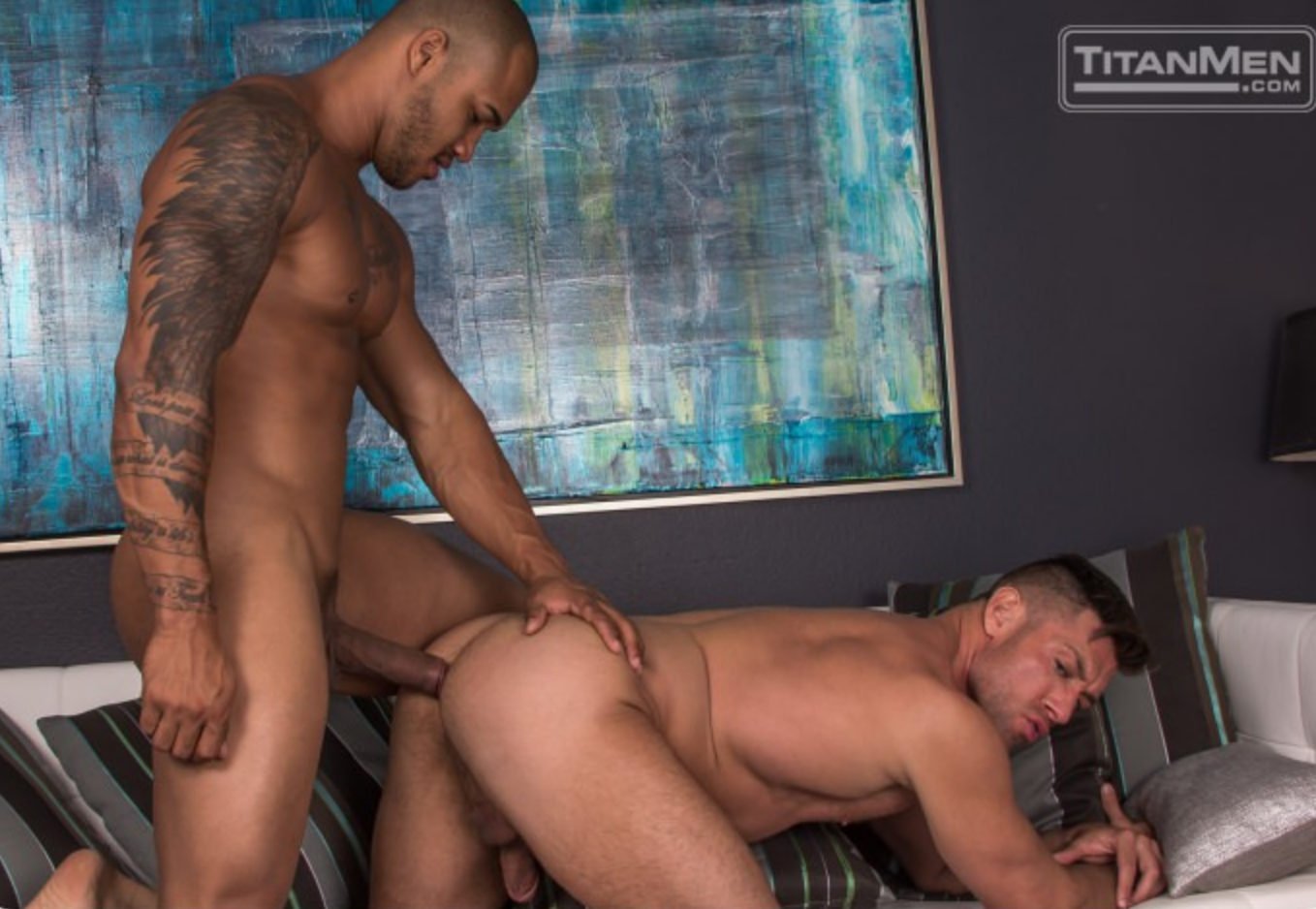 What do you have planned for fans in 2017? Can you give us a sneak peek at studios and co-stars?
My next shoot will be a pretty easy re-entry into filming after my eye injury, as I'm filming with my close friend Jason Vario again in late February. He's coming to stay with me for a few days in L.A., and we'll be shooting toward the tail end of his visit. I'd also put some work with CockyBoys on hold while I healed, so at least one shoot with them is on the horizon for late winter/spring, possibly with Boomer Banks, finally, or Carter Dane.
All of those pairings will drive fans crazy.
And hopefully more work with Falcon. And, of course, some regular scenes with my family at TitanMen. They in particular have been really great to me. VP Keith Webb sent me some "Get Well" gag gifts after I had surgery. And Matthew Bosch, Adam Ramzi, Alex Mecum, and Jasun Mark were checking in a lot. And there was a lot of grim, hilarious face-timing with Jason Vario.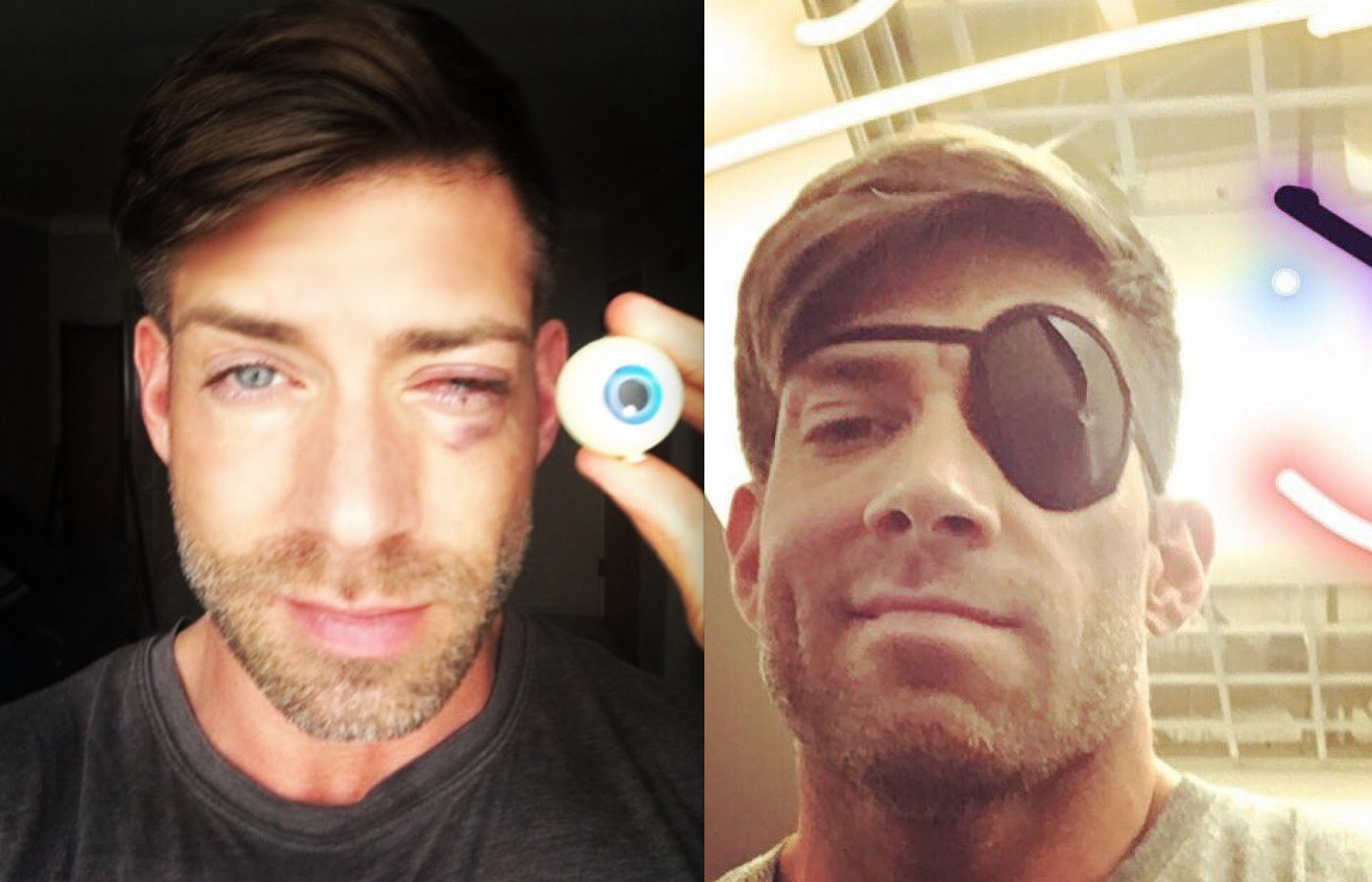 I was wondering about your eye, and saw the photos. What happened exactly?
My retina detached in my left eye—through no trauma, just bad luck. My ophthalmologist said nearsighted eyes are just more prone to eye issues, and I suddenly lost 1/3 to 1/2 of my left peripheral vision in 24 hours.
Whoa, glad everything is OK now.
Seeing a doctor ASAP saved my eyesight in that eye. Since late October, I've had several less invasive, less effective procedures, and finally had full surgery on my eye just before Christmas. It should be fully healed, vision restored, and and normal looking by February. I've been fortunate in having lots of great friends to help out, good insurance, and a great prognosis for full recovery.
Great to hear, and we look forward to seeing you throughout the year!
[TitanMen: Bruce Beckham]