Chi Chi LaRue Needs $40,000 For Rehab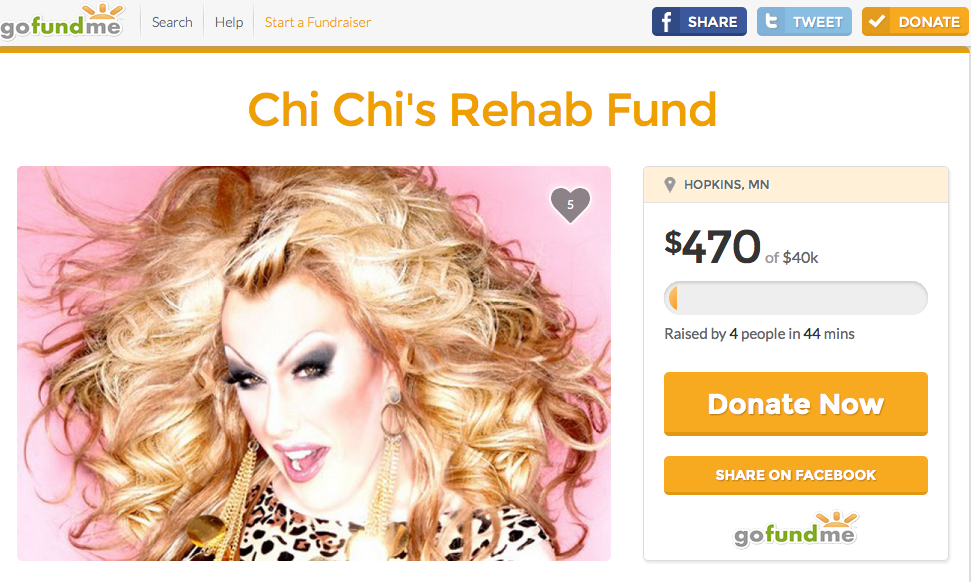 As reported earlier this month, Chi Chi LaRue has entered the Hazelden rehab facility after a long battle with drugs and alcohol. Most estimates put the cost of treatment at Hazelden at around $28,000, but that's just for one month.
According to the GoFundMe launched today, Chi Chi needs at least another 60 days in treatment, and $40,000 to pay for it. (Chi Chi does have insurance, but it only covers the first month of treatment.) Here's the plea for help:
We are happy to report that in the first 20 days, Chi Chi has fully embraced the program and is taking all of the necessary steps towards living a full sober life. Unfortunately, his family has been informed that after the first month, insurance will no longer cover any of the costs or expenses related to treatment. Without our help, Chi Chi will be forced to leave the facility in 7 days.

Even with all of the progress he has made, Chi Chi is still at the beginning of this journey and requires an additional 60 days in the program to get to the heart of the issue and increase his chances for success. We believe that his life depends on it.

Approximately $40,000 is needed to cover the expenses related to completing his treatment. Our goal is to raise enough to cover these expenses. Chi Chi has asked that any additional money raised be used to start a program/foundation that will help to fund treatment for others in need.
Because this GoFundMe is obviously for a medical/health issue and not for a shopping spree or a bed or a piano, I encourage you to donate here, if you can.