Surprise: Gay Porn Star Collin Simpson Is Now An Extra In A Straight Porn Scene With Former Gay Porn Star Lucas Knight
Over the summer, gay porn star Collin Simpson announced his departure from the studio that helped make him a star, GayHoopla, due to his struggles with drug addiction. Then, just last month, Simpson told fans that he'd be returning to gay porn, and he asked for suggestions on where he should work next. While many fans hoped to see him fucking at studios like GuysInSweatpants or Sean Cody, did any of them want to see Simpson playing an extra in a straight porn scene? Whether they did or not, that's what's happening today at straight porn studio Brazzers:
In this scene, "Only The Best For My Family," Collin Simpson has a non-sexual role playing the husband of Christie Stevens, who is fucked by monster-cocked former gay porn star Lucas Knight (who now uses the straight porn name Kyle Mason):
From GayHoopla's king to an out-of-focus straight porn extra. What a world.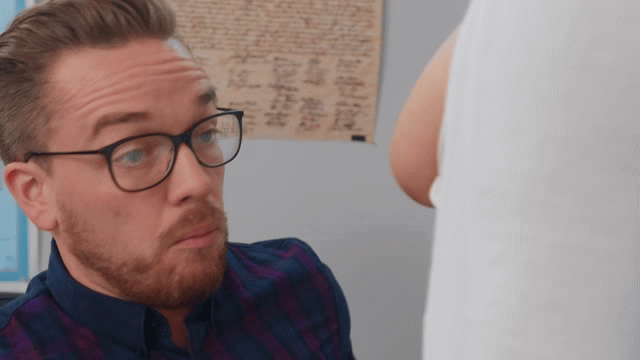 I have to admit, when I first saw the teaser image for this scene (thanks to commenter Scrapple for sharing it yesterday), I hoped it might be a bisexual scene featuring Collin Simpson and Lucas Knight. But, this is 100% straight porn, so if you're not into that, you obviously shouldn't look at these gifs and you definitely should not watch the trailer below.
Since Brazzers is owned by MindGeek, could this be a sign that Collin Simpson might soon be performing at one of the conglomerate's other studios, which include Men.com and WhyNotBi? I wouldn't be surprised.
While watching straight porn doesn't usually interest me at all, Lucas/Kyle is obviously still hot, and it's fun to see his giant cock in action, even if it is fucking a pussy. Trailer (watch full scene here):
[
Brazzers: Kyle Mason Fucks Christie Stevens Bareback
]