Who Had The Better Three-Way? Corbin Fisher's Dylan, Jared, And Rocky Vs. Sean Cody's Kyle, Devy, And Liam
For today's new gay porn three-ways, Sean Cody went to Puerto Vallarta—where all the gays went last year to escape so-called COVID "restrictions" in the U.S.—and Corbin Fisher stayed in their Reno house, but who's fuckfest was better? In short, Corbin Fisher's.
Why Corbin Fisher? For one, I'm obsessed with Dylan, and as if he couldn't get any hotter, check him out with the longer hair. Now he's even dreamier, and I love how he giggles when Jared and Rocky tell him how hard they're about to fuck him: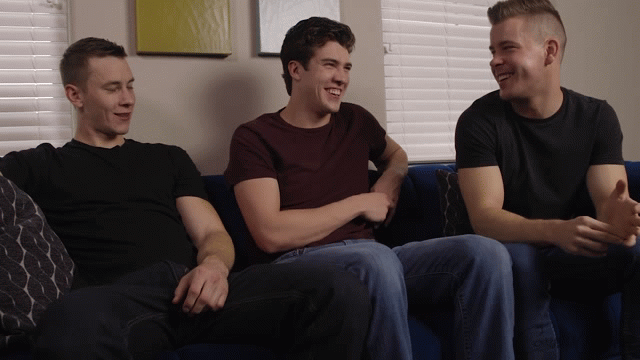 Big-dicked tops Jared and Rocky might be as obsessed with Dylan as I am, because they take turns sucking his cock, eating his ass, and basically worshiping him before fucking him. Ripped Rocky making sure to show off his muscles is a nice touch.
The uncut gay porn stars spin Dylan around and slam him in multiple positions (sadly, there's no DP yet for Dylan) before Rocky fucks the cum out of him.
Then, Rocky shoots a cum geyser all over the place, drenching both Dylan and Jared.
Jared's load is equally impressive, and the scene ends with Dylan completely coated in cum.
The reason the CF scene is better than the SC scene is because of the poor filming at SC. You can see everything going on in the CF three-way, with all models' faces and bodies seen at the same time as they fuck, filmed from a variety of angles right above and/or right beside them, as seen in this screenshot:
Unfortunately, the SC scene has only two vantage points. From far away across the room: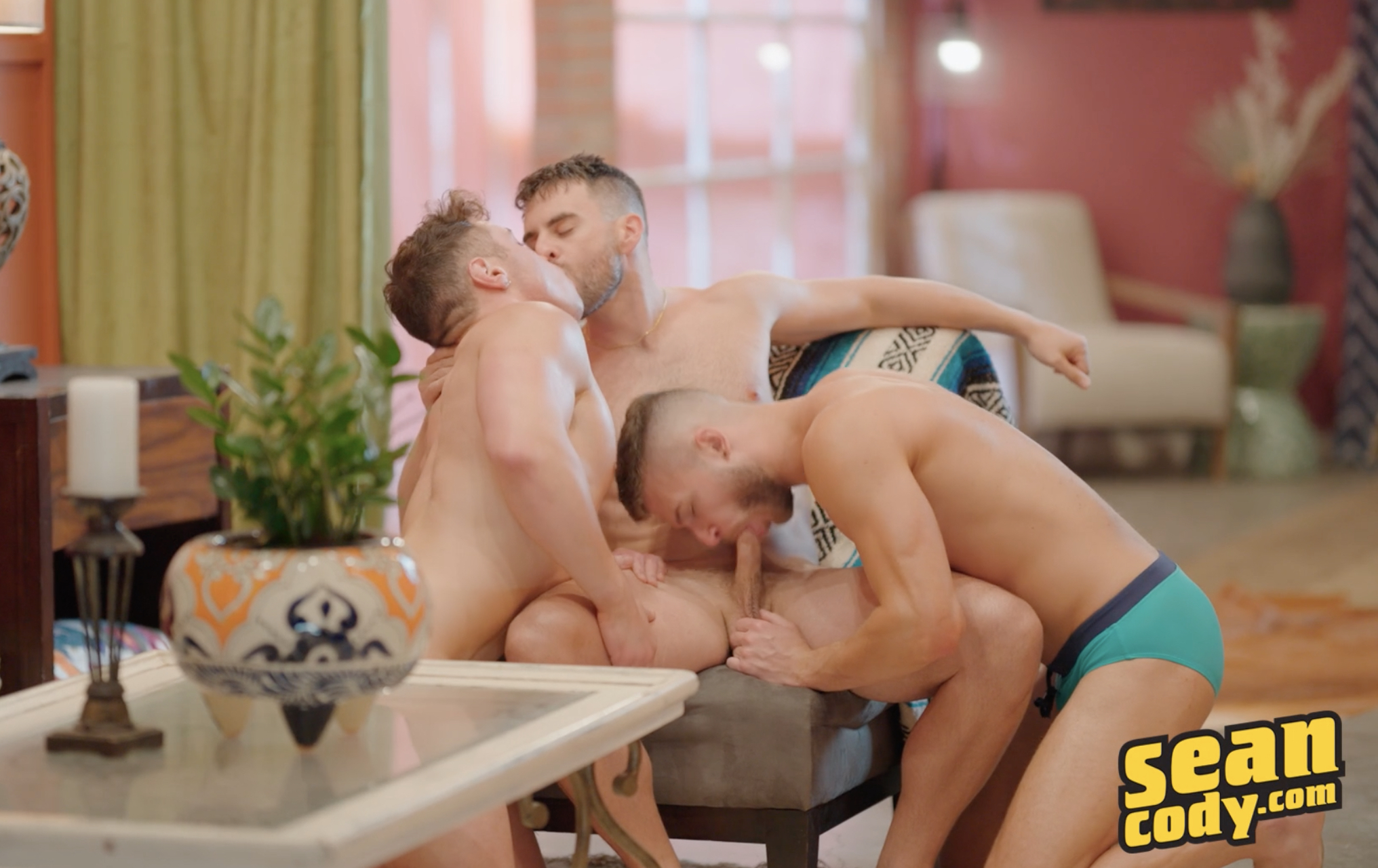 And so up close, you can't tell who's who:
Also, I've never hated an inanimate object more than I have the fucking fake hotel room plant at the bottom of the screen throughout this video:
10 feet away with a plant blocking the view? Nice camerawork.
Also annoying: Kyle has one of the greatest bodies and cocks in gay porn…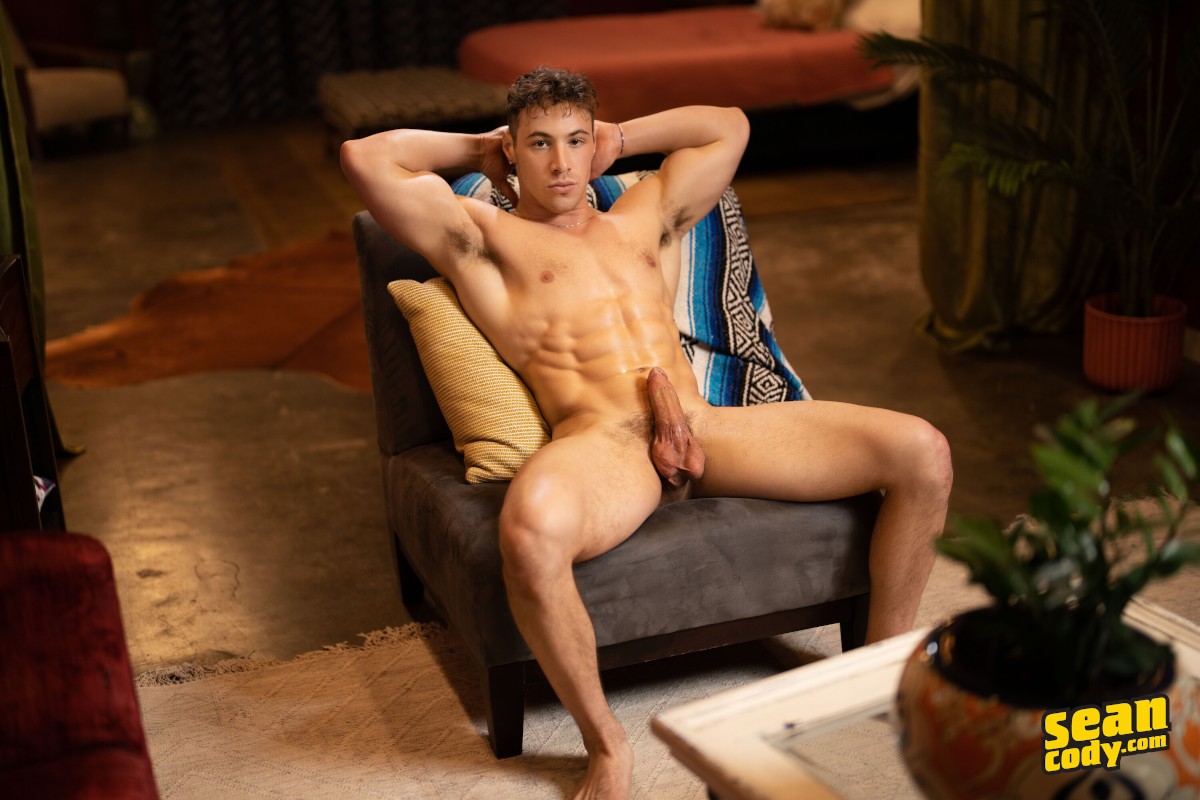 But, you rarely, if ever, see his hot face and his perfect body at the same time in this video.
Headless Kyle being sucked off: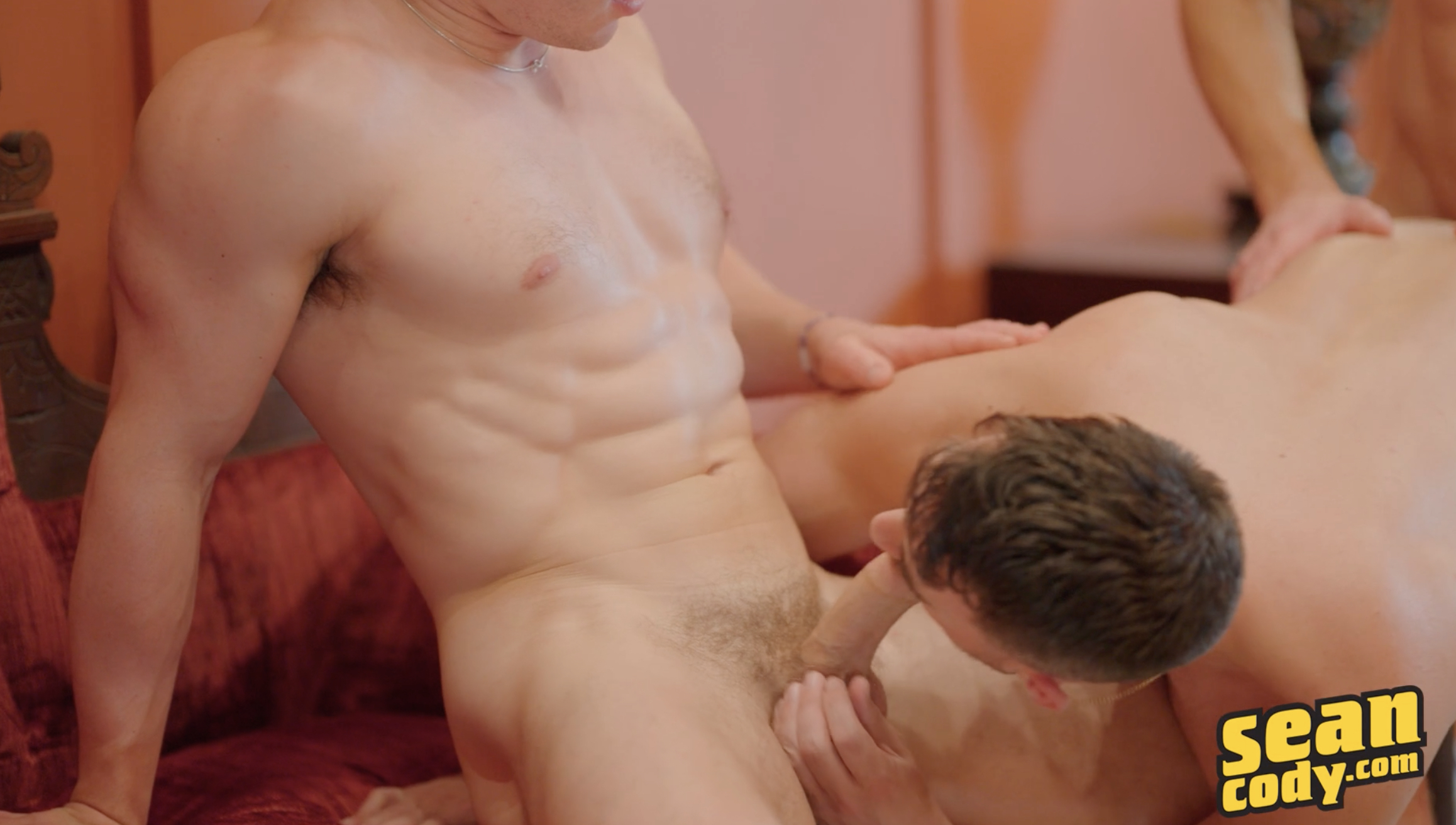 Kyle is either bent over being fucked doggy or sandwiched in between the two other guys (Devy and Liam), so you can't even appreciate his hotness.
Who's who?? Who knows!
On the left, a staged photo (taken after or before the sex was filmed) showing how hot this scene could've been. On the right, a screenshot showing what the scene actually looked like: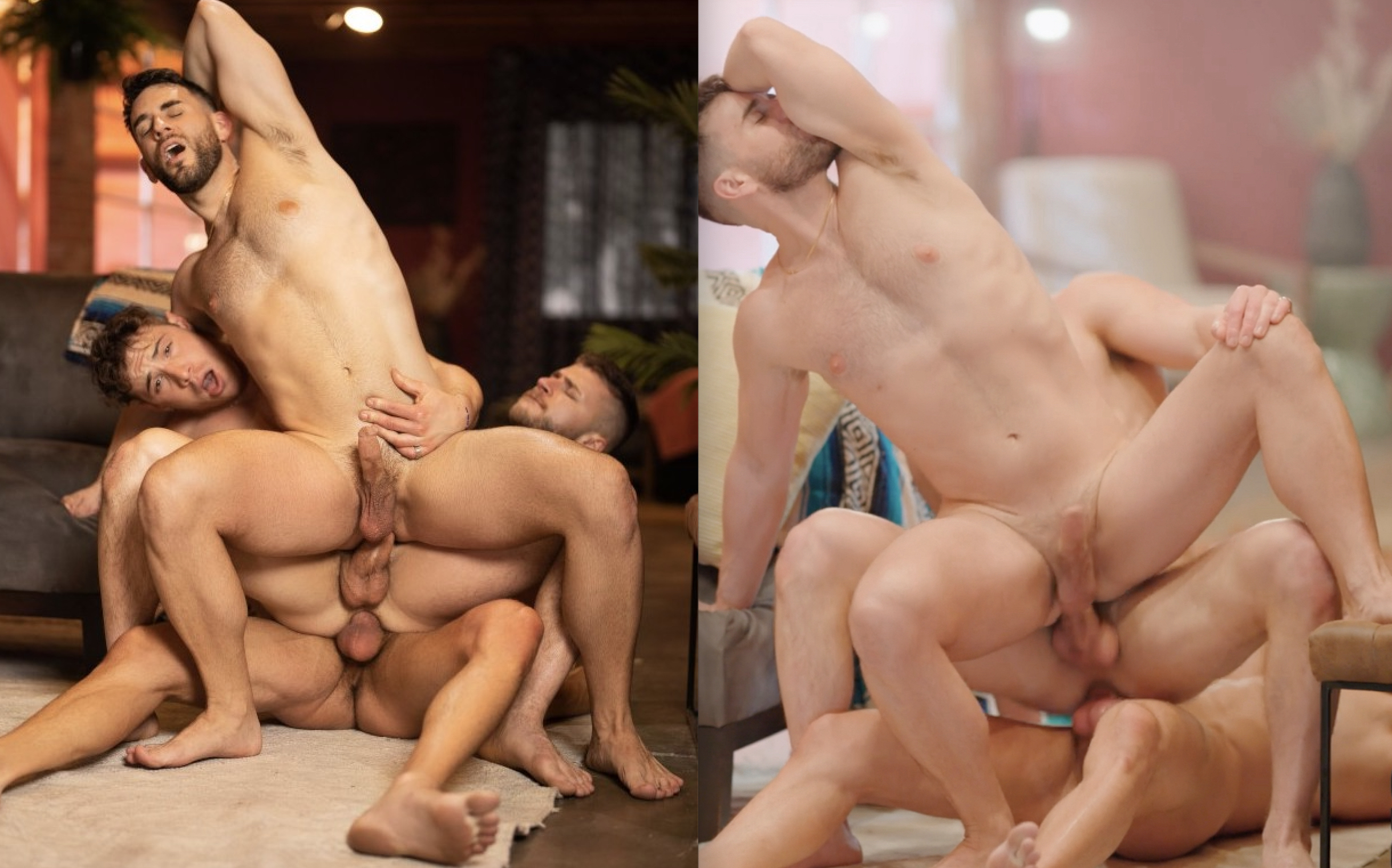 Unlike the CF cum shots, the SC loads are, of course, filmed from far away so you can barely see the cum.
I wanted to like this, given how great the models are and how well they perform, but much like that disastrous BelAmi/Sean Cody orgy last year, it's as if the director just put the camera on a tripod on the other side of the room, pushed "record," and then walked away. Did whoever filmed this step foot within three feet of the models?
The three-way is 20 minutes long, but then there's a 10-minute "bonus" scene at the end of the video with different models sucking dick in a shower. It's pointless, and you'll see parts of it in this trailer (watch full scene here):
[
Sean Cody: Devy, Kyle, And Liam Fuck Bareback
]
Here's the CF trailer (watch full scene here):
[
Corbin Fisher: Rocky And Jared Tag-Team Dylan Bareback
]