[UPDATED] Gay Porn Star Brodie Sinclair Files $5,000,000 Defamation Lawsuit Against David Geithner And Condé Nast, And He Now Claims They Paid Him A Settlement Of $44,300
This story has been updated below.
Gawker never identified him, but thanks to commenters here, Str8UpGayPorn was able to name former gay porn star Brodie Sinclair (legal name Derek Truitt) as the escort who—with Gawker's help—outed Condé Nast CFO David Geithner last July. According to Gawker and Truitt, Geithner attempted to hire Truitt as an escort for a sexual rendezvous in Chicago over the summer. After that meeting fell through, Truitt took his story to Gawker's Jordan Sargent, who was widely criticized for running the story and effectively outing the publishing executive. Faced with the threat of losing advertisers, Gawker ended up pulling the story and apologizing the next day.
Geithner—who is married to a woman and has children—has since denied having any involvement with Sinclair, and this week, Sinclair filed a lawsuit in federal court accusing Geithner of slander and libel. Truitt is seeking $5,000,000 in damages.
The Truitt complaint—which was filed in Manhattan federal court on Monday—is as incoherent and as delusional as one might expect, considering Truitt's well-documented beliefs in the most deranged conspiracy theories (e.g., Obama is the son of the devil, the Charleston, South Carolina church shooting was a false flag operation, etc.). In the opening of the complaint, for example, it's stated that "Truitt has been fighting homosexual discrimination."
Surprise: Derek Truitt is gay?
As a reminder, here's Derek Truitt "fighting homosexual discrimination" on his Facebook page last June:
It will be literally impossible for Truitt and his lawyer to prove libel and slander, but here's their argument: Geithner and Condé Nast engaged in a campaign to smear Truitt's good name (LOL) by claiming he was attempting to extort Geithner.
Excerpts from the complaint (read in full below):
This lawsuit (which is sort of a bizarre, backwards version of the Jarec Wentworth extortion case) will likely be dismissed before it ever goes to trial. But on the off chance that it does, Truitt is hoping for a $5,000,000 payout from Geithner and Condé Nast.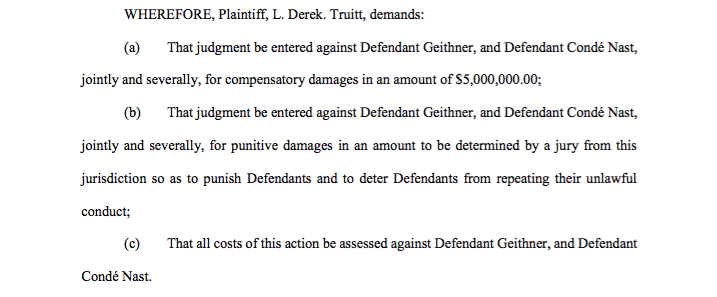 Here's Truitt's full complaint:
UPDATE—November 13th, 2018:

Wondering what happened to this case? Truitt/Sinclair himself voluntarily dismissed this case back in January of 2016 (as seen above), but now, almost three years later, the conspiracy theorist (who came back to gay porn for one scene in 2017) is claiming that Condé Nast and/or Geithner agreed to pay him a settlement just days before he dismissed the case. Truitt took to Twitter today to post what he says is an email from his lawyer, sent on January 22nd, 2016, revealing that he "got a botched settlement from the Treasury Secretary's brother":
Here's the full image of the January 22nd, 2016 email from the lawyer that Truitt shared today, which states that Truitt was to receive "$44,300 as final settlement":
I've reached out to Truitt's attorney to confirm whether or not this email and its contents are true, and if the settlement came from Geithner, Condé Nast, or both parties. Also, as you can see before Truitt's email is cut off above, this alleged settlement was supposed to be "confidential," meaning that Truitt likely violated the terms of the agreement by publishing the settlement amount today. When asked about the consequences of breaking the confidential settlement agreement, Truitt responded to Str8UpGayPorn, writing, "No one can do anything to me…Stay tuned":