Here's The First Men.com Scene From Gay Porn Star Brodie Sinclair—Who Believes Gays Will Burn In Hell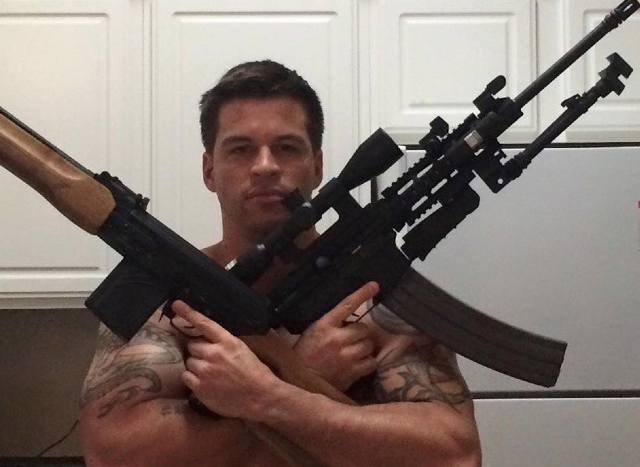 As Str8UpGayPorn first reported last week, Men.com has hired Brodie Sinclair (a.k.a. Leif Derek Truitt)—a homophobic conspiracy theorist who believes that gays are sinners who will burn in Hell, Obama is the antichrist, Putin ordered the recent mass shootings in Las Vegas and Texas, and many other insane things, as detailed on his Twitter feed and personal blog—as their newest gay porn star, so I reached out to Sinclair to see if he'd like to clarify his Facebook posting about gays burning in Hell: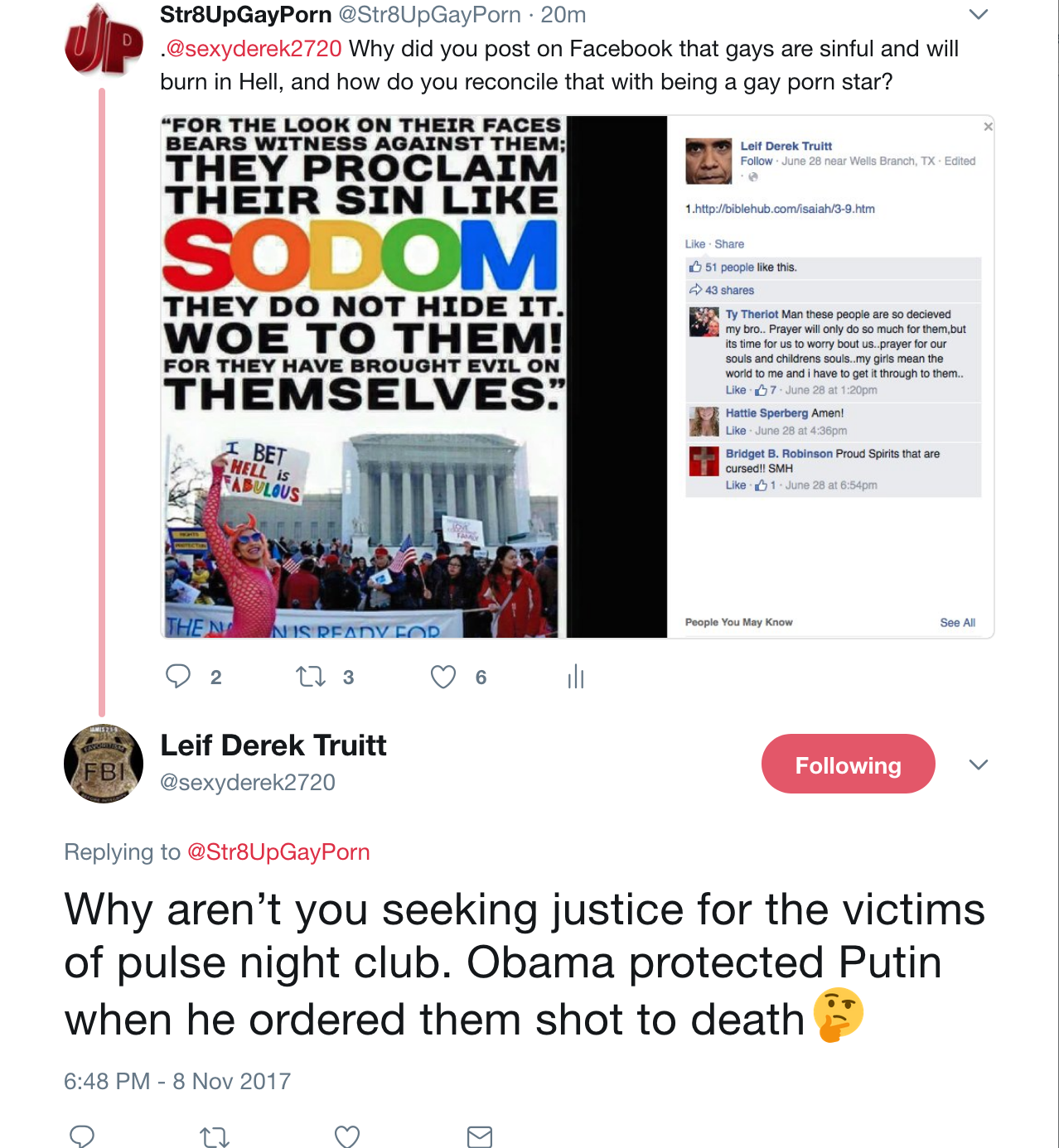 Instead of answering the question, Sinclair/Truitt instead claimed that Obama and Putin ordered the Pulse nightclub massacre.
I tried one more time:
There was obviously no point in going any further, so I gave up.
Men.com has not responded to Str8UpGayPorn's multiple requests for comment on whether or not they support Sinclair's homophobia and deranged beliefs, and why in the world they hired Sinclair in the first place. Instead, they're releasing his scene as planned this weekend, and they've created a model profile page for him. Note that Sinclair's favorite things about himself include his "personality and intelligence":
Around the same time Sinclair/Truitt's Men.com profile went up this week, Sinclair/Truitt shared his theories on Putin ordering last weekend's church massacre in Texas, and that it is also connected to Obama: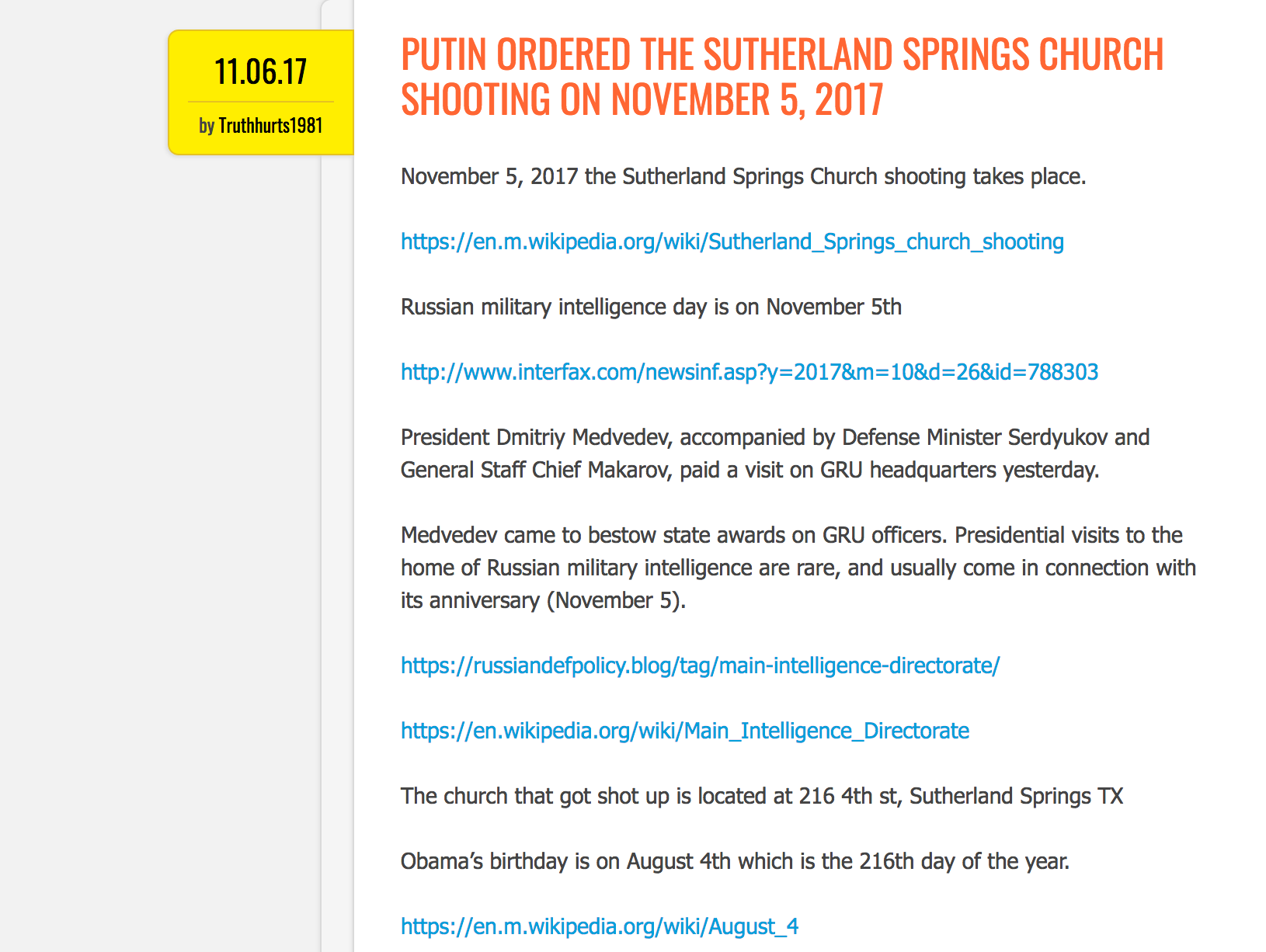 Sinclair/Truitt's Men.com scene is being released on Saturday, November 11th. And, not coincidentally, just a few hours prior to that scene's release on November 11th, Putin will be meeting with Donald Trump in Vietnam. So, obviously, it's clear that Men.com has been ordered by Putin to hire Sinclair/Truitt and release his gay porn scenes as part of a false flag operation, which is intended to distract the gays from the impending new world order, the eventual takeover of the gay porn industry by Russian oligarchs, and chemtrails.
While Men.com and Sinclair are nothing more than puppets of Putin, it appears their efforts have been at least partially successful, given that I am slightly distracted by how hot Sinclair is. Here he is in his first Men scene (coming this Saturday), which Str8UpGayPorn has learned was directed by Jared Kushner:
[
Men.com: Brodie Sinclair Fucks Max Wilde
]