[Updated] Exclusive: Gay Porn Star Sebastian Young Faces Death Penalty If Convicted Of Raping Five-Year-Old Daughter
Earlier this summer, gay-for-pay porn star Sebastian Young was arrested after allegedly threatening to kill a Florida detective. That detective was investigating allegations that Young had molested his five-year-old daughter and given her a sexually transmitted disease. Young is still headed to trial on that felony threat charge and was released on $50,000 bond last month, but now, this week, he has been arrested again on charges that stem from the original investigation involving his daughter.
Young (legal name Joshua Noles) was arrested Tuesday on five charges (four of which are felonies): Sexual battery on a person less than 12 years of age, lewd or lascivious molestation of a person less than 12 years of age, unlawful transmission of an STD via sexual intercourse, incest, and aggravated child abuse.

Given the age of the victim, all of the documents pertaining to this case—including the charging affidavit— have been marked confidential. The sexual battery charge reads in full:
(2)(a) A person 18 years of age or older who commits sexual battery upon, or in an attempt to commit sexual battery injures the sexual organs of, a person less than 12 years of age commits a capital felony, punishable as provided in ss. 775.082 and 921.141.
The "injury of sexual organs" is due to the alleged transmission of an STD, making the charge a capital felony, which carries a sentence of 25 years to life in prison, if I'm reading these sentencing guidelines correctly.
ADDED: In reading further on the capital felony charge, 794.011(2)(a), it appears that Young could be sentenced to death if convicted, due to aggravating factors: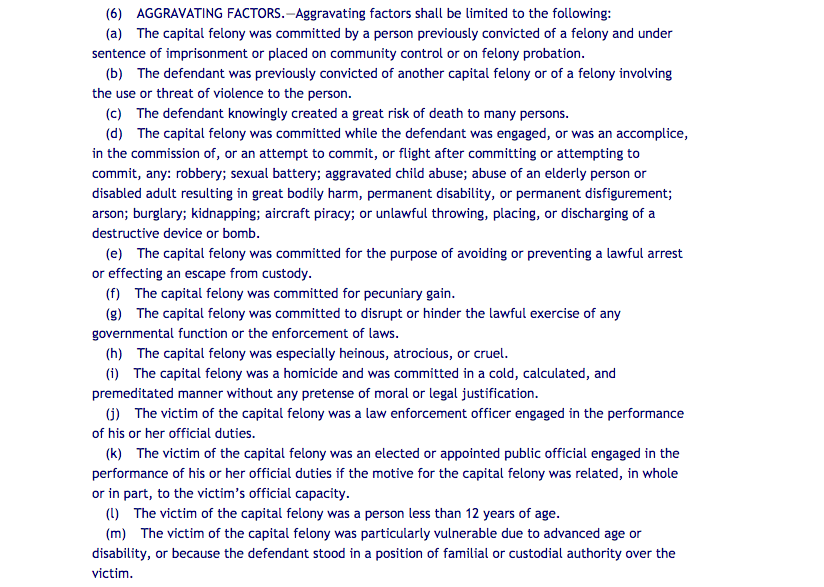 It's of course not yet clear if prosecutors will even seek the death penalty, but given his prior felony convictions, the nature of this crime, the victim's age, the victim's relationship to Young, and the alleged STD transmission, there are at least five aggravating factors in this case.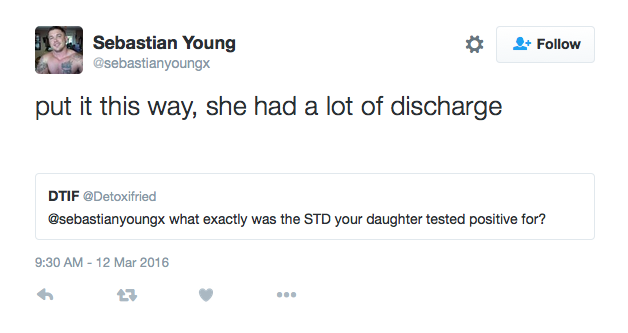 Last March, Young launched a GoFundMe to hire a lawyer after initially being accused of giving his daughter an STD, writing:
One day recently my 5yr old daughter had some type of an infection. We took her to the doctors and they comfirmed that it was an std. We asked her how she got it and stated it was from a boy at day care, and that he did stuff to her…. The detectives in this case ruled out the daycare and automaticly accused me "because I am a gay pornstar" and I about lost it!!Doing everything I was told, I got tested and came back clean. They still dont care.. I need help to obtain a lawyer for myself as well as for my daughter in this matter. all prceeds for this will go towards a lawyer..
Young should be arraigned with charges formally filed in the coming days. This is a developing story…
Update 8/6/16: Young's arraignment is scheduled for August 25th. As noted above, if he's charged and convicted of all four felonies—one of which is a capital felony, and one of which is a life felony—he could be sentenced to life in prison or death.
***
Sebastian Young has been arrested at least three times for assaulting his wife, with charges eventually being dropped or not formally filed each time. Several years ago, he was arrested and convicted for assault on an elderly person over 65, for which he spent nearly two years in prison. Young has also been arrested at least eight times on multiple drug, DUI, burglary, traffic, and battery charges over the past 12 years. With his arrest this week, he now has a record 16 booking photos, tying Bryce Evans as the gay porn star with the most mug shots of all time.