Exclusive: Hunter Page On Getting DP'd, His Grabby Noms, And The Penis Injection That Went Horribly Wrong!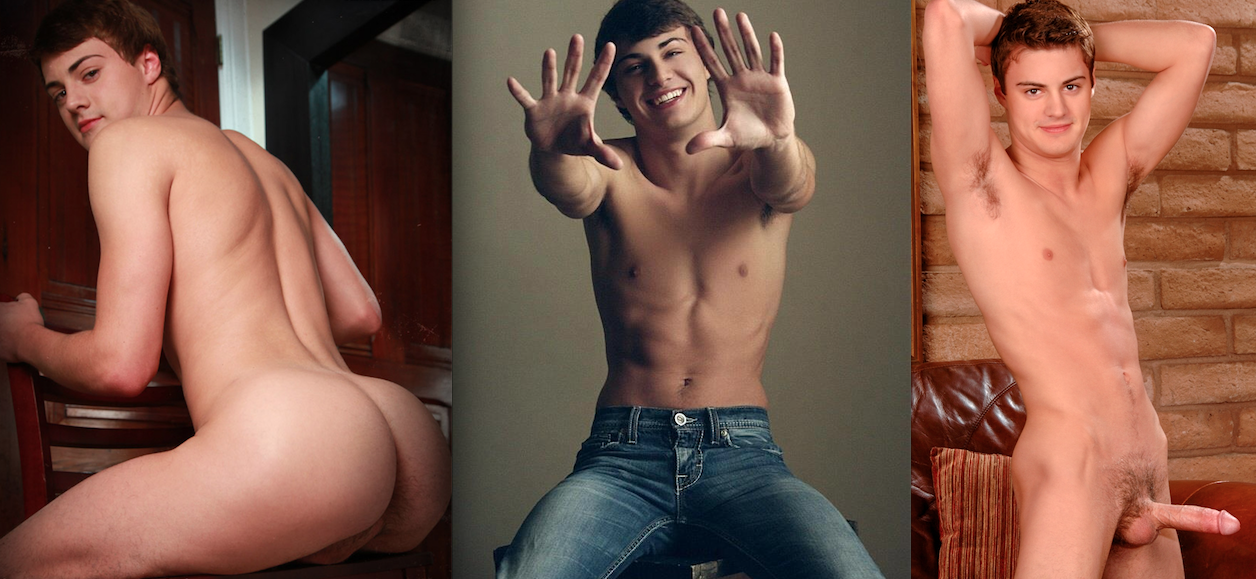 Somewhere between twink and hunk is Hunter Page—the sexy southern boy whose natural charm, sweet-as-pie face, bubble butt, and extra long cock have earned him thousands of devoted fans over the past two years. Whether he's topping or bottoming, you can always rely on a strong performance from him, and Str8UpGayPorn is thrilled to have been able to snatch an exclusive interview with Hunter on the eve of the Grabbys, where he's favored to snatch an award or two himself.
Str8UpGayPorn: Hi Hunter! So how long have you been doing porn now? Do you remember what your very first scene was?
Hunter Page: Come September, it will be two years. My first scene was a solo for CollegeDudes, and I remember right before I came, my chest started getting this blotchy-red color, and I felt myself radiating heat. I was beyond scared and overwhelmed, in the best way. I'd say it was a very positive experience.
A lot can happen in two years, especially in this industry. What changes have you noticed since you started?
The people definitely change every day. A new Twitter porn star shows up with hundreds of followers daily. I think the longer I do this, the more studios and co-stars I see for what and who they really are.
And you got into gay porn fairly young—I think 18? What was the motivation?
I was 18, and it was something I never thought would happen. I remember watching porn, idolizing two stars in general, and I told myself "I could do that." I've worked with one of those "idols" twice, and we text all the time.
Who were the two idols, and which one of them do you text all the time?
Adam Archuleta from Bel Ami was my first ever porn crush. And the other is Johnny Rapid. I text Johnny anytime I'm in Atlanta, just to make sure he is doing well.
I've seen people make comparisons between you and Johnny Rapid, but I think you're far and away the better performer. Why is someone like Johnny Rapid as popular as he is?
Well like I said, Johnny's one of my idols, and I still respect him to this day. I'd say Johnny's success is based on the fact that he pushes the envelope. All porn stars say "Oh yeah, fuck me hard, that dick is so big," etc. But Johnny will say things you never would've imagined, and his facial expressions can't be beat. He's created a product that's so unique. And as far as me being "far and away better," I love that, but I feel that he and I are similar. We both have the southern charm, we both have similar builds, and we can both be DP'd.
You had an infamous DP scene with Johnny Rapid and a bunch of guys on Men.com. How hard is it to be DP'd?
Double penetration is tough at first, but I think if you're naturally a bottom, it isn't that bad. I remember telling studios for months that I wanted to get DP'd and they'd brush it off, because it's difficult to film. It isn't hard for me, though. I think it feels great if both tops can really work together and coordinate while they're inside you.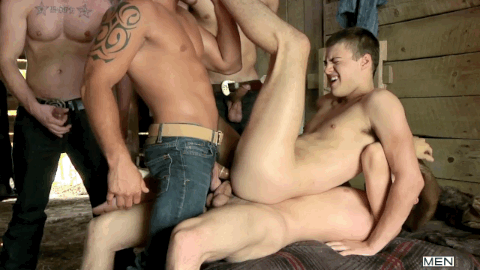 Back to comparisons, you've also been compared to Bel Ami's Andre Boleyn. Are you sure the two of you weren't separated at birth?
That story floored me. There have been times when I'm watching a scene of his and, if I pause the video, I see myself. The resemblance is uncanny. I would love to be photographed with him one day!
With your looks, you must get hit on a lot. What kind of guys hit on you and how do you handle the attention?
It's bittersweet, because working in this industry, you can become an object. But, I don't allow myself to develop a sense of entitlement just because I lay on my back. And if people only want to know the physical side of "Hunter Page," I'll respond warmly.
What kind of guys do you normally go for? Are you single now?
I am currently single. Normally, I look for guys who have a sense of stability and maturity. Seems like lately most guys want to tell me who they are, as opposed to showing me, so I've really stopped looking.
Relationships are hard enough for people with "normal" jobs, so it must be extra tricky for you.
All people say nowadays is "he/she completes me." Listen, for someone to complete anyone, that means you are both incomplete people! Why do you require another person to complete you? I don't want that. I want someone to complement me. I will wait for that person.
Do people recognize you as a porn star?
People do recognize me, and I take it for what it is. I'm who people turn to for stress release, or for an escape from their problems temporarily. A lot of power is put into sex, and I like to not let people down when they meet me.
You're nominated for five Grabbys, including Best Newcomer, Best Actor (for your work in Frat House Cream), Best 3-way, and two for Best Duo. Which would you like to win the most?
I'm in those categories with some amazing people, so it's hard to put myself above anyone. But if I had to choose, I would love Best Actor or Newcomer. When I first started porn and the Grabbys came around last year, I wasn't as established. Since then, I've dedicated time and patience to the image I've built up, so any award would be an honor.
What do you do in your free time when you're not being Hunter Page?
I stay very active. Bartending, gym, school—where I'm double majoring—and family.
You sure love doing things in doubles! And speaking of which, one of my favorite scenes of yours is when you used that double-headed dildo with Andy Taylor. Was that as fun as it looked?
To be honest, I absolutely despise dildos. They just don't feel pleasurable to me. What made the scene my 2nd favorite to date is my co-star, Andy Taylor. I love many in the industry, but no one will ever have more love and respect from me than Andy. It's a brotherly bond, and he is the only person I would put my name and character on the line for.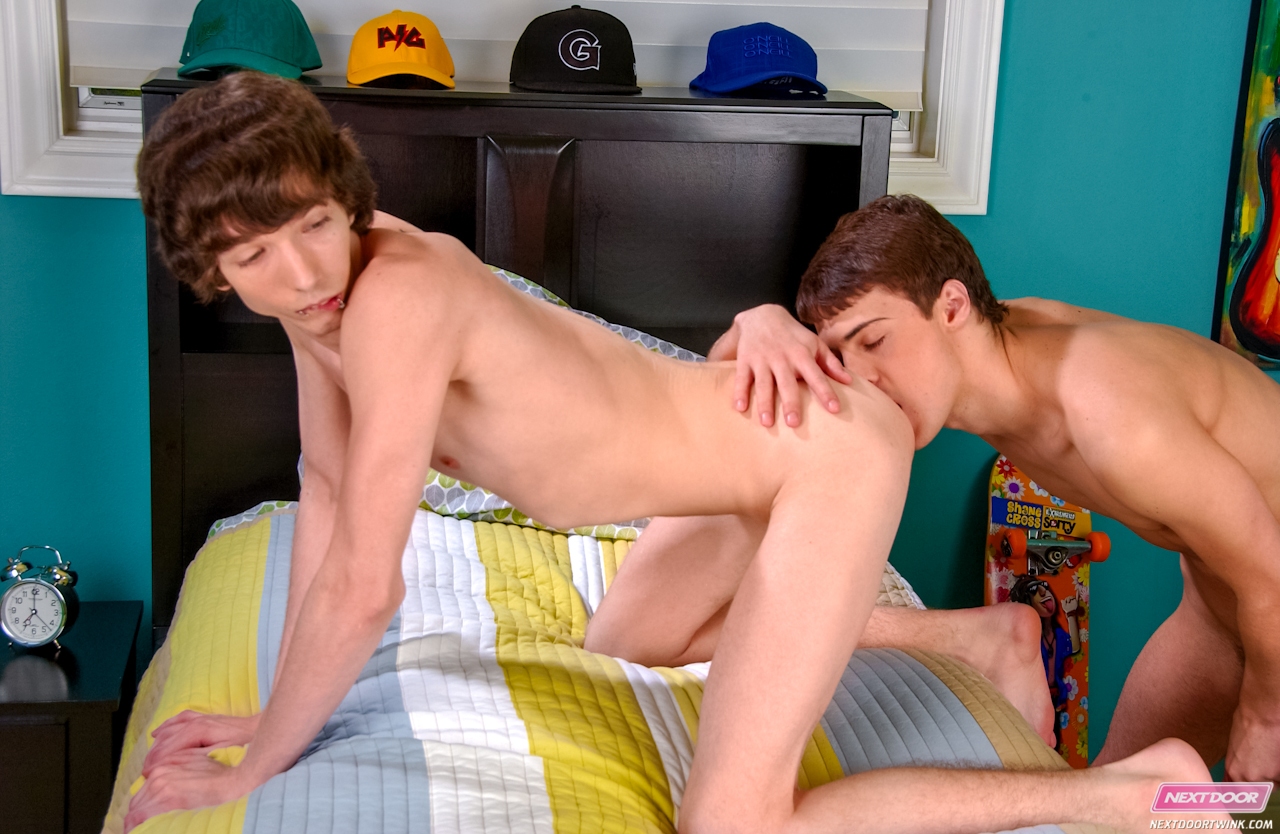 I have to ask about another one of your co-stars, the infamous Max Payne, a.k.a. Bryan Silva. He recently became famous for a ridiculous Vine video, and I'm wondering what in the world he was like? Does he really have swag?
I'm unsure how he felt towards me, and I love NextDoorStudios, but I could not stand Bryan. He was constantly complimenting himself, and he kept wanting me to compliment him. He made it a very uncomfortable and tense experience. Off camera, he wanted to act like his dick was four feet long!
I think his self-proclaimed nickname is, like, "Monster Cock" or something.
Listen, if you have a big dick, own it. But if you have to keep stopping the scene to fluff because you can't stay hard, don't be so cocky. I offered to help him off camera, you know, to move things along, but he was all, "Suck on my dick, bitch, and I might stay hard."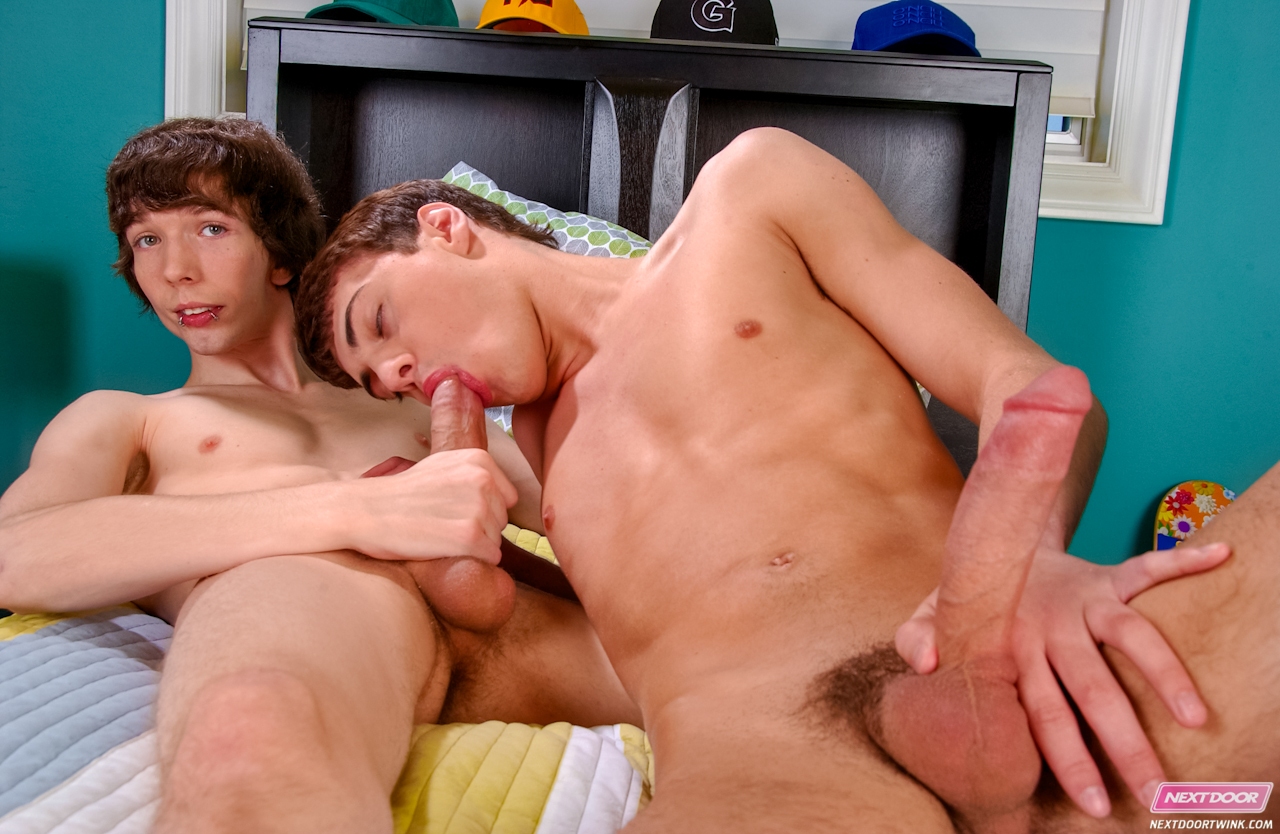 What a nightmare.
Trust me, I filmed my scene with Cody Cummings the next day, and I almost made him double orgasm with my oral skills. So for Bryan/Max, when it came to his dick, "user error" is all I will say. There is no professionalism whatsoever from him, and I find that to be a huge character flaw. Anyway, I wish him all the success in the world.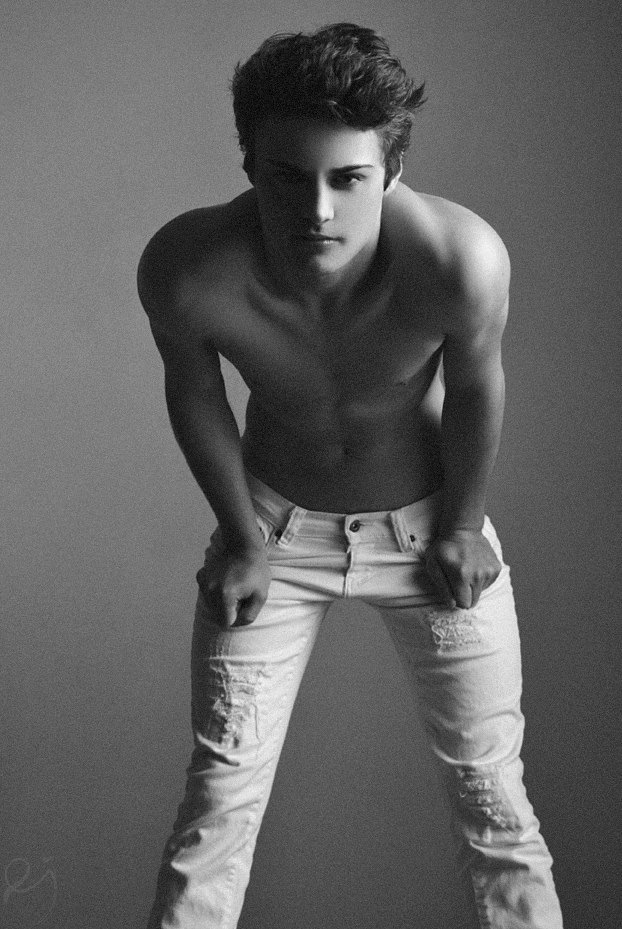 OK, what about good co-stars? Who have been some of your most memorable?
Andy Taylor, as I mentioned. And Colby Jansen—he pleasured me in ways that no other man has. Also, Spencer Reed. For those who don't know him, you are missing out. The first time meeting him, we were in his car heading to film for ExtraBigDicks, and he gave me some amazing advice that I will never forget.
What did he say?
He told me to never develop a sense of entitlement in this industry, and that the day of the "porn star" is dead. Just because you can go online and send in an application doesn't make you a porn star.
Spencer has since retired. Do you think gay porn stars should retire after a certain amount of time?
I feel many of today's porn stars have a 1-3 year shelf life. It's absolutely necessary to know your limits, but I wouldn't say there should be a "set time" for retirement. If your work is consistently popular, then why stop? If you're passionate and committed to what you do, then continue doing what you love.
Does it make a difference to you if you're topping or bottoming in a scene?
I have almost always played the bottom, but lately I have been trying to change it up. My last two topping scenes were very difficult at first, as I had just recovered from a penile injection overdose.
Wait—what happened?!
I was filming for a studio I'd worked with multiple times, and I decided to do the injection for the first time. I wanted the scene to fly by, and it did. We didn't have to stop for anyone to get hard. Afterwards, we were all eating and I was still erect, and it started to hurt. I tried everything possible to cope with the excruciating pain, but after almost 24 hours of being hard, I had a friend rush me to the ER.
Oh my God.
They diagnosed me with priapism. I was given dilaudid on the hour for the pain, and I had eight needles and syringes put into my hard penis to drain the blood. And there was so much—I lost a fourth of the blood in my body. I had to stay overnight in the hospital because I was too weak to go anywhere. It took about two months for it to actually look normal, and it gave me temporary erectile dysfunction, which is why I was absent from the industry for a while.
This studio was acting illegally by administering prescription drugs on performers, and they should be sued—or dealt with criminally.
Well, it has taken me up until the last few months to recover, but I'm fully functional and able to use my penis without worry. It's a little harder to maintain my erection, but I now have my own prescription for the injection. I know how to use it if I want to film for long periods.
It's funny I'm just hearing about this incident now. Most porn stars tweet everything that happens to them minute by minute. Are you naturally drama free, or do you just know to keep your personal life private?
I know how to keep my life separate. I'm a "don't start none, won't be none" kind of person. If you start with me though, I will finish it. If I see potential drama, I avoid it. They say that all publicity is good publicity, yet I don't believe that. If I win a Grabby award this weekend, I'll know I did it without lies or scandals to boost my name.
Any last words of advice for newcomers just starting out in the business?
My driving quote for starting in this industry still applies: "Before anyone else in the world believes it, you have to believe it." There's never a reason for 'Plan B,' because it distracts from 'Plan A'. I've accomplished my 'Plan A' more than I ever could've imagined.
Thanks, Hunter!
[Naked Sword: Hunter Page]
[Buckshot: Hunter Page]