Gay Porn Star Brandon Bronco Accuses NextDoorStudios Of Demanding "Sexual Favors" In Exchange For Work
All horse hung gay-for-payer Brandon Bronco wants to do is make some more gay porn, but in order to do so, he'll need to please the CEO at the only company he's ever worked: NextDoorStudios. Unfortunately for Brandon, that CEO—Stephan Sirard—is "upset at him":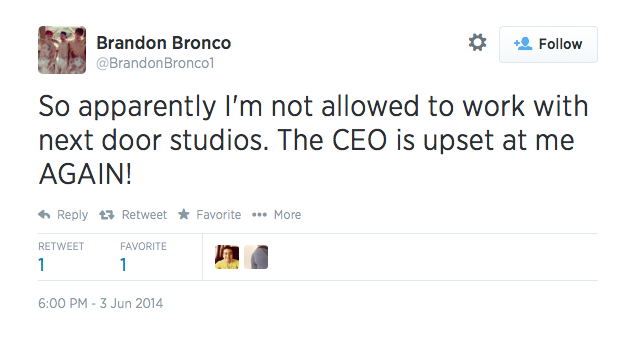 The "again" part is presumably in reference to the last time Brandon Bronco went public with complaints about NextDoor, when his BGFPFF (best gay-for-pay friend forever) Slate Steele was allegedly fired from NextDoor for refusing to kiss his scene partners. The hunky Bronco—an exclusive with the studio at the time—appeared to quit NextDoor as a symbol of solidarity with Steele, which was a real Norma Rae moment.
Now, of course, Brandon Bronco wants his old job back with NextDoor. But, it comes with a price!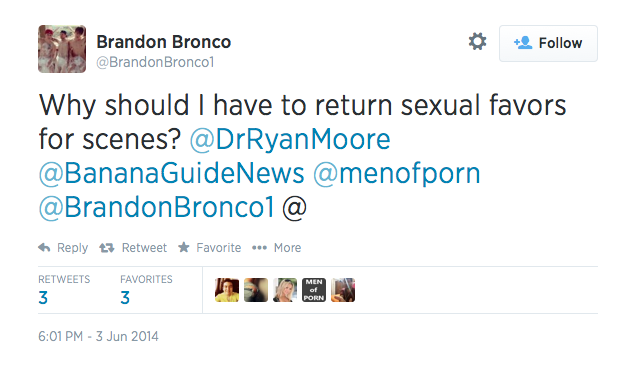 To whom does Brandon need to return sexual favors? He's not saying at this point, but I'm pretty sure he's referring to someone whose name rhymes with "Chef Don." Stay tuned…
Coincidentally, Brandon Bronco's mini Twitter meltdown tonight coincides with this week's release of his duo with Anthony Verruso (which was presumably filmed several months ago). Maybe the CEO is just "upset at" Brandon because he flubbed his lines in this scene?
[
NextDoorBuddies: Brandon Bronco Fucks Anthony Verruso
]