ChaosMen's Jake Hart Returns To Get His Big Cock Sucked
YES! As promised, Jake Hart (who might be ChaosMen's best newcomer of 2018) returns for his first sex scene today, and it's a "servicing" scene that just went live here on ChaosMen.
The lucky co-star who gets to suck Jake's cock and swallow his cum is ChaosMen veteran Sean Peyton.
While this is obviously just an oral scene, seeing someone this fucking hot (with such a fantastic cock) doing anything with another guy is fine by me (for now), and it makes me hope that ChaosMen was (or will be?) able to convince Jake Hart to come back for another scene soon. If you like seeing him get sucked and rimmed, imagine seeing him fuck another guy?
This scene write-up doesn't offer any hints or clues about a possible return for Jake:
Once hard, it is so hot to see Jake writhe around from Sean's mouth. This dude has a big uncut cock, and you can tell he enjoys being Serviced. There is some really hot POV in this video too. Despite his huge dick that would be perfect for topping, seeing him tuck his ass in the air in order to get rimmed, I couldn't help imagining him getting fucked. The ending is of course the best. Just one camera shot as Sean sucks and jerks him with a twisty wrist flick. You get to see him build to his orgasm, ramping-up with pleasure, throwing his arms up and finally unleashing a huge load. It's so sexy watching him nut while Sean slurps up his cum.
More photos from the scene, with the trailer down below: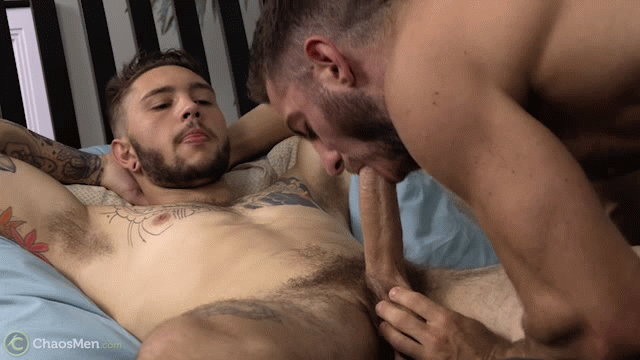 Trailer (watch full scene here):
[
ChaosMen: Sean Peyton Sucks Jake Hart's Cock
]