Calvin Banks, Alex Mecum, Max Adonis, And Adam Ramzi Have An Orgy With The "World's Oldest Gay Porn Star"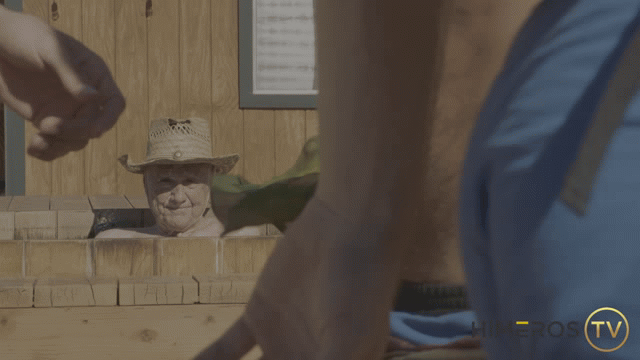 After having a solo jerk off session earlier this year, Himeros.tv's Norm (whom the studio calls "The World's Oldest Gay Porn Star") is back for his first gay sex scene, and this isn't just any sex scene—it's a five-man orgy with four of the most popular gay porn stars working today! Norm joins Alex Mecum, Calvin Banks, Adam Ramzi, and Max Adonis in Himeros.tv's "The End Of Ageism."
I'm excited to announce the release of Norm's sequel. Now 84 years old, we paired Norm with some of our favorite models including Adam Ramzi, Max Adonis, Alex Mecum and CockyBoys exclusive Calvin Banks. Rest assured, Norm holds his own with the younger models – and even ejaculates twice during the film.
Considering there are some gay porn scenes where guys 60 years younger than Norm can't even cum once, that is an impressive feat worth pointing out. Maybe Sketchy Sex can ditch their fake cum tube and hire Norm instead?
More:
As fun as it was to film this video, it tackles a very serious issue. The video is titled The End of Ageism but we are not naive. Ageism, of course, is alive and well in our community. Yet this video represents a hope and an intention by asking a simple question: What would happen if each of us took a step in expanding our definition of sexy?

The truth is, I don't know if the world is ready for The End of Ageism. Are people ready to see an 84 year old elder have sexual experiences with men that are a quarter of his age? Are people ready to see seniors as sexual beings? I don't know. But when you're 84 years old, who has time to wait for 'ready'?
Trailer (watch full scene here):
[
Himeros.tv: The End Of Ageism
]