Exclusive: Sketchy Sex's Fake Cum Tube Exposed
Last week, we saw what appeared to be the fakest cum shot of all time in Sketchy Sex's "Muscle Jock Cum Slut" scene. At the time, Str8UpGayPorn had only viewed the trailer for the scene, and while it was obvious that the cum was not being shot out of the performer's penis, it wasn't quite clear exactly where that cum was coming from.
Now, thanks to a tip and viewing the full video, Str8UpGayPorn can unequivocally confirm that this cum shot—like so many of Sketchy Sex's cum shots—is 100% fake. The liquid (likely Cetaphil) being shot into Eli Hunter's mouth was coming from a plastic tube placed alongside the other performer's penis: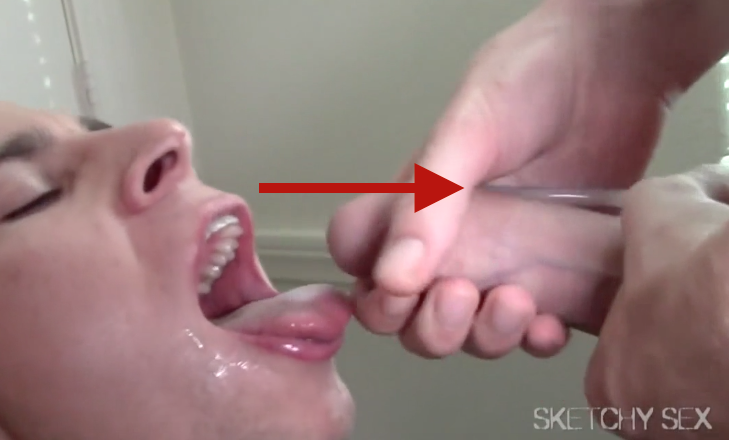 Video (the cum tube appears—and then quickly disappears—at the 10-second mark):
Here's a gif that's been slowed down, in case you didn't catch the cum tube in the video:
It's hard to say which is more humiliating for Sketchy Sex: That they're pumping fake cum out of plastic tubes, or that whoever edited this scene was so incompetent, they didn't catch the fake cum tube. Either way, this lazy, desperate, and fake content is a sad reminder of what passes for gay porn today.