Racist Gay Porn Star Paul Canon Shows Off New Engagement Ring And Maserati, Neither Of Which Are His
It's a great week for fans of gay porn star and unrepentant racist Paul Canon, as yesterday he was fucked by Colby Jansen, and today he's fucking Alexander Gustavo.
In addition to his gay porn scenes, racist Paul Canon is keeping fans entertained by tweeting pictures of what appear to be a new engagement ring from his boyfriend Damien Kyle, who also outed himself as a racist when he, like Paul Canon, said that he was "not sexually attracted to colored people." Along with the ring, Paul Canon mentions a new Maserati in this tweet, which is obviously not his car (unless Paul Canon somehow stumbled upon $100,000).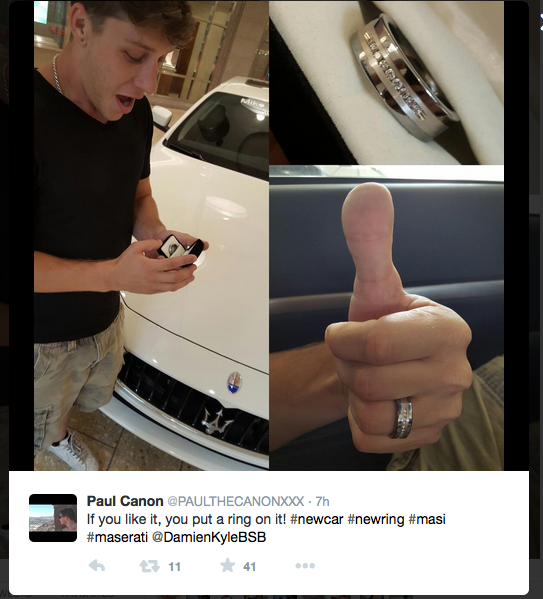 Damien Kyle, who doesn't appear to be employed, spends the majority of his time tweeting selfies from his home in Denver, and he definitely hasn't been hired to work in any gay porn scenes like his boyfriend Paul Canon has (I wonder why?). So, there's obviously no way that Damien Kyle bought this ring for Paul Canon. Like the Maserati, the ring is undoubtedly just something that Paul Canon was able to take a (staged) picture with while out window shopping. Dare to dream, I guess?
Here's the Paul Canon gay porn scene being released today (watch full scene here):
[
Men.com: Paul Canon Fucks Alexander Gustavo
]
Tired of seeing racist Paul Canon in gay porn? Sorry, but like I already said: He'll be hired again and again, over and over again by all the same studios who could give two shits about the public statements made by dumb, racist gay porn stars. On the bright side, at least Paul Canon's racist views are well-known, and they're going to stay with him forever. Try Googling his name and see what the first thing is that comes up…